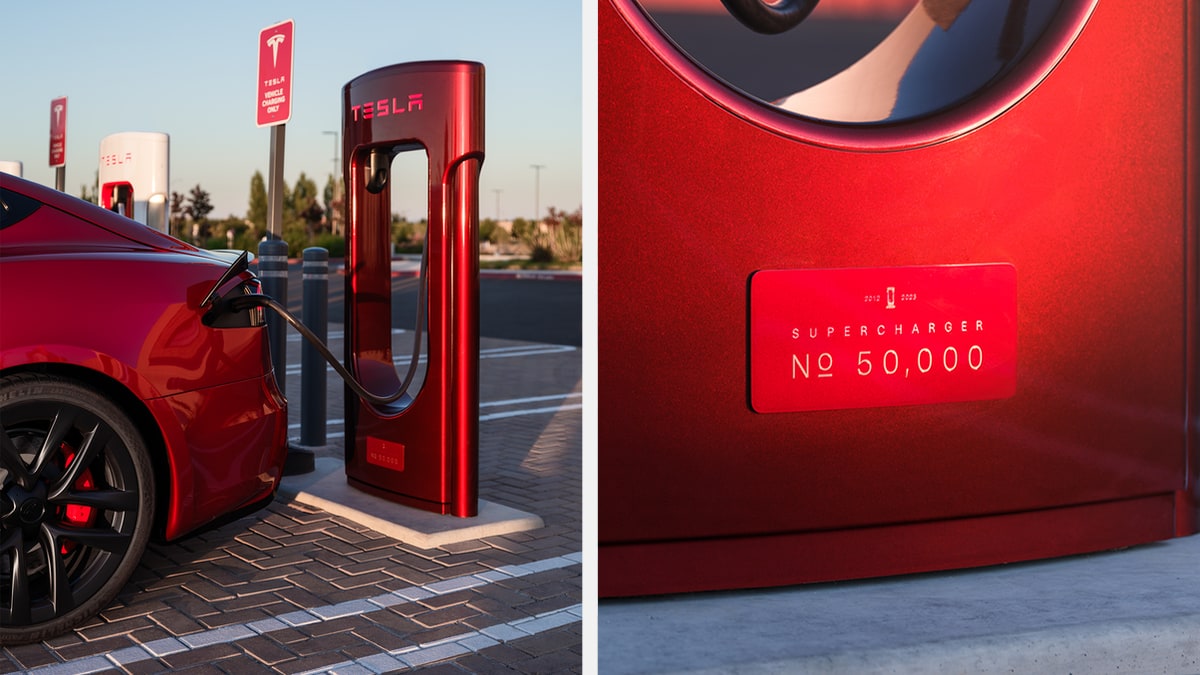 Over the past couple of days, Tesla hit not one but two remarkable milestones, marking a significant chapter in its rapidly evolving story. If you spent the weekend engrossed in the new Elon Musk biography by Walter Isaacson, you can perhaps fully appreciate the magnitude of these accomplishments: the production of Tesla's five millionth car and the installation of its 50,000th Supercharger.
Five Million Vehicles Strong
On its official Weibo account, Tesla unveiled its five millionth vehicle, a pearl white Model 3, freshly rolled off the production line at the Shanghai Gigafactory. This notable milestone embodies Tesla's journey "from a blank canvas to today's five millionth vehicle," a path characterized by simplicity and efficiency. Through their message, Tesla conveyed deep gratitude towards their global community of owners and supporters, urging everyone to "power up together" for a greener and brighter future. This celebratory announcement follows a series of production landmarks, the most recent being the four million car milestone reached in March, highlighting the company's exponential growth.
50,000 Superchargers: Painting the World Ultra Red
The weekend's festivities extended beyond the production line, with Tesla celebrating a Supercharger network milestone: the 50,000th installation. The Tesla Owners of Silicon Valley shared a video (below) showcasing Tesla's latest landmark in action. This special unit, distinctly colored Ultra Red, is located at Living Spaces at 1851 Freedom Way, Roseville, California. Since introducing just six Superchargers in 2012, Tesla has demonstrated its commitment to facilitating widespread electric vehicle use.
The Supercharger network, a pillar in Tesla's strategy to foster electric vehicle adoption, offers convenient and rapid charging solutions worldwide. This recent installation is a firm pledge to a global ethos where electric vehicles (EVs) can flourish.
Factory Tours for Referrals
Tesla is not only escalating its production but also opening doors for enthusiasts to witness where the magic happens. Tesla is introducing tram tours of its factories in Fremont, California, and Austin, Texas, as a part of its referral program. This exclusive peek can be redeemed using referral credits, ushering Tesla account holders and up to three guests into the production sanctuaries that have revolutionized the automotive industry.
However, while the immersion into Tesla's world is facilitated, travel and accommodation expenses are the responsibility of the attendees. The company maintains a stringent no-media policy during the tours, underscoring the confidentiality preserved in these powerhouse spaces. Tesla aims to bolster engagement with its customer base through this initiative, enticing them with an insider's view while encouraging more referrals despite moving away from the previous tradition of complimentary Fremont factory tours.
The electric vehicle pioneer isn't slowing down as Tesla gears up for an exciting future with the much-anticipated Cybertruck launch, which already boasts over 2 million unofficial pre-orders. Analysts anticipate that the existing production pace could potentially herald the creation of six million Tesla vehicles in early 2024.