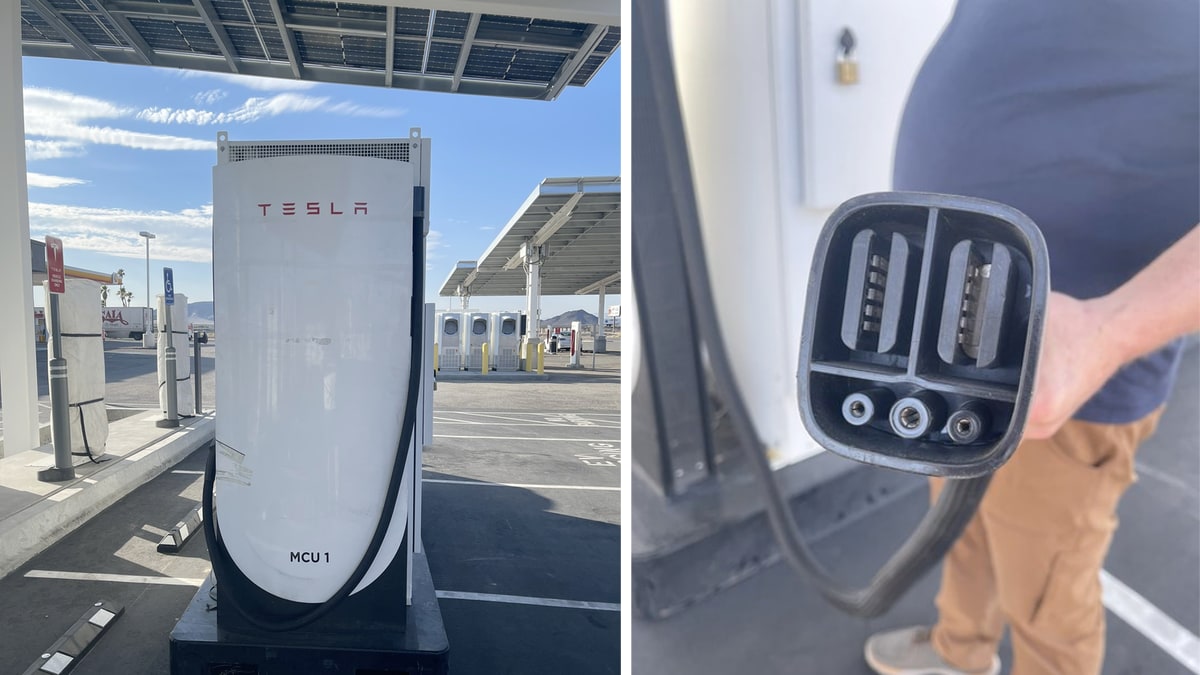 Tesla's new Megacharger network is starting to take shape. This ground-breaking charging infrastructure is a critical component of Tesla's electric freight and consumer vehicle strategy, with one such Megacharger recently sighted at Baker, California.
Recent images shared on Twitter by @RodneyaKent and @Woodland_00 have sparked much speculation about the Baker Megacharger's potential role in supporting the charging needs of the Semi and Cybertruck.
Future Impact of Megacharger Network Expansion
Physically larger than regular Supercharger stalls, the Megachargers are designed specifically for Tesla's Class 8 all-electric truck and feature a larger, square-shaped plug. Interestingly, the location of the Baker Megacharger suggests it may also serve smaller vehicles such as the Cybertruck.
During the first delivery event of the Tesla Semi last December, Elon Musk and Dan Priestley disclosed that Tesla had developed a megawatt charger for both the Semi and the Cybertruck. The Cybertruck will have a North American Charging Standard (NACS) port as a consumer vehicle. Consequently, it's plausible that some Megachargers may include a NACS plug, or Tesla may release an adapter to ensure the Cybertruck's compatibility with the Megacharger plug.
The potential compatibility of the Cybertruck with the Megacharger network could prove to be a significant selling point, particularly considering that Tesla's V4 Superchargers are only rated at 350 kW as per a recent Development Proposal.
Video of Megacharger
The Strategic Importance of the Baker Megacharger
This new Megacharger network represents a huge leap forward in EV technology, being both a fascinating piece of Tesla's broader charging infrastructure and integral to facilitating long-haul travel for Tesla's electric vehicles. Baker's location on Freeway 15, a primary transit point between Las Vegas and Los Angeles, makes it an ideal hub for these chargers.
The Megacharger's liquid-cooled charging cable hints at an infrastructure capable of managing high power levels for the robust batteries of both the Cybertruck and Tesla Semi.
One question remains unanswered is the charging process for Tesla Semis with attached trailers, considering the Megacharger's design seems to necessitate reversing into the station. The Megachargers not only allow Semi and Cybertruck drivers to cover vast distances without the fear of running out of power but also boost the adoption of electric vehicles, marking another milestone in Tesla's visionary journey.