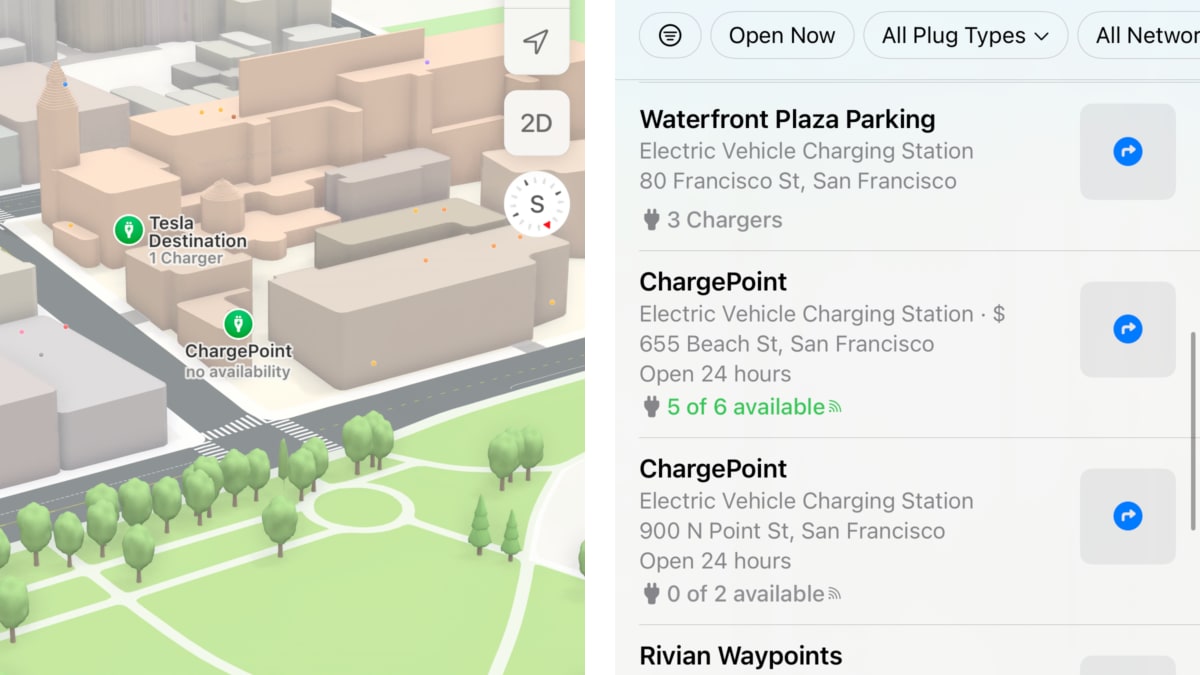 With iOS 17's upcoming release, Apple continues its forward-thinking approach to improving the user experience for electric vehicle owners. The upcoming update to Apple Maps offers real-time charging availability information, an inclusion that promises to streamline the charging process and heighten convenience for Tesla and other EV drivers.
Apple Maps: Integrating Real-Time EV Charging Details in iOS 17
In 2020, Apple first ventured into offering support for EV routing via Apple Maps. Initially launched for Ford Mustang Mach-E and Porsche Taycan drivers, Apple has now evolved the feature to incorporate real-time charging information in iOS 17. The updated interface will display the total number of stalls at a specific charging station and will also indicate how many of these are currently in use.
Real-Time Charging Information
Given the burgeoning popularity of electric vehicles, charging stations will likely see increasing demand. The real-time charging information offered by Apple Maps in iOS 17 aims to optimize the user experience by providing up-to-the-minute data on charging station availability, thereby minimizing potential wait times. This function is bound to be a boon for Tesla drivers, who can better plan their charging stops, knowing the availability status ahead of time.
Apple Maps goes beyond merely presenting users with real-time charging availability. It further enables drivers to set up their preferred charging networks, including Tesla's Supercharger network, Electrify America, Chargepoint, and more. Once a driver selects their preferred networks, Apple Maps tailors the information presented to align with this preference. Such personalization paves the way for an even more seamless charging experience for EV drivers.
Apple Maps and iOS 17: Embracing the Future of Sustainable Travel
While currently only available to cars supporting Apple Maps EV routing, the expanded functionality holds promise for broadening its reach in the future. Considering the rising trend of electric vehicles, features like real-time charging availability and preferred charging networks are set to transform the user experience of EV drivers substantially.
The updates provided by Apple in iOS 17 indicate the tech giant's commitment to promoting and adapting to the future of sustainable travel. Given the rate of EV adoption and the growing demand for smart, seamless solutions, Apple Maps' enhanced features, including real-time charging details, align with the evolving needs of modern EV drivers, especially Tesla owners.
The recent updates by Apple are indeed game-changers. By offering Tesla and other EV owners real-time charging information, preferred charging network selection, and intelligent routing, Apple Maps on iOS 17 is ushering in a new era of convenient and efficient EV travel.
Unfortunately, Tesla owners will likely not see support for Apple's EV routing feature, but they'll still be able to benefit from the real-time availability information of EV chargers.
Apple's iOS 17 was released to developers at their WWDC conference earlier this month and is expected to be released this fall.