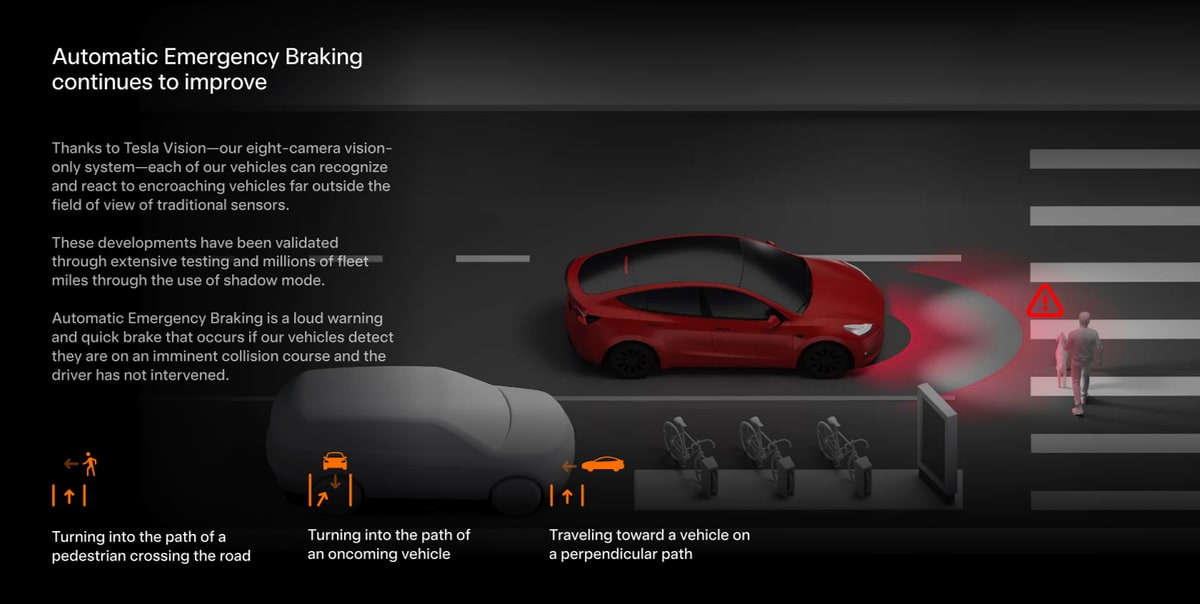 Tesla has introduced notable upgrades to its Automatic Emergency Braking (AEB) system in a recent FSD Beta update. Initially, FSD Beta 11.3, which only went out to Tesla employees, included a significant update to Tesla's automatic emergency braking.
However, when FSD Beta 11.3.1 was released to public testers, the release notes significantly differed from the employee version, leaving some uncertainty regarding the status of AEB enhancements.
Other features were removed from the release notes in FSD Beta 11.3.1, including Voice Drive Notes, which was clearly still available in the public beta. It's not clear whether the changes to the release notes was a mistake or if Tesla chosen to highlight changes between 11.3 and 11.3.1.
AEB Now Detects Vehicles Moving Across Tesla's Path
The company's impact report has recently confirmed that the improved AEB system was incorporated into the FSD Beta. The enhancements include detecting and responding to vehicles moving perpendicular to the Tesla. This advanced feature aims to reduce the likelihood of accidents occurring when other vehicles cross Tesla's path, such as running red lights or cutting the Tesla off.
This development represents a significant leap forward in AEB technology, as traditional systems mainly focus on detecting and reacting to objects and vehicles directly in front of the car. With the ability to detect crossing vehicles, Tesla's upgraded AEB system offers increased safety and assistance to drivers.
Release Notes
The release notes in Tesla FSD Beta update v11.3 say:
Expanded Automatic Emergency Braking (AEB) to handle vehicles that cross ego's path. This includes cases where other vehicles run their red light or turn across ego's path, stealing the right-of-way. Replay of previous collisions of this type suggests that 49% of the events would be mitigated by the new behavior. This improvement is now active in both manual driving and autopilot operation.
Safety Improvements Tested Extensively with Fleet Miles
Tesla has rigorously tested and validated these AEB advancements by utilizing millions of fleet miles in shadow mode. The Tesla Vision system, which consists of eight cameras, allows Tesla vehicles to identify and react to oncoming vehicles well beyond the range of traditional sensors. In addition, the Automatic Emergency Braking system offers a loud warning and rapid braking when a Tesla vehicle senses an impending collision, and the driver has not intervened.
These AEB enhancements demonstrate Tesla's commitment to improving road safety and minimizing accident risks. In 2021, US pedestrian and road-user fatalities reached their highest levels, with a 53% increase since 2012 and over 75% of deaths at night. Tesla's Model S, Model 3, Model X, and Model Y have all received five-star ratings from Euro NCAP, including for nighttime pedestrian crash avoidance. Furthermore, the Model 3 and Model Y have earned a "Superior" rating from IIHS for the nighttime performance of their pedestrian AEB systems.
Improved AEB System Expected to Reach All Tesla Owners
The availability of the improved AEB for all Tesla owners remains uncertain, as FSD Beta is currently separate from other updates. However, considering Tesla's history of prioritizing safety features, it is likely that the upgraded Automatic Emergency Braking system will eventually be made accessible to all users. This move would further solidify Tesla's position as a manufacturer of some of the safest vehicles available today.
Moreover, Tesla's commitment to vehicle safety and continuous software updates demonstrates its dedication to its customers. As Tesla learns more about real-world driving scenarios and collects data from its fleet, it will continue refining and enhancing its driver assistance systems. The result is a safer and more reliable driving experience for Tesla owners and other road users.
Integrating the improved AEB system into Tesla's FSD Beta may pave the way for more advanced driver assistance features. In addition, by incorporating cutting-edge technology and prioritizing safety, Tesla sets a high standard for other automakers to follow in creating vehicles that protect their occupants and other road users.
Best Tesla News of the Week