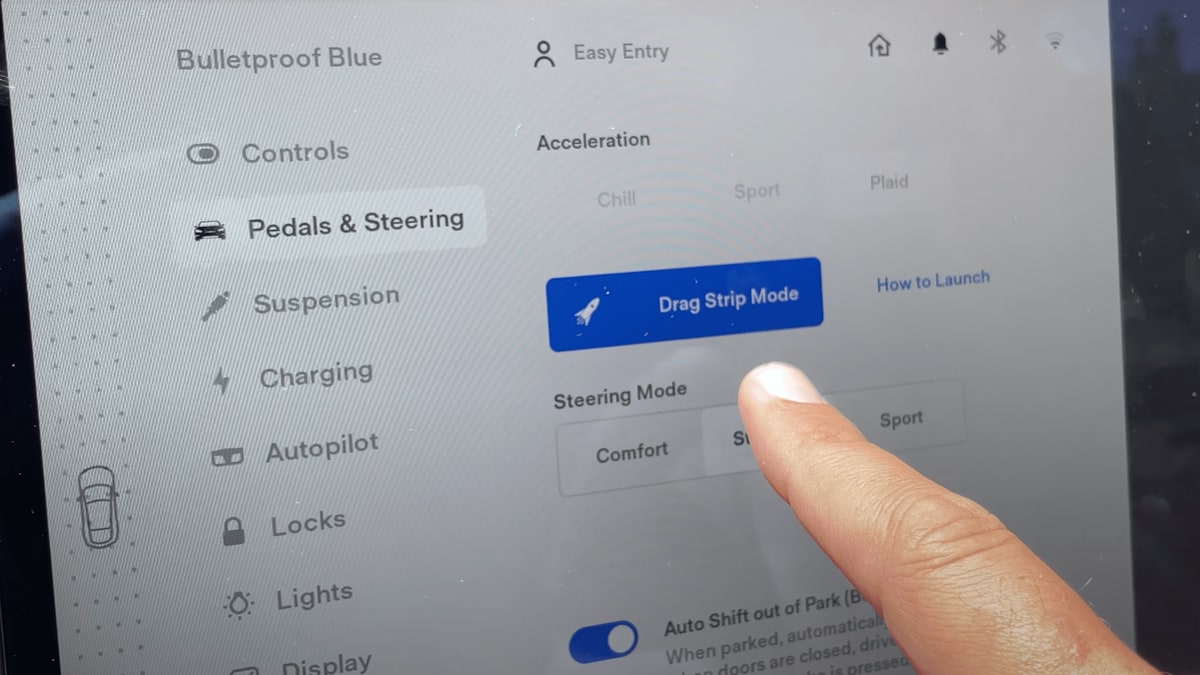 Tesla has once again showcased its cutting-edge technology with a new video on its YouTube channel (below) featuring the impressive Drag Strip Mode. Of course, it's been around for a few years. Still, the video is a reminder of just how fast the car is launched and a testament to Tesla's technology.
Drag Strip Mode: A Brief Overview
The refreshed Model S and Model X in 2021 introduced the Drag Strip Mode, allowing drivers to experience breathtaking acceleration in a controlled environment.
Drag Strip Mode is designed to precondition the battery and drive unit for optimal performance during timed acceleration. The feature remains active for three hours, after which it times out to save energy. During this mode, the vehicle consumes more energy to maintain the battery at the ideal temperature range.
The Science Behind the Speed
Chris, a Tesla Performance Engineer, explains the mechanics behind the Drag Strip Mode. The cooling fans chill the drive units, as they generate the most power when they are at their coolest. The battery pack is also warmed up slightly to optimize its performance range.
Enabling Drag Strip Mode
The touchscreen in the Model S provides visual instructions on how to launch the vehicle using Drag Strip Mode. The steps are as follows: Touch Controls > Pedals & Steering > Drag Strip Mode.
Wait for the instrument panel to indicate that the vehicle is Peak Performance Ready.
Starting Cheetah Stance
With Model S shifted into Drive and at a complete stop, firmly hold the brake pedal with your left foot, then fully press the accelerator pedal. This begins to put the car into "cheetah stance."
The car enters launch mode, and the front lowers toward the ground, improving front axle traction. Instead of the front of the car lifting and losing traction off the front wheels, the "cheetah stance" holds the front of the car down, providing better grip throughout the zero to 60 acceleration.
Launching
After putting the vehicle into its "cheetah stance," continue to hold the brake pedal and wait for the instrument cluster to display "Cheetah Stance Enabled" and "Ready to launch."
Once ready, simply release the brake pedal to launch the vehicle.
It is important to note that Drag Strip Mode is intended for use on closed-circuit driving courses only, and drivers should ensure their driving style does not endanger or inconvenience others. "Cheetah stance" will also significantly reduce ground clearance.
Tesla's Drag Strip Mode is a testament to the company's continuous innovation and commitment to pushing the boundaries of electric vehicle performance. With this mode, Tesla owners can experience exhilarating acceleration in a controlled environment, all while showcasing the true capabilities of their Model S or Model X.
Ordering a New Tesla?
Consider using our referral code (nuno84363) to help support our site. Model 3 and Y buyers will receive credits toward Tesla Merch, while Model S and X buyers will receive $1,000 off and 3 months of FSD for free.