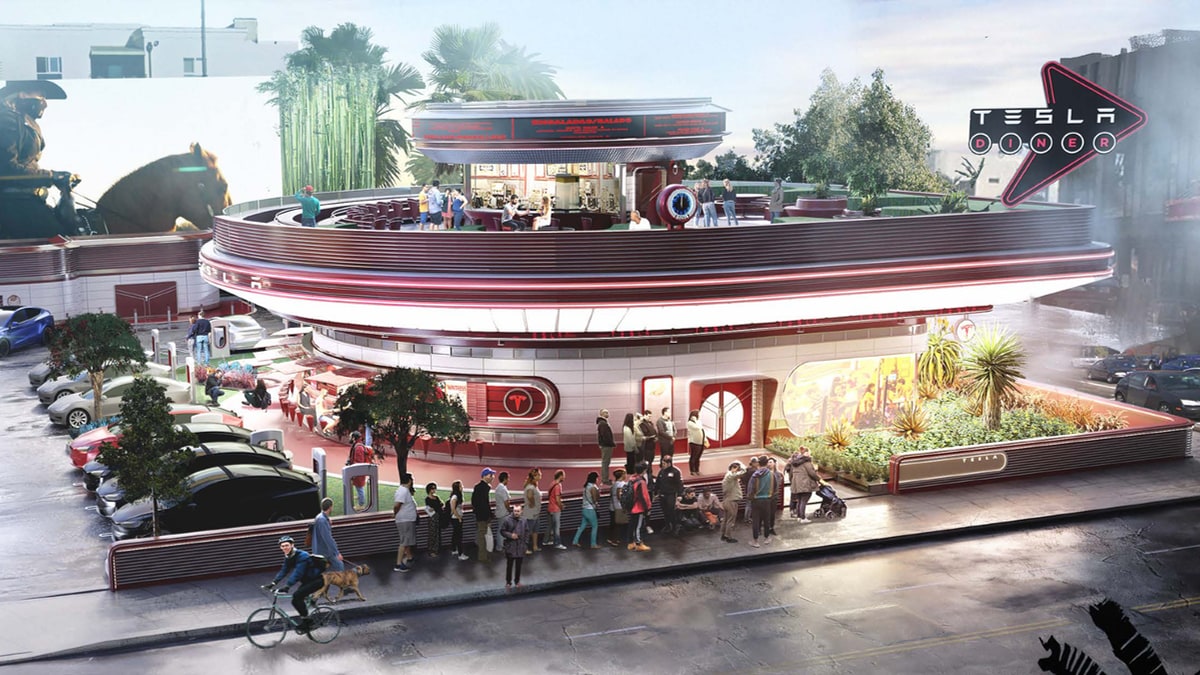 During Tesla's recent Investor Day, Rebecca Tinucci, Tesla's Senior Director of Charging Infrastructure, presented an intriguing slide titled "Can't Forget to Do Cool S***." The slide featured an illustration of a retro-looking Tesla Diner restaurant with a rooftop patio and an old-school drive-in movie screen behind it. People could be seen lining up to get inside, hinting that whatever the restaurant serves is worth the wait. This vision could become a reality.
Tesla submitted plans for a 24-hour charging station in Los Angeles includes the Tesla Supercharger Diner & Drive-In in 2022. Doesn't Elon Musk have enough on his plate (pun intended)? Musk tweeted about the idea more than five years ago. The diner will replace a restaurant in Hollywood and offer a unique and enjoyable experience to Tesla owners and the public.
Plans Reveal more than a Diner
The proposed Tesla Supercharger Diner & Drive-In will be more than just a place to eat. The two-story restaurant will feature indoor and outdoor seating, along with two movie screens and 34 Tesla charging ports. The outdoor area will be surrounded by bamboo landscaping, providing a charming ambiance to enjoy a meal while your Tesla charges up. Customers could also opt to have their food delivered straight to their car via a snack bar and carhop area, adding a nostalgic touch to the diner.
Tesla has recognized that customers spend about 20-30 minutes at charging stations and want to have something to do during that time. This is where the idea for a drive-in movie theater comes in. The restaurant and charging stations will be open 24/7, while the movie screens will operate from 7 a.m. to 11 p.m. Programming will be scheduled in 30-minute intervals, aligned with the time needed to charge a vehicle.
Subway Setting up at Charging Stations
Electric vehicle charging stations are a gold mine for companies to catch hungry travelers. Subway and GenZ EV Solutions recently announced a partnership to provide an "EV Charging Oasis" featuring charging canopies with multiple ports, picnic tables, Wi-Fi, restrooms, green space, playgrounds and a Subway restaurant. The Oasis will be piloted in areas of the U.S. this year.
The Tesla Supercharger Diner & Drive-In reflects the company's philosophy of not forgetting to do cool stuff. The proposed restaurant is awaiting approval from the City of Los Angeles. With its retro diner look, bamboo landscaping, and old-school drive-in movie theater, the Tesla Supercharger Diner & Drive-In will be a memorable and enjoyable destination for years to come.