By Gabe Rodriguez Morrison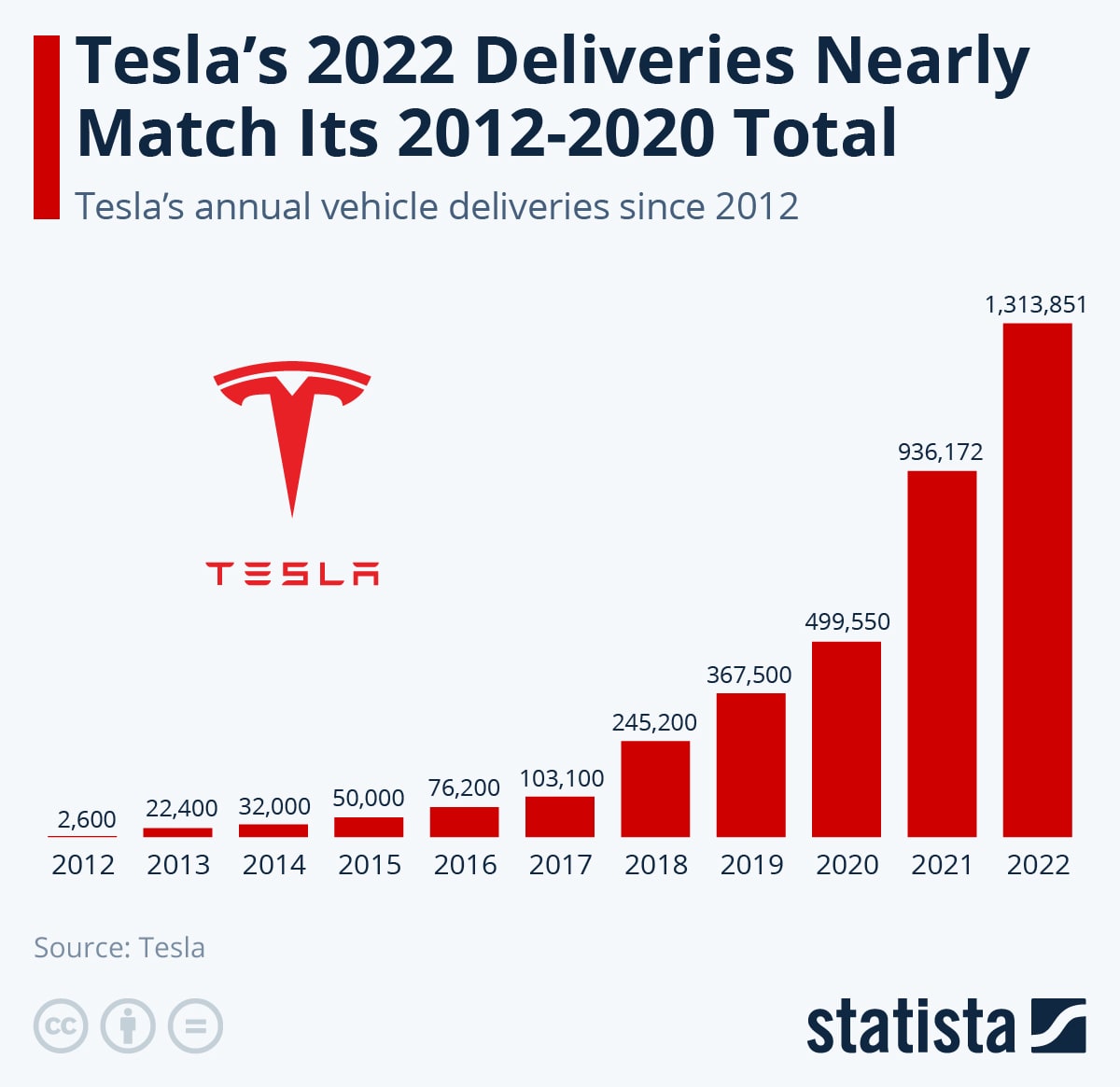 Tesla published their Q4 2022 and full-year financial results, setting new records in production and deliveries while beating analyst expectations. Tesla's annual profit rose to $12.6 billion in 2022, from $5.5 billion in 2021. Annual revenue rose to $81.5 billion, from $53.8 billion the year prior. Tesla reported fourth-quarter revenue of $24.32 billion beating analysts' $24.07 billion estimate. The automaker also reported earnings per share of $1.19 beating analysts' $1.12 estimate.
Tesla's stock rose more than 5% in after-hours trading following the earnings release and surged more than 10% the next day.
Tesla's Q4 2022 revenue set a new record for the company, up 59% from a year earlier. In addition to automotive revenue of $21.3 billion, Tesla recognized $324 million of deferred revenue from the company's driver assistance systems.
FSD Beta Numbers
Tesla reported that 90 million miles have now been driven with FSD Beta, up from 58 million miles in the previous quarter. The company also confirmed that they have about 400,000 FSD Beta users in North America, a sizeable increase since the last report. With such a steep increase in miles driven and FSD Beta becoming widely available in North America, Tesla is making significant progress with its autonomous driving software.
In late 2022 and into this year, Tesla began cutting prices on its cars globally. Elon spoke about how recent price cuts have fueled a surge in demand for Tesla: "Thus far in January we've seen the strongest orders year-to-date than ever in our history. We're currently seeing orders of almost twice the rate of production." He added: "These price changes really make a difference for the average consumer." Tesla acknowledges that average sales prices have to decrease over time because affordability is part of Tesla's mission to grow into a company that sells multiple millions of cars annually.
Price cuts will impact profitability, but margins should remain healthy, Tesla CFO Zach Kirkhorn affirmed. Tesla has wider operating margins than the industry average, which allows them to make such price cuts.
Elon issued an uncertain forecast for 2023, saying Tesla planned on 1.8 million vehicles for the year without specifying whether that was a target for production or deliveries. If the company were to deliver 1.8 million vehicles in 2023, that would result in 37% annual growth.