By Gabe Rodriguez Morrison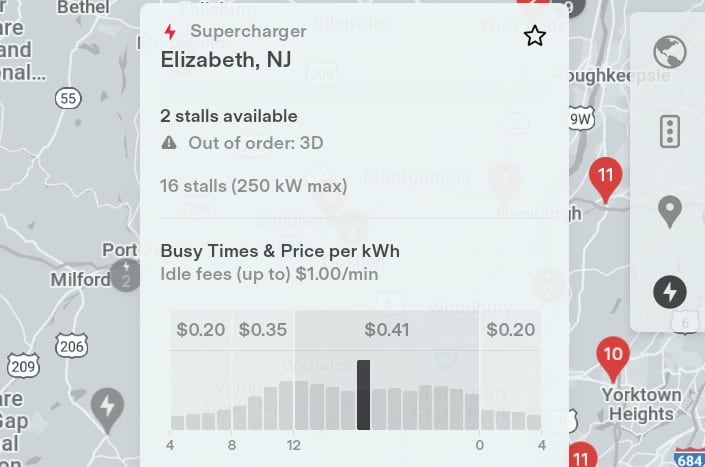 Tesla has lowered Supercharging prices in numerous regions as its charging network expands.
Tesla's Supercharger network recently reached 40,000 chargers globally and is slowly becoming a significant part of their business. Tesla's global fast-charging network enables long-distance travel in electric vehicles.
Since EVs require less maintenance and electric vehicles use energy more efficiently, EVs are generally much cheaper to operate. However, the cost of electricity has increased significantly over the last year due to macroeconomic factors.
This price increase has trickled down to Supercharger fees and led to some locations charging as much as $0.50 per kWh (USD). While Supercharger is not meant for everyday charging, the recent price increases have caused traveling with a Tesla to be almost as expensive as roading tripping with your previous gas guzzler.
Tesla announced a major Supercharger price hike in Europe, where electricity costs have been especially high due to an ongoing energy crisis.
Tesla doesn't release global Supercharger pricing, but owners can see local Supercharger prices through the car's navigation system.
Reducing Prices
Slowly, prices are returning to the mean. Recently, Tesla owners across several regions have reported that Tesla has reduced prices at their regional Superchargers.
Tesla previously announced a price hike in California, but it appears now that prices are stabilizing. A Tesla owner in California reported that their local prices had dropped by as much as 5 cents per kWh, which is about a 10 to 15 percent decrease. Other owners in Europe saw similar price drops last week, however, some are now noticing increases as well.
Tesla appears to be changing their philosophy on Superchargers. Tesla used to consider Superchargers a necessity to be able to sell their vehicles, but now with 40,000 Superchargers worldwide, Tesla appears to be transitioning them into a profit center. That's not necessarily a bad thing. It means we'll likely continue to see the growth of Superchargers around the globe, allowing Superchargers to remain the dominant charging network.
Charging stations will always be influenced by utility rates but this is a sign that Tesla's charging business is becoming more financially sustainable.
Time of Day Pricing
In order to combat congestion, Tesla has started implementing time-of-day pricing at many Supercharger locations. In Tesla's recent 2022.36 update, Tesla will now display the time-of-day pricing at a given Supercharger location.
The volume of electric vehicles on the road has increased drastically in recent years and necessitates massive charging infrastructure. Tesla is adapting to serve these needs by slowly opening the Supercharger network up to non-Tesla EVs.
Ordering a New Tesla?
Consider using our referral code to help support our site and get credits toward Tesla Merch.