By Gabe Rodriguez Morrison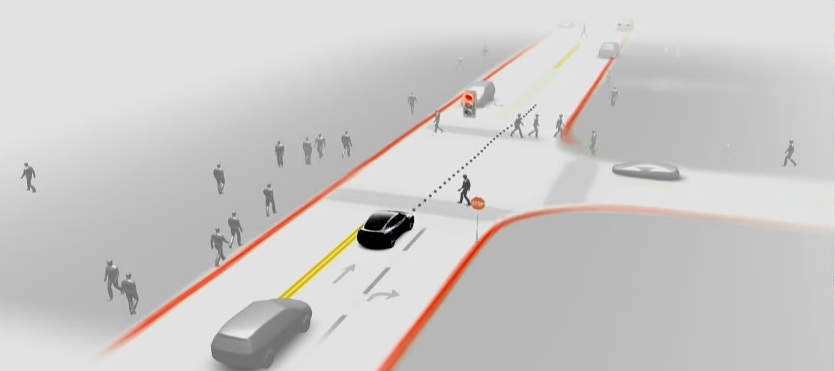 As FSD has improved over the years, Tesla has added additional visualizations to the car's display. The car display shows what the car can see and react to in its surroundings.
In early 2018 Tesla showed only certain types of vehicles and lane markings using only the front-facing cameras.
Tesla slowly started processing data from additional cameras and showed more types of vehicles, pedestrians, and traffic cones.
They now show a large variety of objects from trash cans, traffic lights, dogs, speed bumps, and even dynamically resize vehicle models to match their real-life size.
Tesla only shows a fraction of the objects it detects in their visualizations. For example, Tesla's FSD Beta can detect open car doors, emergency vehicles, and more, but these objects are currently not shown on the display, they likely will be in the future.
Although the car does not use the visualizations for Autopilot, the visualizations still play a crucial part in helping the person behind the wheel understand how well the vehicle understands its environment.
Understanding lane markings, road edges, and the curvature of the road is only a portion of what Tesla's FSD system needs to understand.
To properly understand a curve in the road the car also needs to understand elevation changes.
It looks like Tesla is starting to do just that. According to GreenTheOnly, who analyzes Tesla code, he says that Tesla is "preparing to do some sort of a 3d terrain on the viz."
It's not clear whether FSD may already understand terrain elevations while navigating, but it looks like Tesla will now add elevation changes to their visualizations as well.
Tesla likes to keep the visualizations simple with a sketch-like, gray-tone feel, so we may see roads and surrounding terrain take on a shading effect to visualize hills and valleys.
GreenTheOnly isn't sure what the visualization will look like either, but we may know more soon as Tesla starts to add more information and assets in upcoming firmware builds to support 3D terrains.
they are preparing to do some sort of a 3d terrain on the viz. not sure what form it'll take

— green (@greentheonly) February 7, 2022
Elon Musk has also talked about Tesla trying to find a way to display objects it detects but doesn't completely understand what they are. It could be almost anything; a strange object on the sidewalk, lumber hanging out the back of a pickup truck, or a newspaper vending machine.
The car understands there's an object there, but trying to visualize this object in a way that makes sense for humans is tricky.
In the future, we may even see a more complex 3D environment that will display static objects such as buildings, trees, sidewalk curbs, and more.
We could also see different colors and textures based on the type of terrain (flat gray pavement or textured greenery).
Tesla's MCU chip is already capable of rendering 3D video games, so it's conceivable that it could render a more accurate image of its surroundings.
Tesla initially planned for all FSD visualizations to be rolled out to everyone, even if they didn't have the FSD Beta.
Elon first mentioned visualizations being available in Europe in October of last year, so we're hopeful Tesla is still planning for this.
Good point, we could enable visualization before control. Will enable that option hopefully next month.

— Elona Musk (@elonmusk) September 21, 2021