According to one of our sources, Tesla will soon allow you to pick a custom color for your vehicles.
The custom color will be shown in the car visualizations and in any menus where the exterior of the car is displayed.
If you have had your Tesla painted or vinyl wrapped with a custom color, this will let you match the visualizations with your actual vehicle color.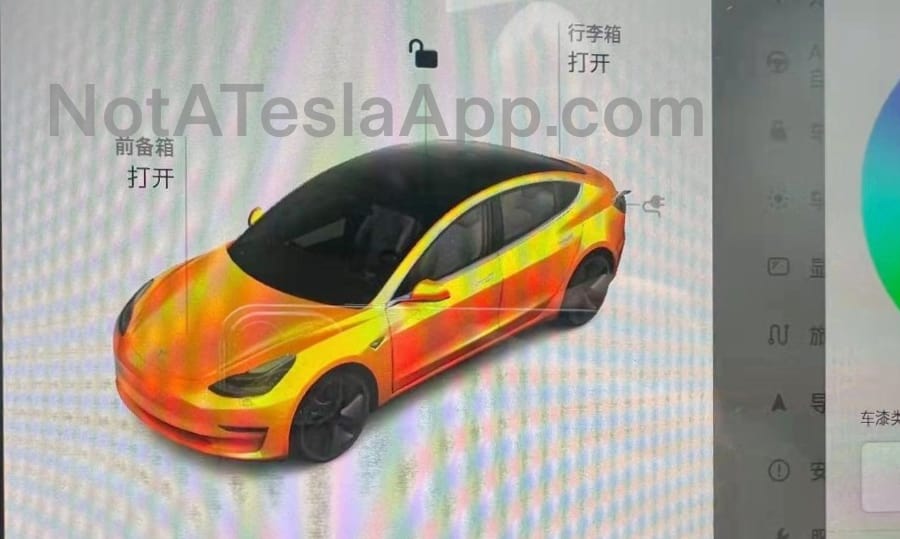 This feature is currently being tested internally at Tesla. Since this update is still being tested, there could always be some changes or delays before it is released publicly.
This internal build was released earlier this year with a version before 2022.4, which is the latest production release. Since the feature has been in testing for several weeks, we expect Tesla to release custom colors in the near future. Potentially as a new feature in an updated version of 2022.4.
You will be able to select a custom color from a color pinwheel that will allow you to pick from virtually any color, not just pre-defined colors.
Since Tesla's visualizations are made up of separate 3D models, they can be assembled in virtually any configuration or color.
In a similar way that Tesla is offering a custom color for the exterior of the vehicle, they could also offer custom colors for seats or other features, although those are much less likely to be customized.
Tesla App
There will also be an upcoming app update. When you change the color of the vehicle in the car, the Tesla app will also reflect the new color. The Tesla app must be updated to version 4.5.1 or later.
Tesla's current app is version 4.5, which added the ability to add Tesla Insurance cards to Apple Wallet, introduced a help section and the ability to reach out to Tesla with a question.
Version 4.5.1 will be released in the near future for iOS and Android.
Video
Here is the new custom colors feature in action in a video that was released by Tesla.
More details have been uncovered about Tesla's custom color feature. It will support different paint finishes and more.