We previously reported that Tesla will be adding an Upgrades section right inside of the car. These are the same upgrades that you initially needed to buy on Tesla's website. Tesla has since added them to the new Tesla app with the release of version 4.0 as well.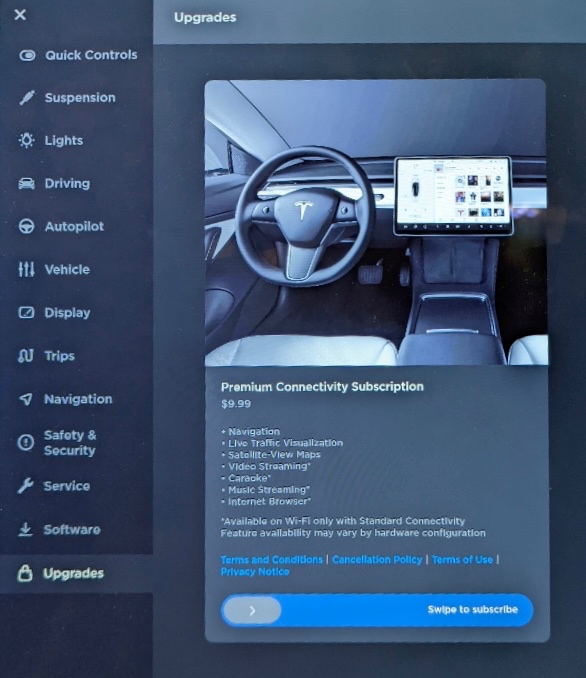 Some vehicles are now able to access the new Upgrades section inside of the car. It appears in the Controls menu, right underneath the Software section.
This option is not yet available to everyone as Tesla appears to be slowly rolling it out. Like some other features as of late, Tesla appears to be enabling this feature remotely to select cars.
Tesla is likely testing the feature and looking for feedback before they release it to everyone.
Tesla is providing a clean interface for the upgrades, with a simple swipe in order to buy or subscribe to the upgrade.
It's unclear whether there is a confirmation once swiping, as a car is less of a personal device than a phone so it could lead to unintended purchases.
Hopefully Tesla is confirming the subscription by asking for the Tesla account password like they do when you forget a Valet or Glovebox PIN.
Some of the upgrades offered in the car are the FSD Subscription, Tesla's Premium Connectivity, Acceleration Boost and more, but the exact upgrades offered will depend on your model and current subscriptions.
Adding this Upgrades section makes a lot of sense, and I'm honestly surprised it took so long to implement.
Adding the ability to buy upgrades and subscriptions in the car are a logical place for these upgrades and Tesla will likely see an uptick in subscribers and upgrades because of it.