Earlier this year Elon Musk said via Twitter that Tesla will be moving all info and settings to the cloud. He said that any Tesla will automatically adjust to you.
Yesterday, Tesla released their latest update, version 2021.40. In this release there is a reference to a new feature called "Cloud Profiles," which gives the user the option to 'Enable Vehicle Sync' for individual driver profiles.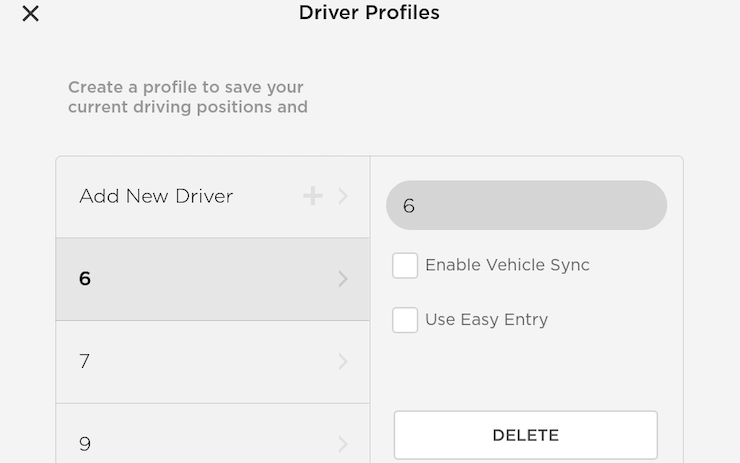 The feature isn't ready yet, but in 2021.40 we get a sneak peek at the UI of Cloud Profiles and how it may function.
Vehicle Sync
In the Profiles menu, there will be a new option under each profile called 'Enable Vehicle Sync'. It looks like enabling this option will enable your Tesla to sync the given driver profile to other vehicles in your Tesla app.
If you own multiple Teslas, use a loaner or rent a Tesla, you will then be able to keep your profile settings the same across your vehicles. When you change a setting, it'll automatically be carried over to your other vehicles.
This will be especially useful when renting a Tesla (Hertz, we're looking at you). You likely won't want to go through every menu in the car and adjust them to your preference. You may not even remember what setting you have some settings set to.
This could be important for certain settings such as 'Stopping Mode'. When you first get in the car, you may expect it to behave like your own Tesla and if the Stopping Mode is set to something else like roll, it could potentially cause you to roll unexpectedly.
If you rent a Tesla or use one as a loaner, it'll feel almost magical being able to get in it and have it automatically adjust to you.
Car settings are either saved on a per-profile basis or saved globally for everyone who drivers the car. We expect that any profile-based settings will automatically carry over to your other vehicles.
Some of the settings that are saved per profile are display brightness, auto high beams, temperature and distance units and stop mode.
Your Autopilot and navigation settings are also saved individually for each driver and those would carry over to other vehicles as well.
Although seat and mirror positions are saved for each driver as well, we don't expect these settings to sync to other vehicles because different models have different dynamics.
It's possible that Tesla would allow seat and mirror positions to sync for the same Tesla models, but this is yet to be seen.
Tesla is already testing vehicle syncing of driver profiles in this latest, 2021.40 release. We expect the Cloud Profiles feature to be available in a software update later this year.
You can read Tesla's release notes for update 2021.40.