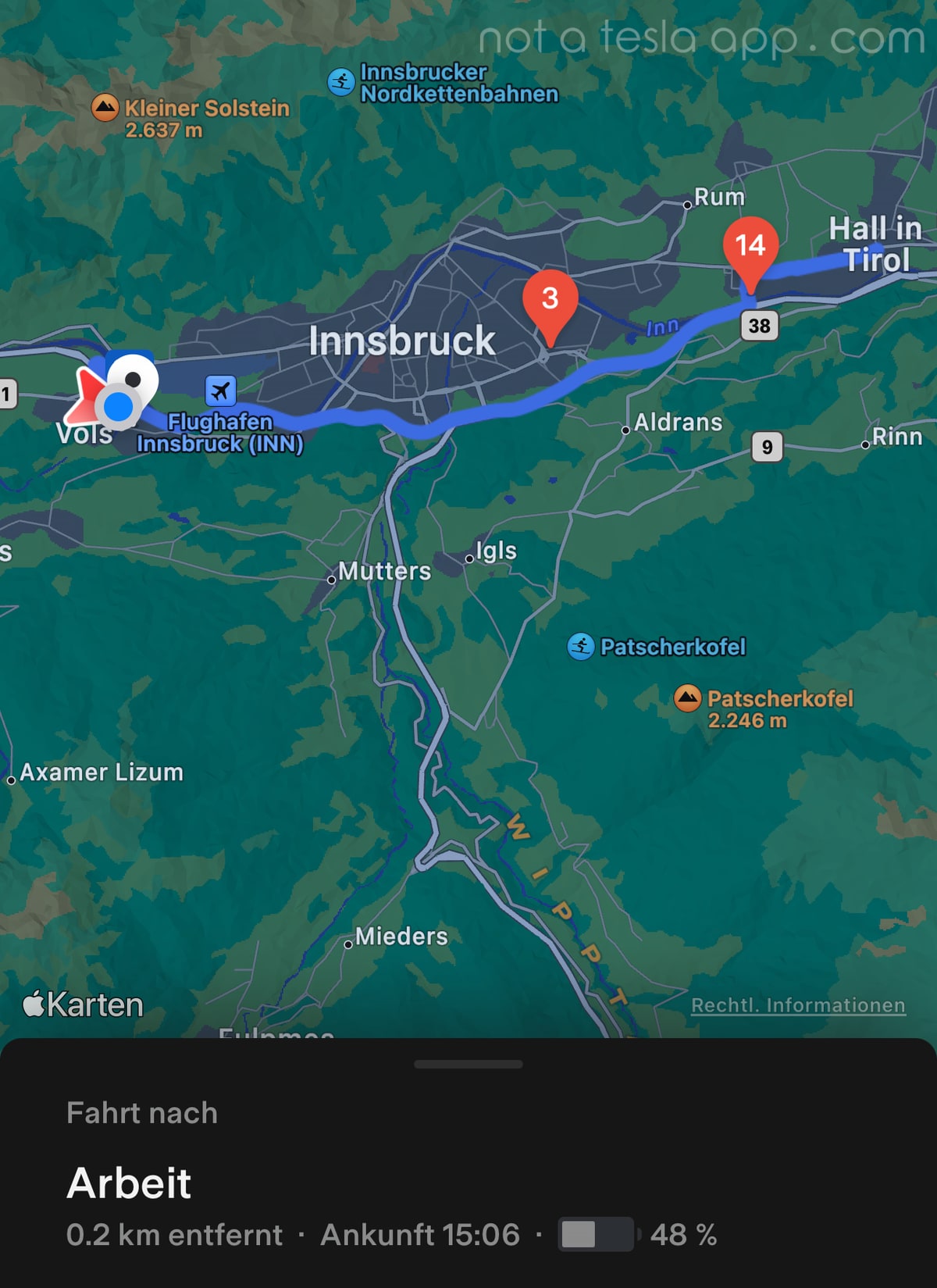 Tesla is consistently working to improve its mobile app experience for users, and now they're adding another new feature. Building on the features unveiled last year, Tesla is now adding the ability to view the route the vehicle is taking toward its destination. Thanks to Max for the tip!
Navigation Path
When using GPS navigation, the app directly displays the driver's destination, distance, and estimated arrival time (ETA) on the main screen. By tapping into the navigation section, users can access a map that shows the vehicle's location, nearby Superchargers, and destination details. The app also displays the vehicle's expected state of charge upon arrival at the destination, providing greater transparency for owners regarding battery consumption. The one missing piece was the suggested route the vehicle is taking to reach its destination. That is now being added to the app and is available for select users.
In the last Tesla app update, v4.19, the company introduced a new API called "nav route." This API looked to go unused at first, but this new feature appears to leverage this API to display the path the vehicle will take, much like the in-car navigation system.
Building on Latest Update
The October 2022 update brought a host of additional features to the Tesla mobile app, enhancing convenience for its users. For instance, the app now shows more information about the media playing in the vehicle, such as song title, artist, and destination details.
Energy Enhancement
The automaker rolled out major revisions to its Energy app in its cars, which displays the battery's state of charge upon departure and arrival, as well as the main causes of battery drain. Tesla started bringing this functionality to the app for older Model S and Model X vehicles, and will hopefully soon expand it to other vehicles.
The app will provide a detailed breakdown of energy usage for various features, such as air conditioning, driving, battery conditioning, elevation, and other components like charging mobile devices, onboard computers, lights, and the audio system.
As Tesla continues to hire additional app developers, users can anticipate further updates and improvements to the mobile app, offering more helpful features and enhancing the overall user experience.
We anticipate that users will be required to have Tesla app version 4.19 and Tesla's car version 2023.6 in order to use this new app feature.