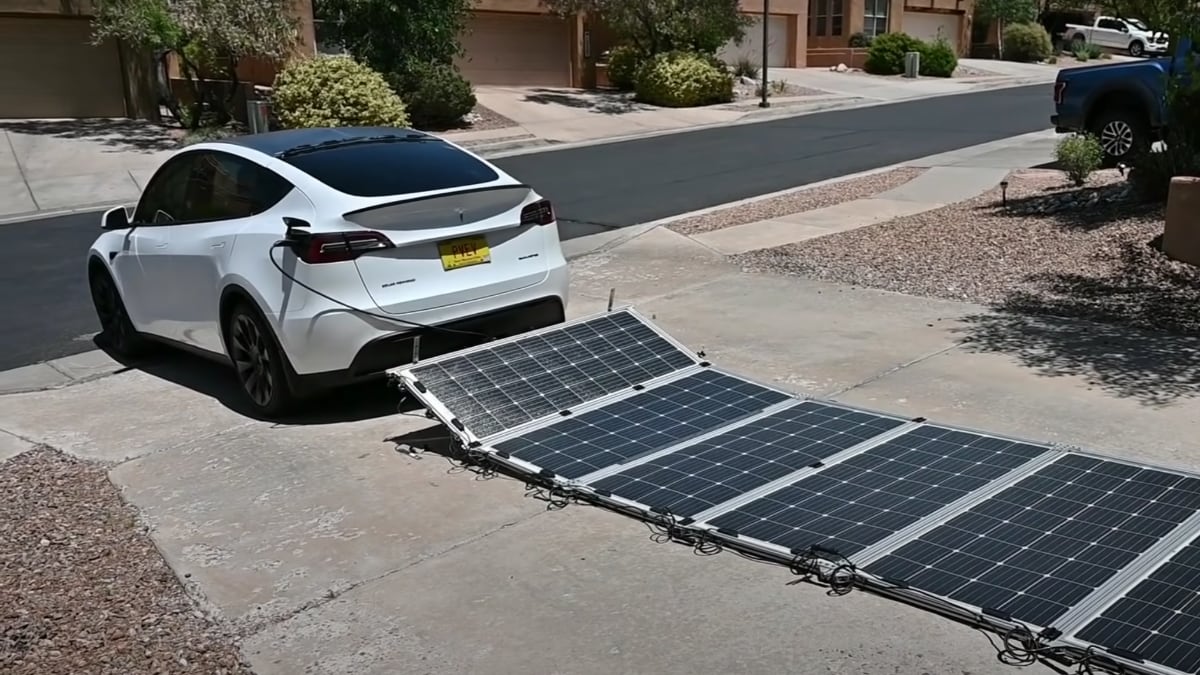 Most Tesla owners have been asked, what if you run out of charge? Of course, everyone who drives with the T emblem on the hood knows it takes poor planning or pushing the limits to run out of energy in a Tesla.
Barring a catastrophic failure, the only reason a Tesla would lose its charge is if the driver ignored every warning, drove past every available charging station, and kept the pedal down until every drop was depleted from the battery. Nevertheless, the question remains, and some people are working on coming up with tangible solutions.
In September, a group called Charge Around Australia plans a long road trip without gas or spending a dime on electricity. The plan is to take a Model 3 9,380 miles (15,097 km) around the entire coastline of the Land Down Under to some of the most remote places on the planet. They will carry 18 lightweight, flexible printed plastic solar panels, which will be rolled up and stored in the trunk. They will roll out the panels for six hours daily to draw energy directly from the sun and charge up the Tesla.
Can printed solar panels power electric vehicles? pic.twitter.com/BIgMuI9oqn

— Reuters (@Reuters) July 5, 2022
These panels, produced using a wine label printer, pack a lot of power. In testing, the solar cells can produce approximately 20W/m2 in full sun conditions. However, production modules are projected to produce up to 50W/m2, with a 200 m2 installation producing around 60 kWh energy. That is enough to charge the Tesla for about two days of the trip or more than a week of typical commuting.
Professor Paul Dastoor, the Charge Around Australia lead, told Reuters he wants the creator of Tesla to find out about the project. "I hope if he finds out about it and Elon Musk will be very pleased, showing how our innovated technology is now combining with his developments to develop new solutions for the planet," said Dastoor.
While certainly not as sleek as the printed solar panels, Daniel Derkacs posted a video (shown above) showing his mobile solar charging set up. His PV provides 1.2 kW of solar power. He installed six 175-watt panels on a bike rack on the back of his Model Y and two more panels on his roof. The system feeds to the trunk, where a battery and inverter are installed.
The comment section was not kind to Derkacs, who did a follow-up video addressing some negative feedback. He stressed that this system is for his daily commute and is not for long trips.
Derkacs' Response to Comments
These are two examples of people looking to get off the grid and power their Tesla directly from the sun and provide a different answer to the question, what will you do if you run out of power.