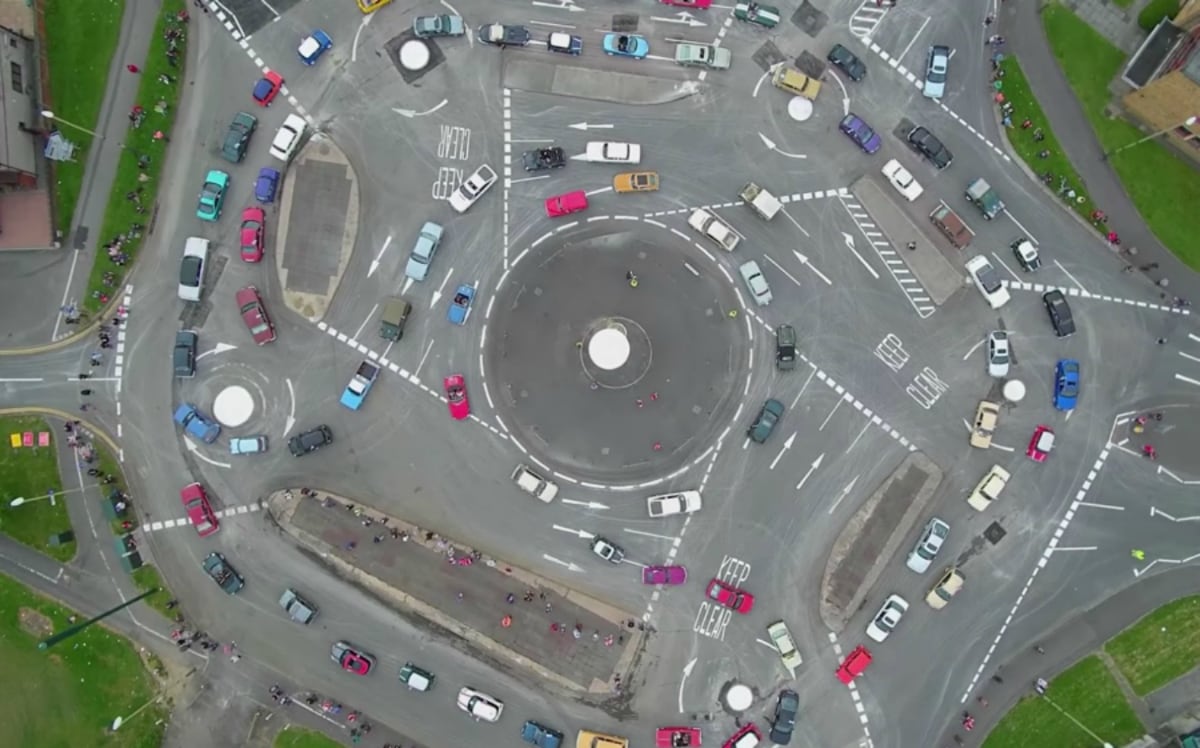 While unprotected left turns can be nerve-wracking for novice drivers, many FSD Beta participants still experience anxiety when their car is faced with such a turn.
Unprotected left turns are one of the harder driving maneuvers to make for humans and AI, as they leave your vehicle vulnerable while turning (instead of turning with traffic).
Tesla quickly recognized the difficulties their AI was experiencing in safely executing these turns and has been working diligently to improve the AI's ability to discern oncoming hazards.
Solve Chazman's Complicated Left Turns
FSD Beta 10.12 improved unprotected left turn issues, but there are still some lingering issues.
Chuck Cook (@Chazman) has been iteratively testing FSD Beta's ability to make unprotected left turns on a busy route.
It's a complicated turn that involved crossing three lanes of traffic before reaching the median and then turning left.
10.13 will solve your left turn most of the time

— Elon Musk (@elonmusk) June 5, 2022
Often it involves crossing the three lanes and waiting at the median before finding enough clearance to get into a lane.
It's complicated, even for humans. However, Elon Musk said in a recent tweet that beta 10.13 would solve Chuck's complicated left turns 'most of the time.'
Chazman on FSD Beta 10.12.2
Smoother Intersections
Elon also added that 10.13 would "smooth out intersection control," hopefully reducing the vehicle's hesitation and steering jerkiness that can happen in busy intersections.
Going Deep on Roundabouts
In addition to unprotected left turns, traffic circle/roundabout navigation has become a focus of FSD engineers.
While popular abroad, roundabouts are seldomly used in the US. Although there are estimated to be 2600+ roundabouts across the country, so FSD Beta needs to be able to handle them well.
FSD Beta's navigation of roundabouts has been spotty, although one could argue that multi-lane roundabouts are challenging even for experienced drivers.
With FSD Beta 10.13, Musk says that Tesla is going 'deep on roundabouts,' and that it should be noticeably better in that iteration of FSD Beta.
There are certainly some complicated roundabouts out there that can challenge even the most skilled drivers. Some roundabouts include multiple lanes and may require you to change lanes within the roundabout, some may even include roundabouts leading into or out of the roundabout, such as the 'Magic Roundabout' in Swindon, England.
Magic Roundabout in Swindon, England
Navigate without Map Data
Musk also hinted at another major improvement that may be included in 10.13: the ability for FSD beta to navigate roads with no map data.
The vehicle will be able to navigate to a specific GPS point or pinned location (ex: rural roads), says Musk.
Dead Reckoning Navigation (Navigating without GPS)
In addition, Elon alluded to the fact that Tesla is also working on the AI's ability to complete 'dead reckoning' navigation (navigating only on "inertial measurements, wheel movement & vision").
He gave underground parking garages as an example of where FSD would need this ability to navigate without GPS or map data.
The car will be able to do this by using its last known GPS location and then determining its future location using only a compass, wheel movement and speed.
Yes, car will navigate to a pin location, even if in a complex surface parking lot or hotel entrance.

When in covered or underground parking lots, car will have to navigate using only inertial measurement, wheel movement & vision, as GPS signal is no longer available.

— Elon Musk (@elonmusk) June 4, 2022
FSD Beta 10.13 Release Date
Elon said that he expects FSD Beta 10.13 to be available in about two weeks.
Why is it always two weeks? Tesla may use an agile approach to software development. In agile development work is planned in 'sprints' that span one or more weeks, with two weeks being a common length.
It's possible Tesla uses two-week sprints when planning and developing upcoming features.
For drivers that have experienced the intense nature of FSD left turns through busy intersections, it looks like they won't have to wait long for FSD Beta 10.13.