Beta Anticipation Syndrome
April 6, 2021
By Henry Farkas
My daughter seems to be the instigator for my car buying habit. She called me up and said, "Pop, you bought the house so you'd have a garage where you could charge an electric car. That's the only requirement you had. So buy the car already."
It was June 2020. The pandemic was on with no vaccine in sight. I was staying home. A lot. Who needed a new car? On the other hand, Full Self Driving (FSD) cost $7,000 and Elon tweeted that it was going up to $8,000 at the end of the month, and up to $10,000 later. Those things happened. I went ahead and bought the car in June. I got a demo version that had around 2,000 miles on it. That gave me a $1,600 discount. $1,000 of that discount was taken up by the blue paint job it came with. It's a very pretty shade of blue. It's the Model 3 standard range+ with one electric motor and approximately 250 miles of range if fully charged.
Since there's a pandemic going on, I didn't bother to get an electrician to put in a 220 volt line to keep the car charged. An ordinary 110 volt house current receptacle does the job nicely. Once I start driving longer distances, I'll get the more powerful circuit installed.
Since I've had the car, there have been plenty of over the air (OTA) software updates. Since the beta version of FSD works on local streets (no painted lines, parked cars), I've eagerly gone out to the car each time I got a software update to see if my car was blessed with THE beta version. Each time, it wasn't.
I've tweeted to Elon about how careful a driver I am. I've pointed out that I use FSD on virtually any road where it will turn on. I realize that Telsa gets data from my car whether I'm using FSD or not, but I do it to show sincerity. I was excited when Elon increased the number of beta testers from 1,000 to 2,000 and took away privileges from people who weren't watching the road (interior camera watches the driver). I thought, maybe. Nope. Very frustrating.
Elon has said he'd add a button in April. A BUTTON. People with FSD can push the button and join the beta tester club. March has only one week to go. Elon didn't say exactly when in April the button will appear. I'm excited. I've been a licensed driver for sixty years. Never, in all that time, have I been this excited about a car.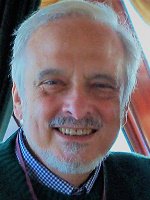 Henry Farkas is a retired country doctor. He bought his Tesla Model 3 in the middle of the pandemic. If you plan to buy a Tesla, you'll want a referral code. That will get you and the person whose code you use 1,000 miles of free supercharging. If you need one, use this one: https://ts.la/henry80997.