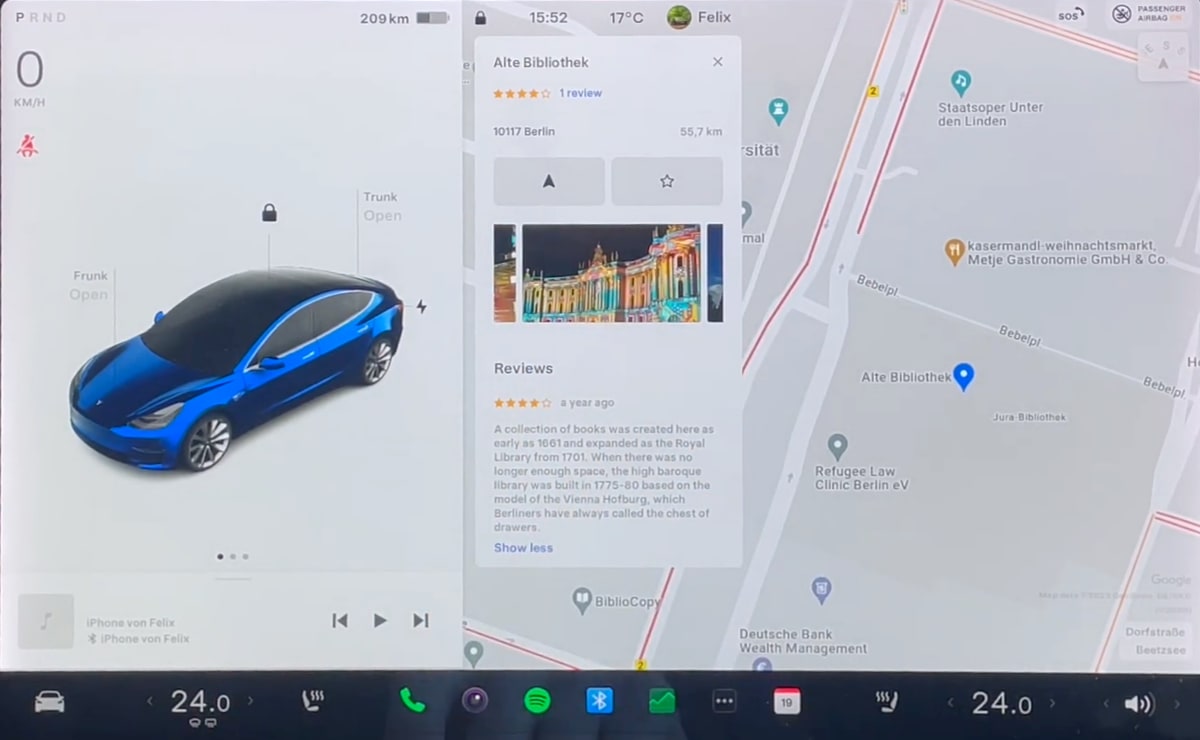 Tesla's 2023.12.1 software update brings various new features and enhancements to its vehicles. One of the most significant updates is the steering wheel customization, specifically for Model 3 and Model Y. The video below shows how easy it is to use and navigate multiple menus.
The left scroll button now has multiple uses, enabling drivers to adjust settings such as brightness and Acceleration Mode and perform actions like toggling the Camera App, opening the glovebox, and saving Dashcam footage. To access these options, long press the left scroll button to display a list of functions and scroll through the list. To choose the default function, go to Controls > Display > Scroll Wheel Function.
Steering Wheel Customization is currently only available for the Model 3 and Model Y, but that may be changing soon. The Tesla release notes reveal an icon with an upward arrow on the car, suggesting possible future suspension adjustments from the scroll wheel menu — a feature currently exclusive to Model S/X.
New Search Function
The new search function, located under the menu, displays options as you type and offers suggestions for easier access to controls and settings. This should make it easier to adjust specific options, especially if you're unsure which menu they're under.
Points of Interest with Photos and Reviews
When selecting a point of interest or Supercharger location, the updated software now includes photos and reviews to provide users with more information. For example, you can tap on a restaurant and immediately receive information about the menu, pictures and reviews.
Undocumented Wiper Adjustment Feature
The ability to adjust wipers using the steering wheel has been discovered as an undocumented feature in the 2023.12.1 release notes. You
You can now adjust the windshield wiper speed by using the scroll wheel on the steering wheel. First, press the button at the end of the left stalk to activate the windshield wipers and have the controls appear on the screen.
You can then tilt the left scroll wheel left/right to cycle through the various speeds of the windshield wipers.
There are various enhancements and changes to the UI in this update that Tesla didn't mention in their release notes. For a full list of all those changes, be sure to check our the release notes for update 2023.12.1, where we list all the official release notes along with undocumented changes.
Optional Gear Chimes for Model 3/Y
Gear chimes have been added as an optional feature for Model 3 and Model Y vehicles. Similar to the same noise users hear when activating and deactivating Autopilot, a chime will provide an audible alert when the car is put in drive, park and reverse. This update is expected to extend to Model S/X and is available worldwide.
Spotify Web-based Player and Phone Call Controls
According to @GreenTheOnly, Tesla's Spotify player has transitioned to be a web-based player, similar to Apple Music. It appears that Tesla will be transitioning all music services to leverage their web-based player, allowing quicker development.
In the new Model S/X and Model 3/Y, you'll now also be able to control phone calls from the steering wheel. The left scroll button can be used to answer or decline incoming calls, mute/unmute during a call, or hang up.
Speed Assist
Speed Assist now leverages the car's cameras to detect speed limit signs, improving the accuracy of speed limit data on local roads and highways in select countries. Detected speed limit signs will be displayed in the driving visualization. The vision-based speed assist feature now includes support for several additional countries, such as Australia, Sweden, Portugal, and Luxembourg.
Expanded Zoom Availability in Multiple Countries
Tesla has extended Zoom availability to more countries, including Germany, France, Italy, the Netherlands, Norway and others. If you have a Zoom meeting in your Calendar, tap the link to start or join your meeting automatically. Participant video and screen sharing are only visible while parked and will switch to audio-only if you drive. It is the driver's sole responsibility to consult and comply with all local regulations while using Zoom. To access Zoom, tap Application Launcher > Zoom.
Tesla Update 2023.12.1 in Action
Legacy S/X Writing Support in China
Writing support has been added to legacy Model S and Model X vehicles in China, expanding the functionality for these owners.
Text Size Customization
Perhaps one of the biggest changes is that you can now choose between Standard or Large text sizes for the touchscreen display in the Model 3 and Model Y. Navigate to Controls > Display > Text Size to adjust your preference. With these exciting new features and improvements, Tesla's 2023.12.1 software update enhances the overall driving experience for its users.
This comprehensive overview of Tesla's 2023.12.1 software update showcases the automaker's commitment to continuously improving its vehicles' features and driving experience for its users. With each update, Tesla further cements its position as a leader in the electric vehicle market.