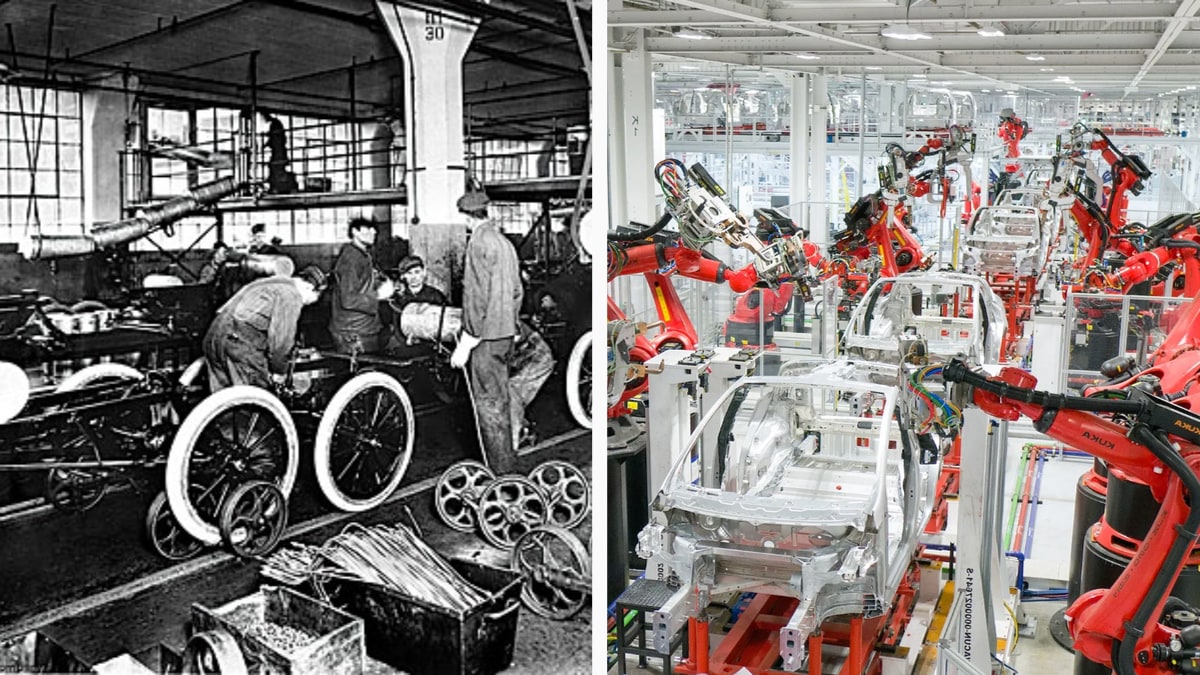 In 1913, Henry Ford introduced the assembly line in Highland Park, Michigan, revolutionizing the automotive industry and drastically reducing the price of the Model T. This groundbreaking innovation led to the collapse of hundreds of rival car companies, unable to compete with Ford's cost-effective production methods. Fast forward to 2023, and we witness a similar dynamic unfolding in the electric vehicle (EV) market, with Tesla leading the charge.
Tesla's continuous advancements in technology and manufacturing and strategic price reductions have raised questions about whether history is repeating itself. Are Tesla's actions, reminiscent of Henry Ford's assembly line legacy, catalyzing Darwinian forces in the EV market and forcing competitors out of the game?
Adam Jonas from Morgan Stanley raised this question during Tesla's Q1 2023 earnings call. Elon Musk, Tesla's CEO, clarified that the company's pricing actions are not aimed at deliberately undermining competitors. "We really don't think about competitors that much," he stated. Instead, Tesla focuses on improving its products, making them more accessible, and enhancing customer service.
Tesla's Unique Strategic Advantage
Musk acknowledged that Tesla does have a unique strategic advantage. The company is developing cars with potential autonomy, which may be worth significantly more in the future. This factor allows Tesla to sell its cars at zero profit while benefiting from the net present value of future cash flows associated with the asset. Tesla also enjoys ongoing revenue streams from service, charging, insurance, and other areas, which competitors may not have.
Tesla's Supportive Approach to the EV Market
Elon Musk emphasized that Tesla's actions are not malicious or intended to destroy competitors. The company has made its patents available for free and opened up its supercharger network to other manufacturers. Tesla's approach is to support the growth of the entire EV market, not to monopolize it.
As the electric vehicle market continues to expand, it is essential to recognize Tesla's role in driving innovation and adoption. While the company's pricing strategy and technological advancements may draw comparisons to Henry Ford's assembly line, Tesla's commitment to supporting the growth of the entire EV market sets it apart.
Despite similarities to historical precedents, Tesla's current approach fosters a collaborative environment and encourages competition. This strategy ultimately benefits the global transition to sustainable transportation and pushes the entire industry toward a greener future.