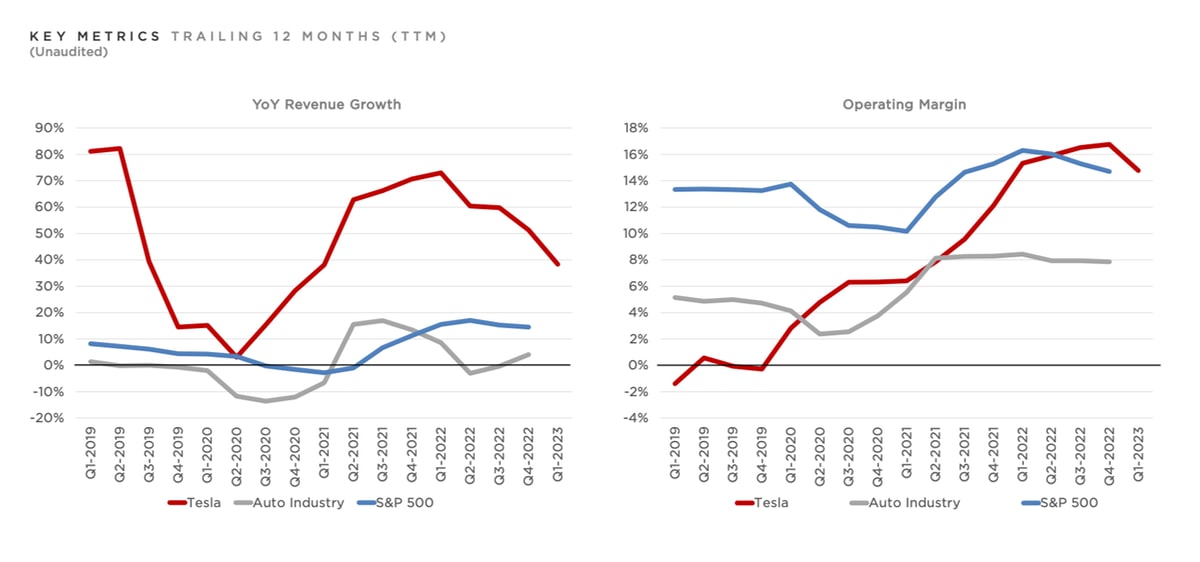 Tesla reported a lower-than-expected gross margin for the first quarter of 2023 as a series of aggressive price cuts aimed at spurring demand in a sagging economy and fending off rising competition took their toll. As a result, the company's total gross margin stood at 19.3%, compared to analysts' expectations of 22.4%, marking the lowest level since Q4 2020.
Multiple price cuts in the U.S., China, and other markets impact profitability.
Tesla has slashed prices several times in the United States, China, and other markets since late 2022 to drive volume growth amid an economic recession. Tesla has implemented six price cuts in the U.S. alone this year, which has affected its automotive gross margin. Price cuts have also been extended to Singapore, Israel, and Europe.
Despite the challenges, Tesla remains optimistic about its long-term prospects. The company reiterated its target of delivering around 1.8 million vehicles in 2023 and highlighted its ongoing investments in battery factories and efforts to normalize raw material and logistics costs. Tesla also expects its operating margin to remain the highest among volume original equipment manufacturers.
Tesla's automotive gross margins, a key figure for investors and analysts, dropped significantly. For Q1 2023, analysts had expected the company to report an auto gross margin of 23.2%, down from a record 32.9% a year earlier and the lowest since Q4 2019.
Company Focused on Long-Term Growth
Tesla's Q1 revenue reached $23.33 billion, slightly missing the consensus estimate of $23.35 billion. Adjusted net income stood at $2.9 billion, lower than the estimated $3.03 billion and considerably less than the previous quarter's figures and those from the same period last year. This trend indicates potential margin compression for the company.
Despite the challenges, Tesla remains committed to increasing production and maintaining a 50% long-term delivery growth rate. The company also confirmed that Cybertruck production is on track to begin later this year at its Gigafactory in Austin, Texas.
With numerous market price cuts and an uncertain economic landscape, Tesla's strategy to boost demand and grow market share comes under scrutiny. As the EV market grows more competitive, Tesla's ability to balance profitability and expansion will be crucial to maintaining its industry-leading position.
Listen to Tesla's Earnings Call and Q&A
You can watch Tesla's earnings call below.