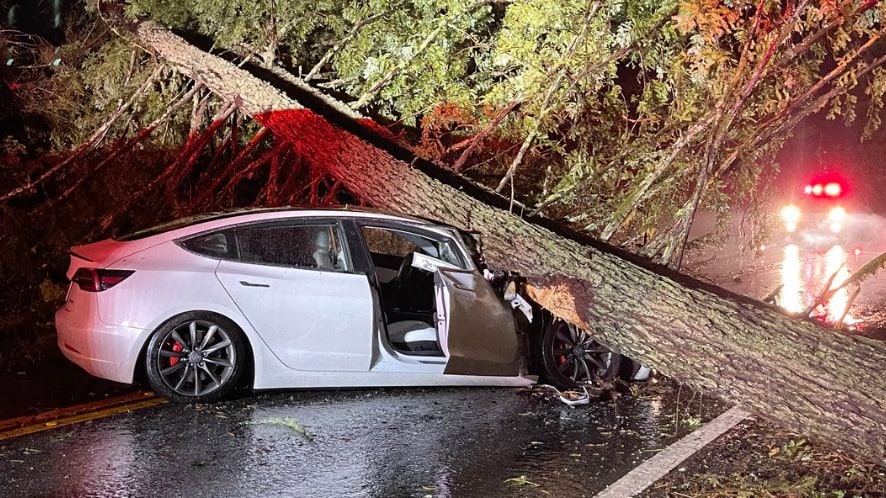 A powerful storm in California recently left a path of destruction, with fallen trees damaging cars and homes. Amidst the chaos, a Tesla Model 3 in Portola Valley became the unwitting target of a massive tree. Despite the severe damage, the Model 3's robust roof and windshield structure shielded its passengers from harm.
Photographs shared by the San Mateo County Sheriff's Office on Twitter reveal the tree's immense size and weight, emphasizing the significance of the Model 3's performance in the incident. Such incidents serve as a reminder for drivers to avoid hazardous weather conditions whenever possible.
The image is reminiscent of the scary scene captured on video (video below) when a windstorm blew over a tree directly on to a Model 3. The occupants walked away unharmed. In the description of the video upload, the poster writes:
Large section of an old tree fell directly on my car, right above the driver's seat... The footage is from the dash cam of the car behind us. We all walked away... thank you, higher powers and Tesla engineers.
Video Falls on Model 3
The Importance of Roof Strength in Vehicle Safety
The Insurance Institute for Highway Safety (IIHS) reports that the 2022 Model 3's roof can withstand a staggering 20,835 lbs of force. This robust roof structure plays a critical role in protecting passengers from accidents involving falling trees or rollovers. IIHS roof strength tests the strength-to-weight ratio, or the force applied relative to the vehicle's weight. A "good" rating requires a strength-to-weight ratio of at least 4. The Tesla Model 3 surpasses this benchmark with its exceptional 5.85 ratio.
Roof strength is vital in preserving occupant survival space during a rollover. Stronger roofs are less likely to crush, reducing the risk of injury from contact with the roof. They also help prevent ejections through windows, windshields, or doors that have broken or opened due to roof deformation.
The Tesla Model 3's performance in this tree-crushing incident highlights the vehicle's exceptional safety features and the company's unwavering commitment to protecting its passengers. As EV technology advances, the Model 3 is a prime example of how safety innovations can make a significant difference in real-world situations. As drivers face an unpredictable world filled with natural and human-made challenges, Tesla's dedication to safety and engineering excellence offers a sense of security and peace of mind behind the wheel.
Ordering a New Tesla?
Consider using our referral code to help support our site and get credits toward Tesla Merch.