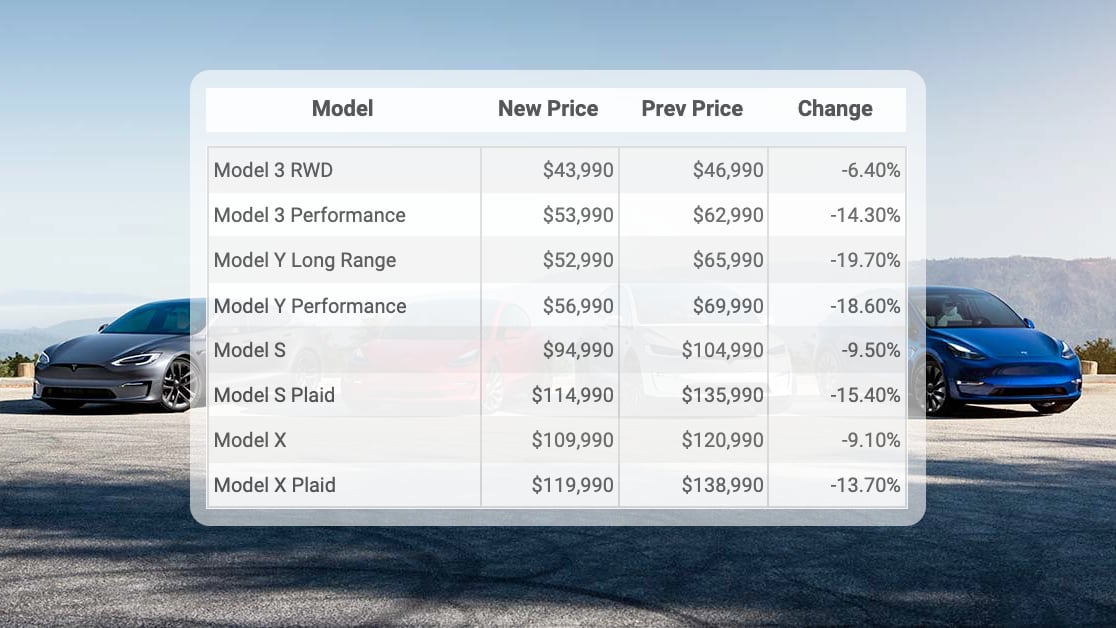 Tesla dropped prices on all models in several countries, which should not be surprising. It's unlikely it has anything to do with the company's plummeting value on the stock market, a perceived lower demand, or an effort to qualify for tax credits. Tesla's entire price drop game plan was forecast just a few days ago by a Tesla executive in China.
Tesla does not have a communications department. All the company information comes from its website, social media accounts or Elon Musk's Twitter account. That's why it was worth finding a translation of a rare interview a Tesla vice president gave to the media in China on January 9, 2023.
When Tesla Executives Speak, You Should Listen
Tao Lin spoke to reporters just days after Tesla dropped the prices in China. Her answers provided reasons behind the lower prices, not only in China but worldwide. "Some media said that we lowered the price because we couldn't sell anymore. I think it's really nonsense," Lin said. "I personally think that the price adjustment reflects our better planning for the supply chain in a sense, and what level the vehicle cost will be, and then we make such adjustments according to this estimate."
Lin then explained, "The price adjustment of a product is actually a forecast of the company's cost changes in the next period of time. The biggest difference between 2023 and last year is that the epidemic has basically passed. We believe that the supply chain has returned to normal to a large extent, and there will be no such unpredictable shortages of materials as in previous years, which brought cost uncertainty."
Tesla Supply Chain Certainty Indicated in Q3
During the third quarter earnings call, Musk spoke about supply chain issues that had hampered production during the pandemic. But he also discussed how the company had advanced in other areas and was optimistic about future production. "What we are seeing is practical improvements as we redesign the whole supply chain and all of the elements that go into a battery cell. We're figuring out dramatic efficiencies."
Zachary Kirkhorn, Tesla's Chief Financial Officer, answered a question about the Inflation Reduction Act during that same earnings call. There were not many details available at that time. Still, he stated, "it's difficult to fully determine the eligibility criteria, but we believe Tesla is very well-positioned to capture a significant share of that for solar storage and also electric vehicles."
Tesla's Transparency is the Problem
Some customers in China who bought a Tesla just before the price cut were furious. That's likely to be the case in other countries as well. However, consumers need to remember that Tesla is a direct sales model. How quickly everyone forgets auto dealers have been changing prices for decades.
Lin gave this example, "for a traditional car, everyone buys it at a different price at a dealer, so you don't really know whether the price you bought is the lowest or not, and you don't know what price other people are buying. Is it fair to consumers?"
Tesla has not only changed the automotive industry by making electric vehicles a viable product, but it also changed how people buy cars. "We adopted some relatively new concepts, such as the direct sales model, such as price adjustment strategies, and we hope to gradually make everyone feel that these concepts are feasible. Under the direct sales model, the prices are completely open and transparent, without discounts or price increases, and everyone is the same at the same time."
Price Reductions in the U.S.
We suspected these price cuts were coming as the EV tax credit in the US listed all Model 3s and Model Ys as qualifying for the tax credit. All variations of the Model Y now qualify for the $7,500 tax credit in the US.
The price cuts also affect many countries around the world such as Spain, France and Portugal. Although the reduced pricing of the Model S and Model X appears to be limited.
Below is a list of the new and previous prices of all Teslas models in the US and the percentage changed.
| | | | |
| --- | --- | --- | --- |
| Model | New Price | Prev Price | Percent Change |
| Model 3 RWD | $43,990 | $46,990 | -6.4% |
| Model 3 Performance | $53,990 | $62,990 | -14.3% |
| Model Y Long Range | $52,990 | $65,990 | -19.7% |
| Model Y Performance | $56,990 | $69,990 | -18.6% |
| Model S | $94,990 | $104,990 | -9.5% |
| Model S Plaid | $114,990 | $135,990 | -15.4% |
| Model X | $109,990 | $120,990 | -9.1% |
| Model X Plaid | $119,990 | $138,990 | -13.7% |