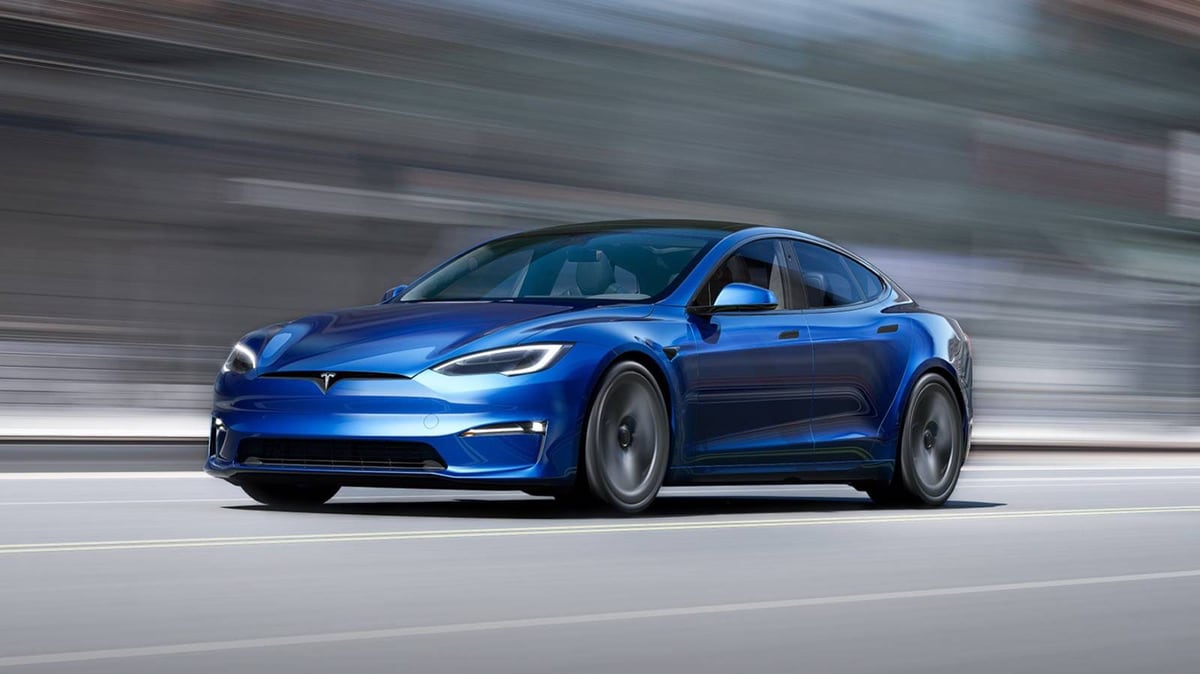 Tesla's Model S Plaid is the most impressive car on the road today. It's not just that it looks great, but it has some serious power underneath the hood... or frunk. Recently, MotorTrend tried the Tesla Model S and declared it the fastest car they have ever tested. That's saying something.
MotorTrend first appeared on magazine stands in 1949. With more than 70 years of experience driving thousands of cars, the Model S Plaid beat them all.
0-60 MPH in 2.3 Seconds
The Tesla Model S Plaid is a high-speed car, and the stats back it up. According to MotorTrend, the Model S accelerates from 0-60 MPH in an astonishing 2.3 seconds.
"When experiencing the acceleration of a Plaid, it's abundantly clear that virtually the only force you feel is the Tesla's seatback hurling you forward to a degree that genuinely makes the horizon the floor. Except that floor is rushing up at you far faster than any free fall ever could."
Earlier in the article, the author explains that a free fall speed equates to accelerating from 0-60 in 3 seconds.
The Tesla website says the Plaid can go faster than MotorTrend reported, with a 1.99 second 0-60 time. Its three mighty electric motors, two in the back, power the all-wheel drive system producing a ridiculous 1,020 horsepower and 1,050 ft-lb of torque. The top speed is pegged at 200 MPH; for comparison, the maximum speed in NASCAR last season was recorded at 190.7 MPH.
Tesla Model S Plaid Specs
| | |
| --- | --- |
| Spec | Value |
| Curb Weight: | 4,816 lbs |
| ¼ Mile Time: | 9.3 seconds at 152.2 mph |
| Motor Layout: | Tri-motor, one front, two rear |
| Maximum Horsepower: | 1,020 hp |
| Maximum Torque: | 1,050 lb-ft |
| Top Speed: | 200 MPH |
| Cost: | $119,990 |
Model S Plaid Does the Quarter Mile in 9.3 Seconds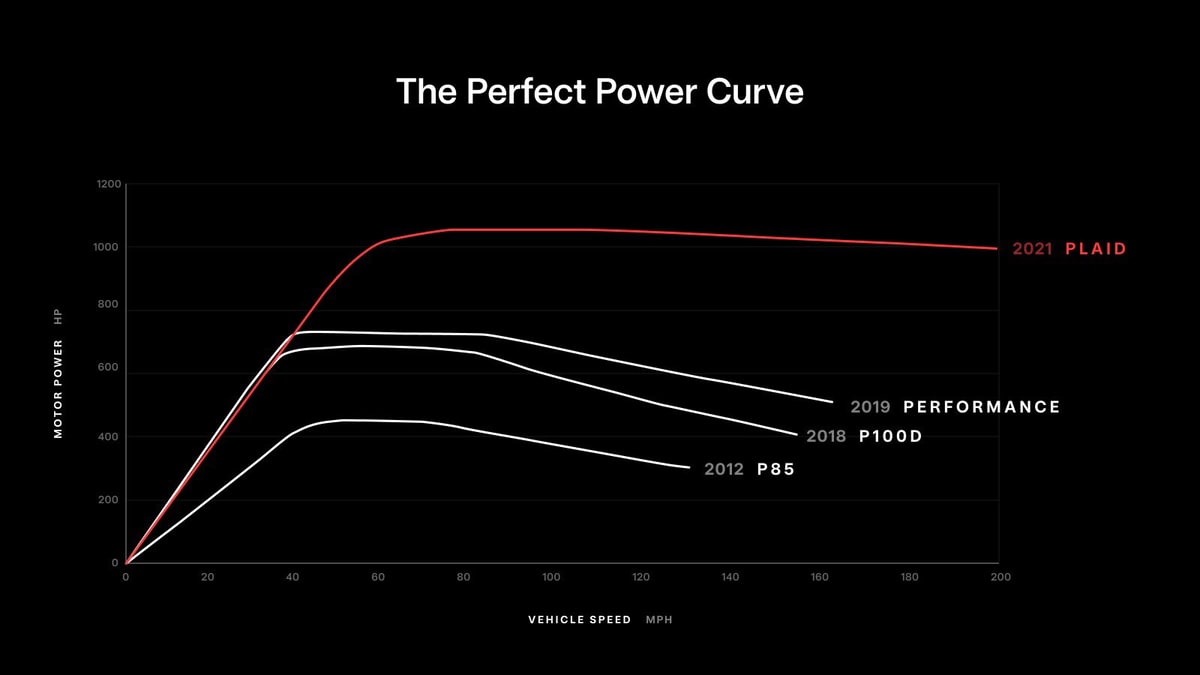 Tesla's Model S also laid down a blistering quarter-mile to earn the title of the fastest car MotorTrend has ever tested. The blue Plaid devoured the quarter mile time in 9.3 seconds. It should've been a red Model S because this car was burning the record books and lighting the track on fire.
It's not just the motors; the cutting-edge software and aerodynamic design also contribute to its superior acceleration.
60-0 MPH Braking in 104 Feet
In addition to its blistering quarter-mile time, the Model S is able to achieve 60-0 mph braking in just 104 feet, while providing a maximum lateral acceleration of 1.02 Gs. This makes it one of the quickest cars ever produced and gives it the performance capabilities that rival some of the world's top supercars.
In other tests, the Plaid had a record stopping time as low at 98 feet. The impressive stopping power of the Model S can be attributed to its combination of powerful brakes and low center of gravity. The regenerative braking system also helps reduce wear on the brakes and allows for maximum braking performance. In addition, the Model S also features an advanced stability control system that helps to keep the car stable and in control during hard braking maneuvers.
Top 10 Fastest Electric Cars
| | |
| --- | --- |
| Car | 0-60 MPH Time |
| 2021 Tesla Model S Plaid | 2.3 Seconds |
| 2020 Porsche Taycan Turbo S | 2.4 Seconds |
| 2022 Lucid Air Grand Touring Performance | 2.7 Seconds |
| 2022 Audi RS E-Tron GT | 2.9 Seconds |
| 2022 Mercedes-AMG EQS 4Matic+ Sedan | 3.0 Seconds |
| 2022 GMC Hummer EV Edition 1 | 3.0 Seconds |
| 2022 Rivian R1T Launch Edition | 3.1 Seconds |
| 2023 Kia EV6 GT | 3.2 Seconds |
| 2023 BMW iX M60 | 3.2 Seconds |
| 2022 Rivian R1S Launch Edition | 3.2 Seconds |
The Tesla Model S Plaid, which added track mode in 2021, has pushed the performance boundaries and set a new standard for high-performance electric vehicles. Its quarter-mile time of 9.3 seconds is remarkable, and its ability to reach 0-60 mph in just 2.3 seconds is extraordinary. Elon Musk wrapped it up best, responding to a tweet about MotorTrends results. He tweeted: Plaid is sickkk.