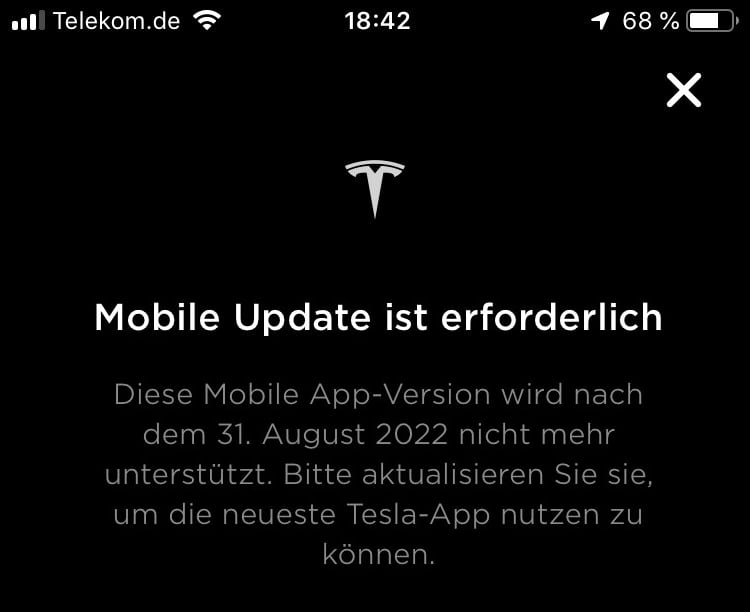 Users who are still running version 3.x of Tesla's app on Apple devices have recently begun reporting an in-app message that pops up when opening the Tesla app on their phones.
Twitter user Joel Christ made us aware of the in-app messaging. The message indicates that Tesla will no longer support the app after August, 31st, 2022, it encourages the user to update the app to the current version (4.11).
According to Joel the app says "Mobile update is required - This mobile app version will be no longer supported after August 31st 2022. Please update it to use the latest Tesla app."
This could be due to Tesla deprecating certain security methods or other functions that they're transitioning away from or already have already transitioned from in their later app revisions. It could also signal that some major changes may be coming in the near future.
While updating to the latest stable app version is always a good idea for the security patches that routinely come with app updates, this particular deprecation process will exclude some iOS users that still use older devices.
In order to use Tesla's latest app (4.11), one must possess a device that supports iOS 13+.
According to Apple, iOS 13 is only compatible with the following phones.
iPhone 11
iPhone 11 Pro
iPhone 11 Pro Max
iPhone XS
iPhone XS Max
iPhone XR
iPhone X
iPhone 8
iPhone 8 Plus
iPhone 7
iPhone 7 Plus
iPhone 6s
iPhone 6s Plus
iPhone SE
iOS/iPadOS 13 is also compatible with the 7th generation iPod Touch and a variety of iPad models, although those may be less convenient due to their bigger size or WiFi only connection.
While Apple allows users to download the most recent version of an app that is compatible with their operating system, it looks like Tesla may no longer allow users to sign in to their 3.x app.
The number of iOS users using iPhone 6s and older devices to unlock their Teslas is likely to be low (Apple, in June of 2022, estimated that 90% of Apple devices were running iOS 15), but it will still potentially exclude those device update holdouts from unlocking their car.
Although the Model 3 and Model Y do support a keyfob, it does not come included with one. This change and Tesla's potentially short transition time could be an issue for some owners.
For affected users, the best method to continue to have access to their cars would be to upgrade their device, but they can also consider using third-party Tesla apps or buy a keyfob for their vehicle as a temporary solution.
Tesla's 4.0 version of the app was released in August 2021 and offers many new features and improvements over the 3.x version. For a list of features and changes to the Tesla app, check out our App Updates section.