It's presumptuous of me to write an article on Tesla's FSD Beta v9 considering the sad fact that my Tesla Model 3 doesn't have it. I've had the urge to do it anyway, but what could I say? Well, I've watched videos and read articles written by people who have it, and now I have something to say that no one has said. I'm going to compare Tesla to Mercedes Benz.
There are numerous people who now have access to the FSD v9 Beta, and many of them have now posted videos online to describe their experience. We take a look at some of those most interesting videos below.
All these reviewers mention that v9 is much smoother and more human-like in its driving leading to fewer disengagements. You'll note that even though v9 is a better driver, it's not yet a human-level driver. There's no such thing as disengagement when a human is driving.
AI Addict took his Tesla with v9 down Lombard St. in San Francisco and here's how it did:
For those of you not familiar with San Francisco, Lombard St is extremely curvy and hilly. It's also very narrow. It's a one-way street, so you have to drive downhill. The last time I drove down that hill, I scraped my car on a cement curb. AI addict went down the street twice, and he had to take over both times. Clearly, Lombard St is an edge case that the neural network hasn't mastered yet.
Here's a v9 video in San Francisco that doesn't go down Lombard St, but that does still need some human interventions.
Here's a video by Dirty Tesla in downtown Ann Arbor. He did need to intervene a number of times.
So, basically, v9 is much better than v8, but it's still not able to drive as well as the average human driver. So, what else is new? Here's the kicker.
There's an article in Engadget that describes the author's test track experience in a Mercedes Benz with level 3 self-driving. Benz is planning to release level 3 within a year.
Below you have the six levels of vehicle autonomy as defined by the SAE International group, which defined the standards the US goverment now uses.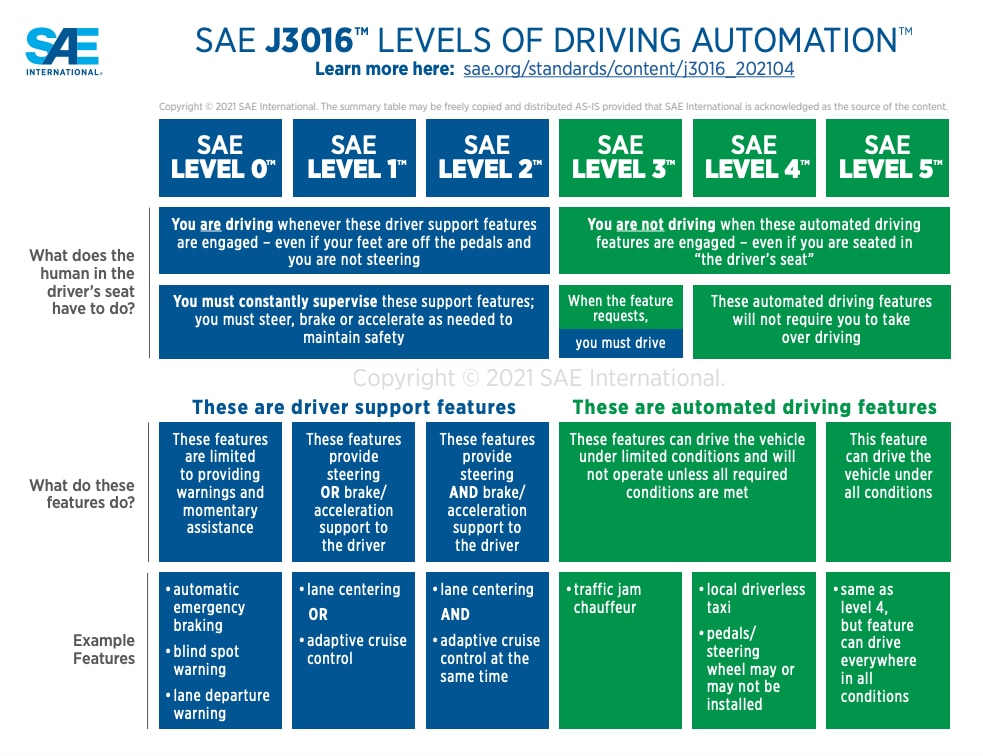 Here's the thing about the Mercedes Benz version of level three. It's geofenced to limited access highways, and it's velocity fenced to speeds of less than 60 kilometers/hour which translates to speeds of less than 37.2 miles an hour. So if you buy one of these cars for the level 3 self-driving feature, you'll be able to use it only on limited-access highways during traffic jams. According to the video, you'll be able to watch movies, play video games, and send texts while in traffic jams, that is unless the police see you doing those things. You'll be able to keep your hands off the steering wheel, but you still have to be ready to take over instantly if the car decides it doesn't know what to do. If you fall asleep or raise a newspaper high enough so the interior camera doesn't know if you're awake and alert, the level 3 self-driving feature will stop working.
So now, let's get back to Tesla. Although I don't have FSD Beta v9, I do have Navigate on Autopilot on my Model 3, and that's what gets used on limited-access highways even on cars with FSD Beta v9. So here's my experience on limited-access highways.
I do have to keep my hands on the steering wheel, and I'm not permitted to text, play video games, or watch movies even when I'm in a slow-moving traffic jam. Frankly, I wouldn't feel safe doing those things while driving any car including a Mercedes. And keeping my hands on the wheel seems like the right thing to do in a car that might want me to take over at any moment. It would take one or two tenths of a second for me to get my hands onto the steering wheel if they were off the wheel when an emergency situation arose. It would take one or two seconds to figure out what to do if my mind was on a text, a video game or a movie when a disengagement happened. Even a tenth of a second could make the difference between a close call and an accidental crash.
For the most part, the only time I ever need to intervene while on a limited-access road is when my Tesla and I disagree on which is the most propitious travel lane. This sort of disagreement happens often enough that I have the settings adjusted so that the car needs my consent before it changes lanes.
But if you're willing to let your Tesla decide which lane to travel in, then Tesla FSD non-beta is already more powerful than the Mercedes level 3. Yes, you need to keep your hands on the wheel and you're not permitted to watch movies. But otherwise, the Tesla will drive itself as well as the Mercedes, and it will do that very well at full highway speeds, in stop and go traffic jams and everything in between. Level 3 self-driving below 37 MPH isn't an improvement over advanced autopilot.
Tesla's Autopilot is currently a level two driving feature, which basically means that it should be used as an aid to drivers, but that it does not drive on your own. If you've ever used Autopilot then you'll know that Tesla is right on the cusp of level three. With the FSD Beta, I believe Tesla is planning on pushing level three automation to everyone who has purchased the FSD package. Level three is where the FSD features break free and stop just being an aid and turn into an "autonomous" vehicle that the driver should pay attention to, and not just at 37 MPH.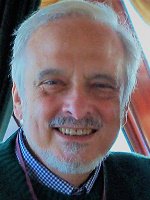 Henry Farkas is a retired country doctor. He bought his Tesla Model 3 in the middle of the pandemic.