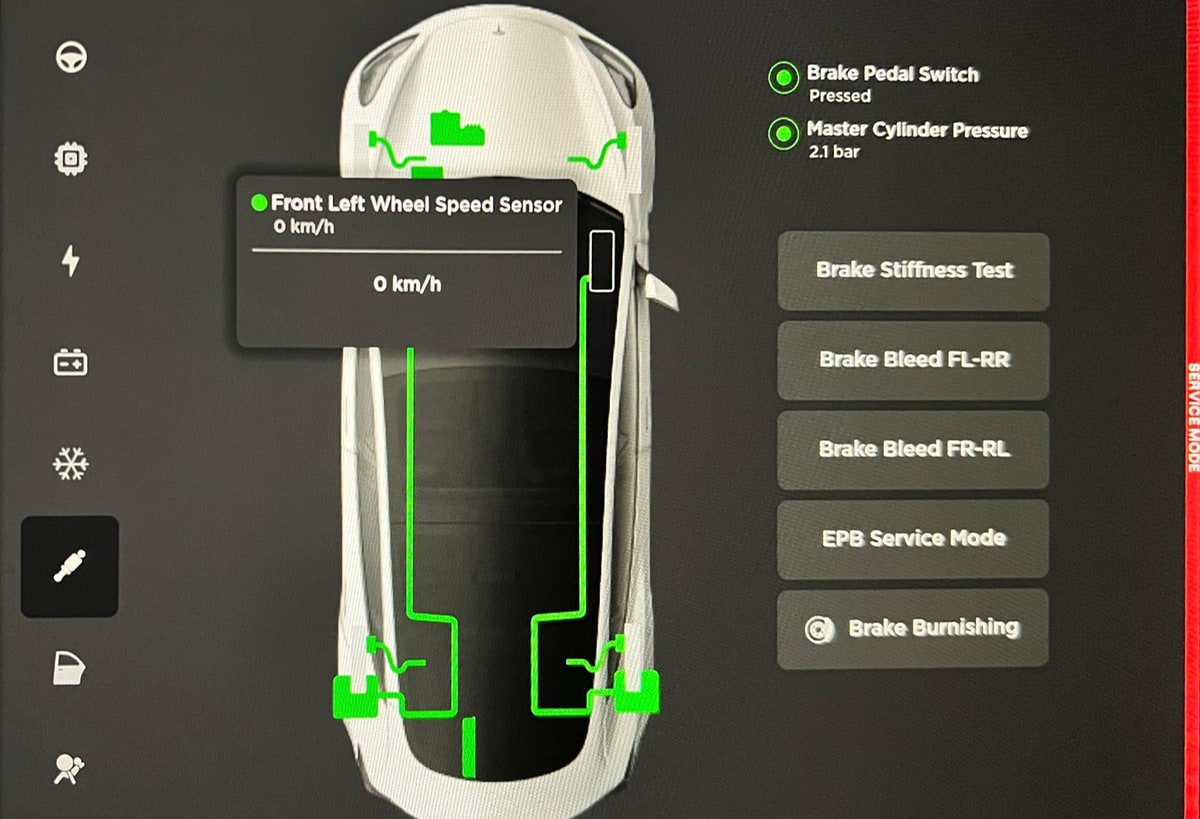 Tesla continues to improve its Service Mode, which makes it easier to diagnose issues and replace parts. In Tesla update 2023.38, Tesla added a new brakes service panel that allows diagnosing wheel speed sensors and various brakes systems.
New Brakes Panel
There's a new brakes panel in Service Mode that allows owners and service technicians to diagnose wheel speed sensors, the Electronic Park Brake (EPB), Electronic Stability Program (ESP), and Electromechanical Brake Booster (iBoostor). You can also perform certain actions, such as releasing EPBs, bleeding brakes, and running a stiffness test, according to the Service Mode release notes.
Tesla continues to expand the abilities of its Service Mode, which facilitates the maintenance of the vehicle for Tesla service centers and traditional repair shops. Elon Musk has stated that Tesla is striving to significantly improve the efficiency of its service centers in an effort to reduce wait times, and this likely helps accomplish that.
In update 2023.32, Tesla also made Service Mode changes by improving service alerts and added a new ECU status panel as well as updates to the low voltage battery and heat pump panels.

Before that Tesla added the ability to diagnose issues with the steering wheel stalks and scroll wheels in update 2023.26.
Access to Service Mode
Service Mode is a "hidden" app in every vehicle that lets owners with more advanced knowledge perform certain actions to diagnose or service their vehicles. Although the app is meant for Tesla service centers, anyone can access Service Mode. Keep in mind that certain vehicle safety features are disabled when Service Mode is enabled and the vehicle should not be driven in most cases.
Other Changes in 2023.38 Update
Other Service Mode changes in update 2023.38 include changes to the Camera Preview, which is allows you to change the pitch of the camera, as well as enhancements to "Instruction HV Shunt Replacement (Service Mode Plus)" and "Airbags, and Seats Panels."
Camera Preview
Preview the front camera pitch verification lines and other cameras as well.
To do so, tap Driver Assist > Cameras.
Enhanced instruction HV Shunt Replacement (Service Mode Plus)
New instructions with an image to help you find the shunt resistance value and run the shunt replacement routine.
To do so, tap High Voltage > Tools > Shunt Replacement.
Enhanced Airbags and Seats Panels
New routines to help you perform all required actions after a Restraints Control Module (RCM) replacement.
Safety & Restraints > Airbags