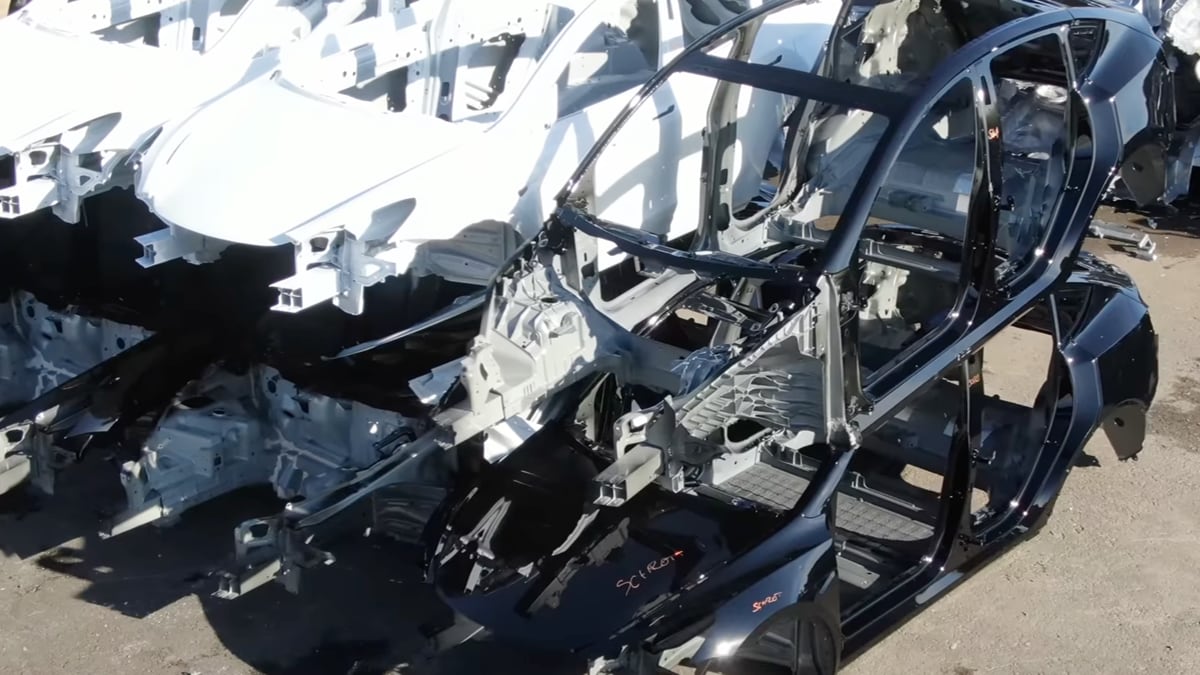 New insights into Tesla's manufacturing innovations have emerged, suggesting the automaker is not just nearing but actively implementing groundbreaking advancements in its gigacasting technology. Reports from the Shanghai Securities News and posts from X.com user @zhongwen2005 unveil Tesla's successful adoption of an upgraded gigacasting process at its Shanghai Giga Factory, focusing primarily on the Model Y's rear bottom plate assembly system.
This revelation is a pivotal update to earlier reports, indicating that Tesla is realizing its commitment to unboxed manufacturing and is on the brink of revolutionizing vehicle production. The upgraded gigacasting technology allows the die-casting of almost the entire complex underbody of an electric vehicle in one piece, significantly reducing production costs and assembly components.
New Technology Now in Use
According to the new information, the application of this integrated die-casting technology has led to a remarkable 40% reduction in related production costs and over 10% weight savings compared to traditional methods. These advancements are especially pertinent as Tesla explores manufacturing possibilities for its forthcoming $25,000 car, which presents an ideal opportunity to deploy this one-piece casting innovation.
Tesla's pioneering approach, involving 3D printing, industrial sand, and the development of specialized alloys, is further fine-tuned with the introduction of version 2.0 of its integrated die-casting technology. The amalgamation of rapid prototyping, material innovation, and advanced casting techniques underscores Tesla's relentless pursuit of manufacturing excellence, setting the stage for a large-scale manufacturing evolution.
This strategic shift and technological progression are aligned with the insights shared in Walter Isaacson's biography of Elon Musk, depicting a transition in Tesla's operational hubs. The Giga Texas facility emerges as a focal point for the development and perfection of this next-generation EV platform, with Giga Mexico anticipating the subsequent housing of the new technology.
The Competition is Playing Catch-up
As the electric vehicle market grows increasingly competitive, such innovations are crucial. The upgraded gigacasting technology places Tesla at the forefront of manufacturing efficiency and sets a precedent for other manufacturers. Toyota recently unveiled its own gigapress, and Chinese EV makers, including Xpeng and Geely's Zeekr, are adopting gigapressing technology to decrease vehicle weight and cut costs.
As Tesla continues to refine and implement its upgraded gigacasting technology, the company is not merely taking a step but making a significant leap toward redefining automotive manufacturing. The integration of this advanced technology at its Shanghai plant illustrates the tangible strides Tesla is making in realizing Elon Musk's vision of halving production costs and making electric vehicles more affordable and accessible.
The latest developments confirm that a transformative moment in EV manufacturing is not just on the horizon but actively unfolding. Tesla's commitment to innovation and the successful application of upgraded gigacasting technology underscore its position as a leader in the automotive industry, driving towards a future where electric vehicles are increasingly revolutionary and attainable.