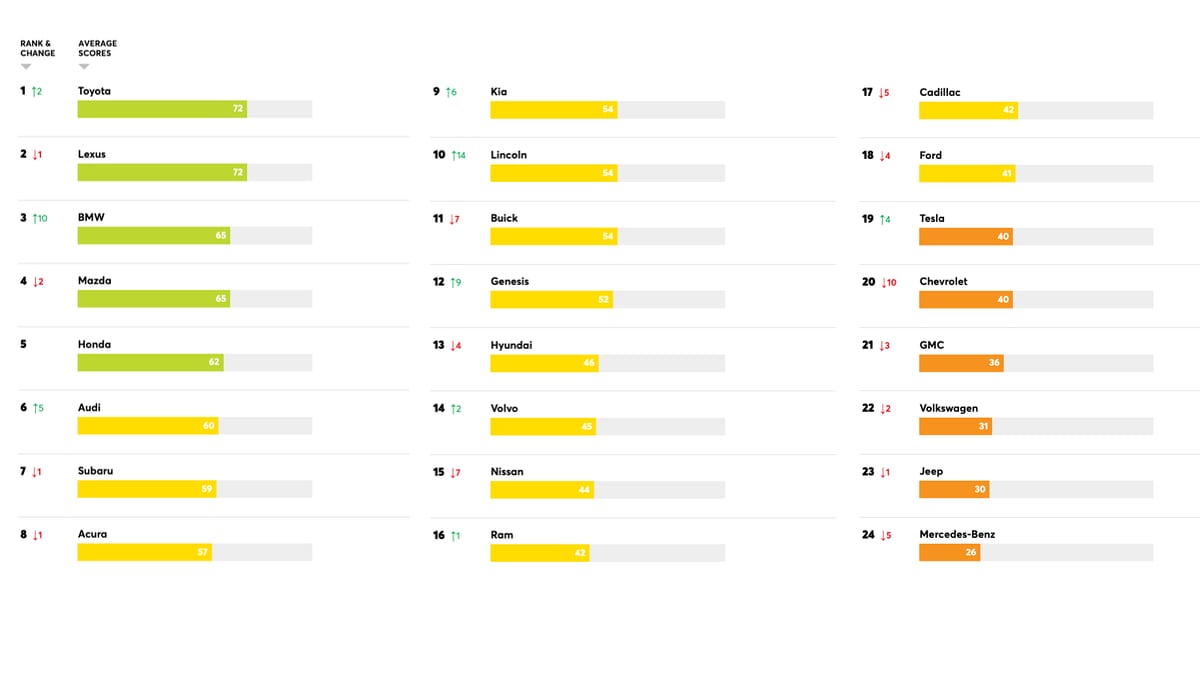 Consumer Reports released its annual reliability report, placing Tesla 19th out of 24 car brands. The publication continues to offer harsh reviews for Electric Vehicles placing the entire sector as the second least reliable choice for a vehicle, just ahead of full-size pickups. While this review certainly generated a lot of attention, it is entirely predictable.
Until recently, Tesla was practically the lone player in the EV space, and now automakers are rushing to get an electric car with their brand on the road as quickly as possible. But, of course, any product rushed to market will have issues, and a vehicle is a complex piece of technology and machinery that will show those issues 10-fold.
Big Drops By New EV Manufacturers
For example, Hyundai and Chevrolet, which have significantly pushed into the EV marketplace, dropped in year-over-year rankings. Chevrolet dropped ten spots, and its Volt is listed as the fifth least reliable car. At the same time, Hyundai's Kona comes in ninth. Mercedes Benz dropped to last place in reliability. Consumer Reports blames its drop on EV production as well. Ford is now ranked 18th, as many consumers reported issues with the Mustang Mach-E.
Jake Fisher, a senior director at Consumer Reports, told CNBC, "The automakers are using EVs as a technological testbed for whatever new technology they want to try out. By having all this new technology, there's a lot of potential problems with them."
Tesla Takes Unnecessary Criticism
Fisher's comment begs the question, why are full-size pickup trucks so unreliable? They've been around for a long time. However, the majority of media outlets are aimed at Tesla. Take Bloomberg as an example; it used Tesla in its headline despite their ranking actually improving and the company being ahead of five other brands when it comes to reliability, including Chevrolet (20), GMC (21), Volkswagen (22), Jeep (23), Mercedes-Benz (24).
Consumer Report collects data from consumers of more than 300,000 vehicles. There were 2,000 owners of Teslas included in the survey. Model 3 received an average reliability ranking, but Models S, X and Y ranked below average.
Hybrids Are Not the Answer
On the flip side, Fisher then promotes hybrids as the most reliable vehicles, "Today's hybrids are just as quiet and just as quick and nice to drive as the normal versions. The reliability of electric vehicles is not great. In fact, the majority are actually below average."
This comment is perplexing. EVs removed all of the components that can go wrong with ICE cars. Over the summer, Elon Musk tweeted, Time to move on from hybrid cars. That was a phase. That's a nicer way of saying what he's reportedly called hybrids in the past, "an amphibian in a transition from dinosaurs to mammals." Consumer Reports says that 1 in 3 consumers want a hybrid as their next vehicle.