By Gabe Rodriguez Morrison
Tesla's dynamic infotainment system includes a growing number of video games, some use the car's steering wheel, while others use the touchscreen or require an external controller.
It is evident that Tesla's Infotainment system will eventually be capable of next-gen level gaming with the introduction of Tesla's latest infotainment unit, MCU 3. With "up to 10 teraflops of processing power" it is only a matter of time until highly detailed games can be played directly in the car.
Tesla Controller
Tesla revealed a proprietary wireless gaming controller at the Model S Plaid Delivery Event in June of 2021. The controller closely resembled a PS5 controller with two analog sticks, four directional buttons and four action buttons. The controller also resembles a steering wheel with a closed-loop design, likely to accommodate racing games.
Since the unveiling, we haven't heard much about the proprietary controller until now. Tesla's wireless gaming controller may be coming soon, suggests Javier Verdura, Tesla's Director of Design. When asked in a recent Twitter conversation, if he would let us know before Tesla launches their own game controller, Verdura responded "Of Course!"
Of course!

— Javier Verdura (@JVerdura) January 6, 2022
No further details have been provided by Tesla but this is a sign that a wireless gaming controller could be coming to the Tesla shop soon. You can expect it to connect via Bluetooth and likely cost somewhere between $50 and $80 USD.
Connect console controllers wirelessly
In the meantime, Tesla owners can still take advantage of the high-level gaming of the infotainment system using compatible wireless and wired controllers. Controllers like the PS4 and Xbox One controllers can only connect to a Tesla when connected via a USB cable.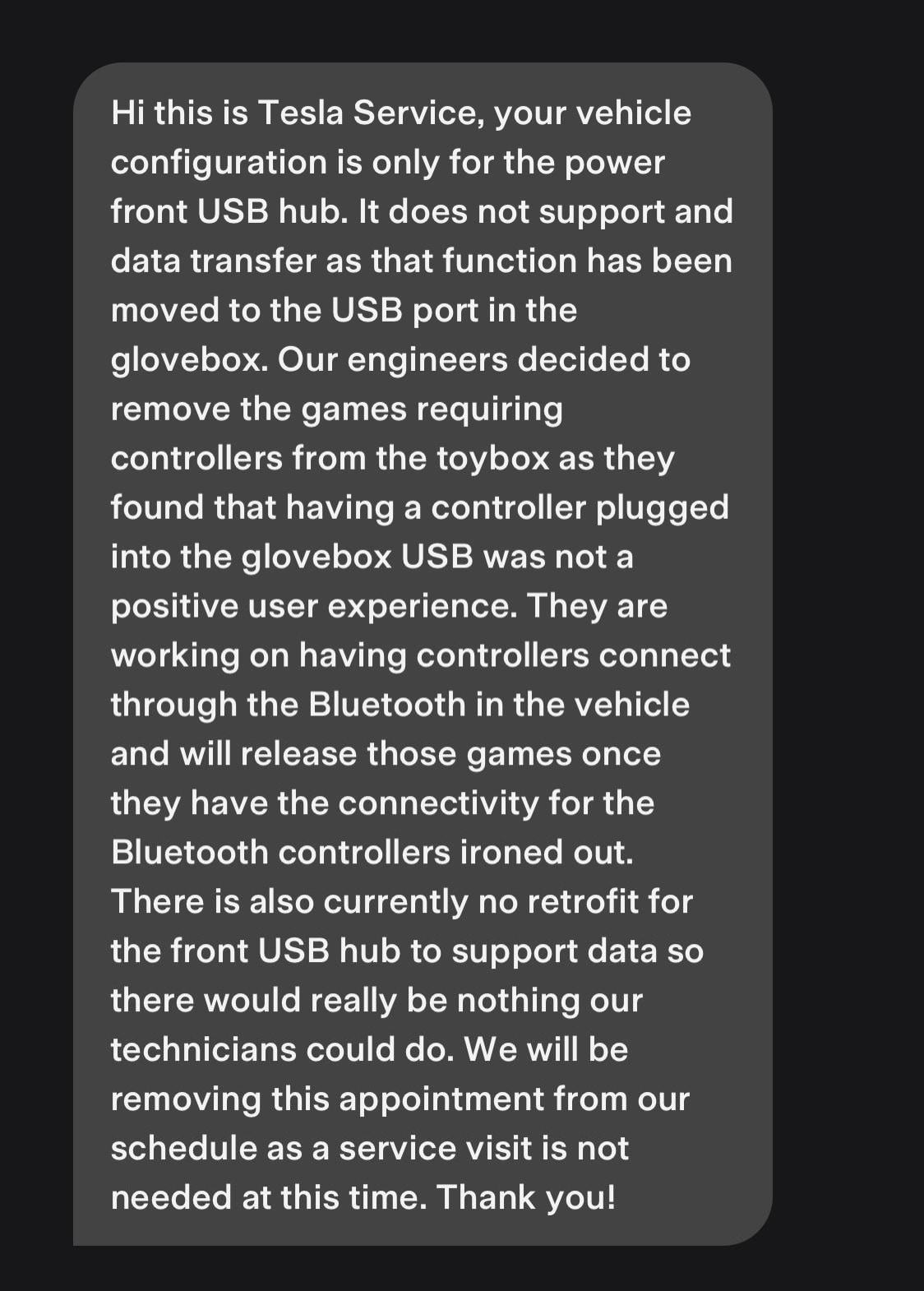 However, some Teslas are now being delivered without the ability to transfer data from the front or rear USB ports, causing existing controllers to no longer work. The USB port in the glovebox is still capable of data transfer, but it's usually dedicated to a USB drive to be used with Tesla's Dashcam and Sentry Mode.
If your vehicle doesn't have USB ports that are capable of transfering data, you could use the USB port in the glovebox to connect a controller. However, Tesla doesn't believe this offers a good experience and it's why they're excluding games like Sonic from appearing in vehicles that do not have data capable USB ports.
This however, may be a temporary setback. In an unsubstantiated Reddit post, Tesla Service allegedly confirmed to a customer that "They [Tesla] are working on having controllers connect through Bluetooth in the vehicle and will release those games once they have the connectivity for the Bluetooth controllers ironed out."
This seemingly points to Tesla introducing their own controller and/or allowing external controllers to connect via Bluetooth in the near future. You may soon be able to connect to your PS4 or Xbox One controller wirelessly to your Tesla.
Tesla owners can rest assured that it is only a matter of time before the proprietary wireless controller and/or console gaming controllers are able to wirelessly connect to Tesla's infotainment system.