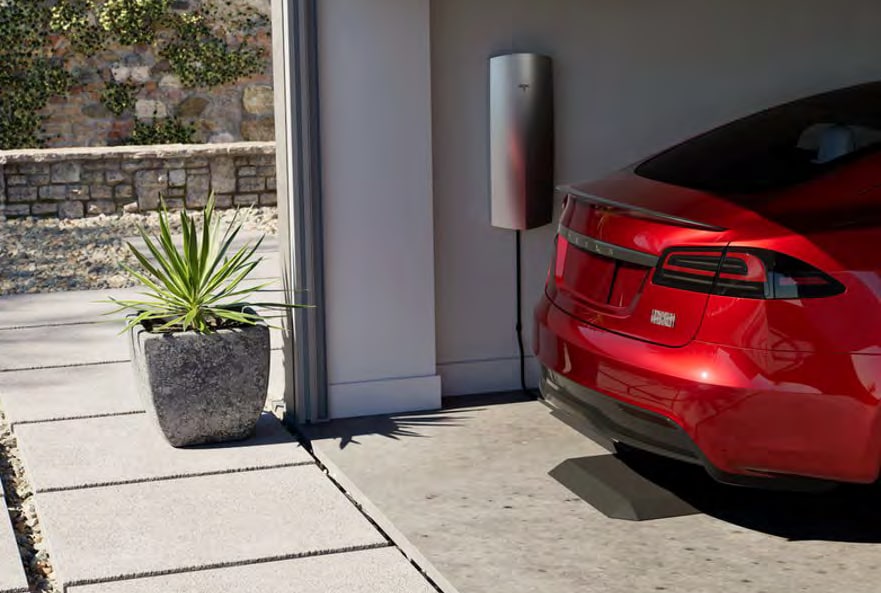 Tesla may be moving forward with wireless charging. If you blinked, you might have missed it during the Investor Day presentation. As Rebecca Tinucci, Tesla's Senior Director of Charging Infrastructure, was wrapping up her presentation, a slide titled: Can't Forget to Do Cool S*** appeared. It was only onscreen for a few seconds, but it may have been enough to show that Tesla is actively pursuing the technology.
Wireless Wall Connector
The slide showed an illustration of a Model S parked in a garage with a large mat under it and a box on the wall. It's assumed the box is the power source, and the mat is a charging pad. Interestingly, the illustration shows one of the recently updated Model S vehicles. It'll be interesting to see whether Tesla offers a retrofit for current owners or which vehicles will support a wireless charging mat.
Your Tesla is Always "Plugged In"
As Tinucci wrapped up her presentation, she concluded, "one more thing, yes, we've got to scale our infrastructure, yes we want to power it via renewable sources, but we are Tesla, so we also want to make sure we are continuing to focus on providing really incredible charging experiences." I'll confess I have forgotten to plug in my Tesla. It sure would be an incredible experience if my car charged itself.
Many owners will likely agree that what makes this product special isn't the wireless aspect, but the automated charging solution. You'll never have to decide whether to plug your vehicle in or forget to do so. You'll simply drive into your garage and the vehicle will decide when it needs to charge.
While this wireless unit appears to be a newer version of Tesla's Wall Connector, we expect Tesla to continue to offer their plug-in unit.
Several Companies Developing Wireless EV Charging
Plugless Power, a leader in wireless EV charging, was the first to provide a production wireless charging station to Telsa's Model S.
Another company pursuing the technology, Witricity, states that wireless charging is the key enabler for accelerating EV adoption and driving a greener future.
Several new companies have been working on the technology, but some legacy brands are also getting in on the action. For example, when Dodge unveiled their new Ram Revolution BEV Concept at CES 2023, they also introduced the Ram Charger. It's described as an inductive robot charger that "detects the vehicle's presence and its charging needs, and automatically moves into position and aligns itself under the vehicle."
Tesla is certainly not one to play catch up to anyone. However, with companies already developing a more convenient way to charge, including a legacy automaker, the race is on for Tesla to get wireless charging technology to Tesla owners.