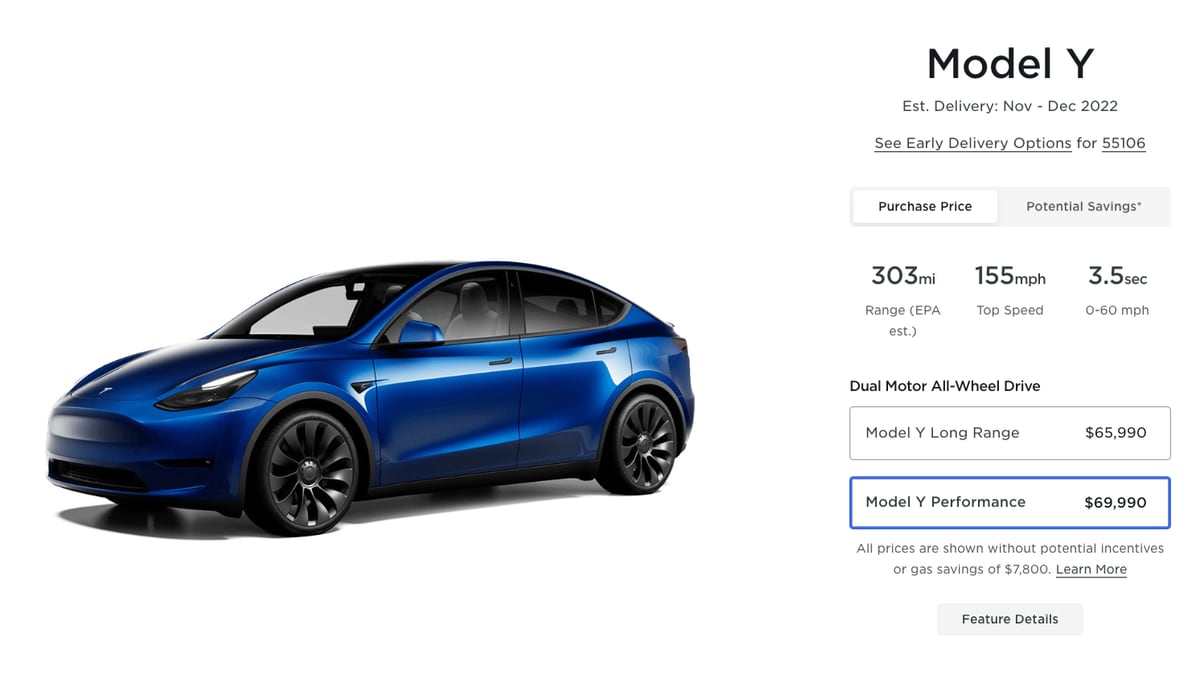 Just in time for Christmas, Tesla's wait times are considerably shorter. Model S or Model X Plaid have estimated delivery dates from November to December, as do the Performance variants of the Model 3 and Model Y. So, there is plenty of time for Santa to drop one off in the driveway with a big bow. Not only that, but several areas also have Model Ys and Model 3s available right now.
It's in stark contrast to a few months ago when some buyers reported wait times of up to a year. This new situation could be viewed two ways. Tesla has achieved much better production times to keep those wait times lower, or demand has slowed for the vehicles.
Piecing together the company's headlines from the past year and you spot a few themes, production has been ramping up, there is now an abundance of batteries, and the shipping bottlenecks appear to be solved. The Model Y, which Elon Musk says will be the best-selling vehicle in the world in 2023, has been the focus of the Gigafactory in Texas. On October 30, the company tweeted Giga Texas had produced 20,000 Model Ys. The tweet came just 43 days after announcing the factory had reached 10,000.
In September, Tesla's vice president of investor relations gave a private presentation to Goldman Sachs. Martin Viecha was quoted by the Business Insider saying, "For the first time I can remember, we can access all the supply we need for both businesses." The businesses are vehicles and Powerwalls. So, getting the single most crucial component in an electric car is no issue.
However, dropping demand for several months to just a few weeks could also indicate fewer orders. The reigning king of the electric vehicle space has had a lot more company in the past year. Every automaker worldwide has been tripping over themselves announcing electric vehicles. Tesla had a ten-year head start on the competition, which started right after the first Model S was delivered in 2012. Now consumers have more choices, and some loyal to a brand can switch to electric while remaining with that same brand. While Tesla creates the best electric cars on Earth, they only have four models available to pick from, which may not fit everyone's needs.
Tesla has also recently stopped allowing buyers to hold off on an order when it's their turn to complete the purchase. You. used to be able to put off orders, but you're now limited to a one-time hold of up to seven days. At that point, you'll need to go through with the purchase or forfeit your place in line.
This change to Tesla's policy may also have played a role in reduced wait times.
Another factor that may be playing a role is the new U.S. tax credit that begins in 2023. Many reservation holders may be putting off their orders or canceling them in order to qualify for the upcoming tax credit.
While most vehicles are available within weeks, the Model 3 long-range is still unavailable for order. However, the website says it will be available in 2023. Keep in mind this doesn't include the Cybertruck, which will start to be delivered next year. Those wait times have been long.