Full Self-Driving (Beta)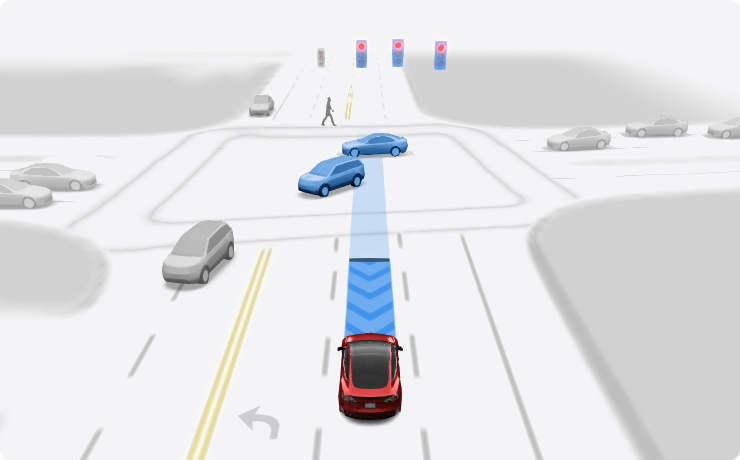 You can enable Full Self-Driving (Beta) by tapping 'Control' > 'Autopilot' > 'Full Self-Driving (Beta)' and following the instructions.
Full Self-Driving is in early limited access Beta and must be used with additional caution. It may do the wrong thing at the worst time, so you must always keep your hands on the wheel and pay extra attention to the road. Do not become complacent. When Full Self-Driving is enabled your vehicle will make lane changes off highway, select forks to follow your navigation route, navigate around other vehicles and objects, and make left and right turns. Use Full Self-Driving in limited Beta only if you will pay constant attention to the road, and be prepared to act immediately, especially around blind corners, crossing intersections, and in narrow driving situations.
Your vehicle is running on Tesla Vision! Note that Tesla Vision also includes some temporary limitations, follow distance is limited to 2-7 and Autopilot top speed is 85 mph.
FSD Beta v11.4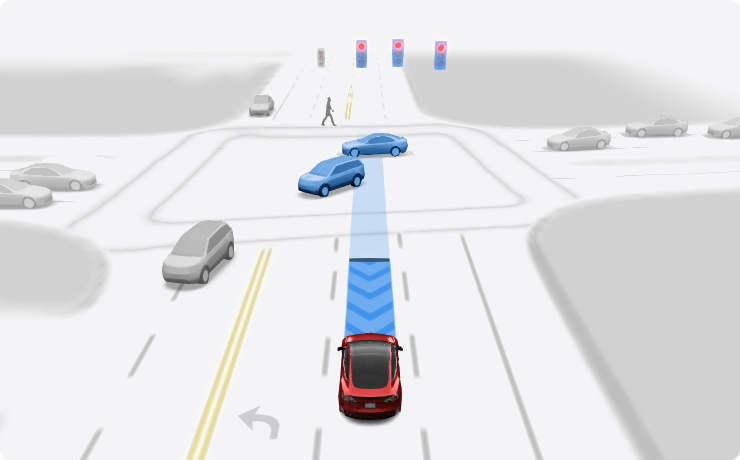 - Improved the decision to assert or yield for pedestrians at more crosswalks by evaluating multiple possible futures in the joint space of ego's actions and the pedestrian's response.
- Improved ego's behavior near VRUs by measuring their probability of intersecting ego's path, based on their kinematic data, and preemptively decelerating when the estimated risk is high.
- Improved turn performance in dense unstructured city environments. Examples of improved cases include: turning when the turn lane is blocked by parked cars and avoiding turning into bus lanes.
- Improved lane guidance module to feed in long range routing "hints" to the network for which lanes ego needs to be in to reach its destination. Also significantly improved per-lane routing type autolabeler. These changes combined resolved 64% of all interventions caused by bad routing type.
- Improved geometric consistency between lane, line, road edge and restricted space detections by re-training our networks on the same dataset with the latest version of our "lane guidance" module, and by using a common features space to predict line, road edge and restricted space.
- Improved recall for partial cut-ins by 39% and precision for false positive cut-ins due to lane changes into adjacent lanes by 66%, resulting in a 33% reduction in overall lane-changing prediction error. This was accomplished by further increasing our auto-labeled fleet dataset by 80k clips, improving the accuracy of the auto-labeling algorithm, and tuning the distribution of training supervision.
- Improved understanding for when to use bus lanes and when to avoid them, by updating the lane type detection network and improving map-vision fusion.
- Improved speed control during lane changes through better consideration of upcoming navigation deadlines, required back-to-back lane changes and presence of a vehicle behind ego.
- Added new Vision Speed network to infer the typical driving speed on a given road. This is used to limit the maximum allowed speed in environments such as parking lots and residential roads.
- Mitigated hydroplaning risk by making maximum allowable speed in Autopilot proportional to the severity of the detected road conditions. In extreme cases, Autopilot may use the wetness of the road, tire spray from other vehicles, rain intensity, tire wear estimation or other risk factors that indicate the vehicle is near the handling limit of the surface to warn the driver and reduce speed.
- Improved long-range path blockage detection and control on city streets. Ego will now be able to perform lane changes due to upcoming path blockages earlier.
- Improved developer productivity with better code diagnostics and C++20 features by upgrading compiler to clang-16. This also improved photon-to-control vehicle response latency by 2%.
Driving Visualization Improvements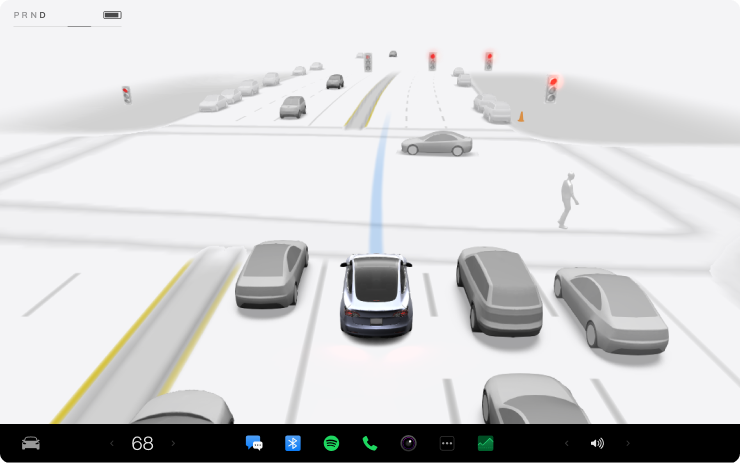 To view an expanded driving visualization when in drive with Full Self-Driving enabled, drag the light gray visualization bar to the right.
Full Self-Driving (Beta) Suspension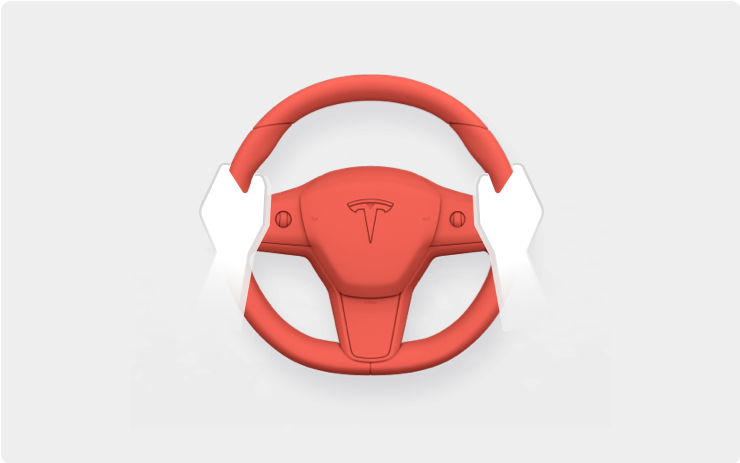 For maximum safety and accountability, use of Full Self-Driving (Beta) will be suspended if improper usage is detected. Improper usage is when you, or another driver of your vehicle, receive five 'Forced Autopilot Disengagements'. A disengagement is when the Autopilot system disengages for the remainder of a trip after the driver receives several audio and visual warnings for inattentiveness. Driver-initiated disengagements do not count as improper usage and are expected from the driver. Keep your hands on the wheel and remain attentive at all times. Use of any hand-held devices while using Autopilot is not allowed.
The FSD Beta feature can only be removed per this suspension method and it will be unavailable for approximately two weeks.
Park Assist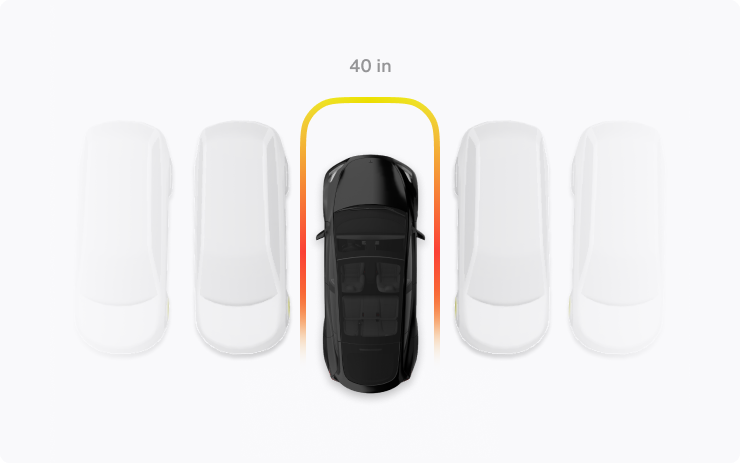 Tesla Vision Park Assist provides visual and audio alerts of surrounding objects. This feature uses the occupancy network to predict high-definition outlines of objects 360 degrees around the car.
Note: Tesla Vision Park Assist is for guidance purposes only and is not a substitute for an aware driver. Please be attentive and avoid obstacles as required.
Steering Wheel Heat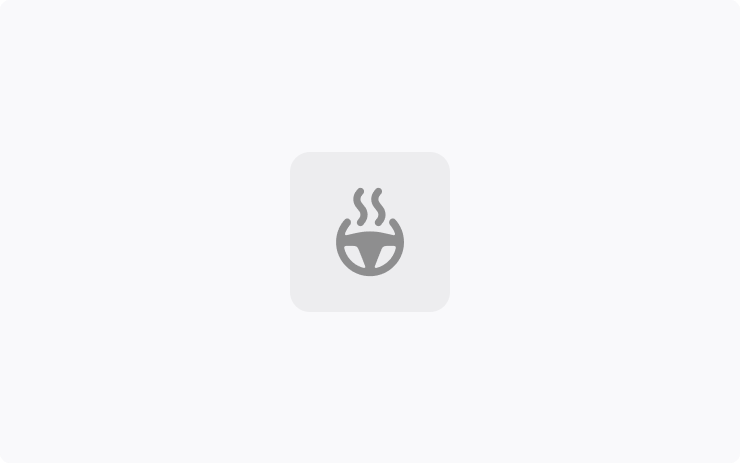 Available Worldwide
Certain Heater Types
Automatically heat the steering wheel based on the climate control set temperature. To access the heating controls, tap the temperature settings.
Auto Steering Wheel Heat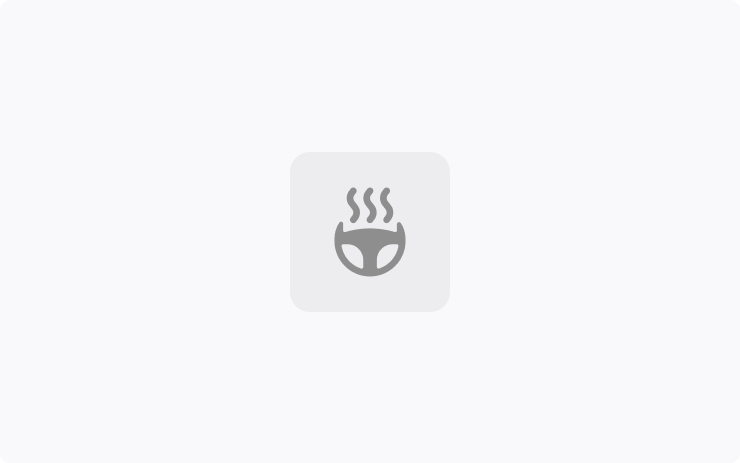 Available Worldwide
Certain Heater Types
Set your steering wheel heater to regulate its temperature automatically based on the climate control set temperature. To access steering wheel heating controls, tap the temperature settings to bring up the climate control panel.
New Language Support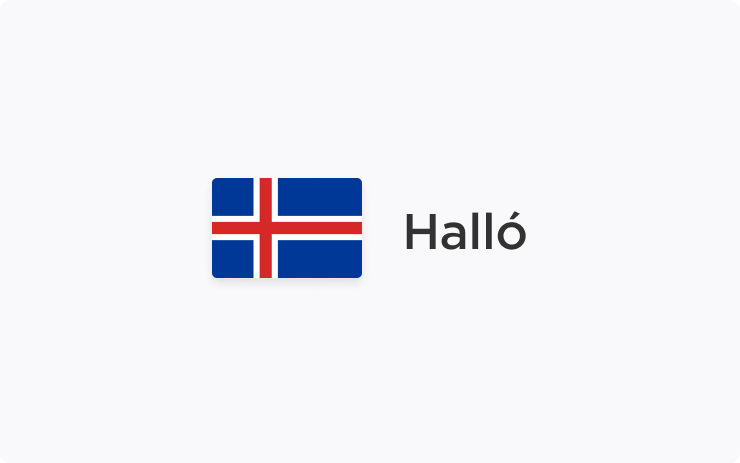 You can now select Icelandic as your touchscreen language. To update your language settings, tap Controls > Display and select your preferred language from the 'Touchscreen Language' drop-down menu.
Sentry Mode Lighting
Available Worldwide
MCU 2
MCU 3
When a threat is detected, Sentry Mode will softly pulse the headlights to indicate that your vehicle is recording video. The pulsing stops after 60 seconds or when the vehicle is unlocked.
Zoom Meetings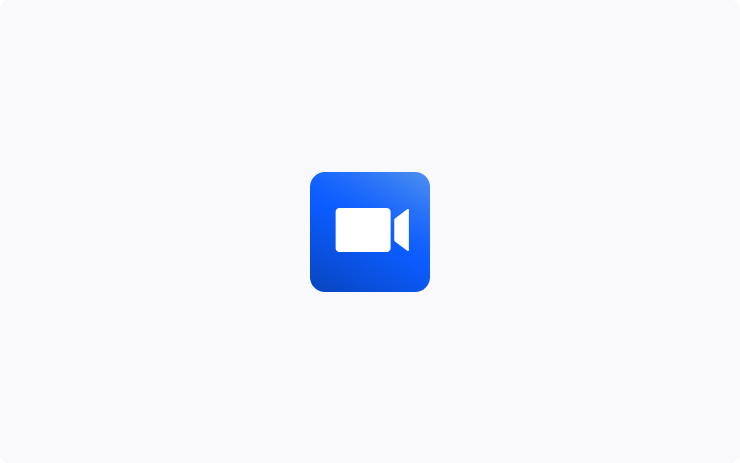 Make video calls with Zoom using the interior cabin camera. If you have a Zoom meeting in your Calendar, tap the link to automatically start or join your meeting. Participant video and screen sharing are only visible while parked and will switch to audio-only if you drive. To access Zoom, tap Application Launcher > Zoom.
Note: This feature requires Premium Connectivity.
Manual App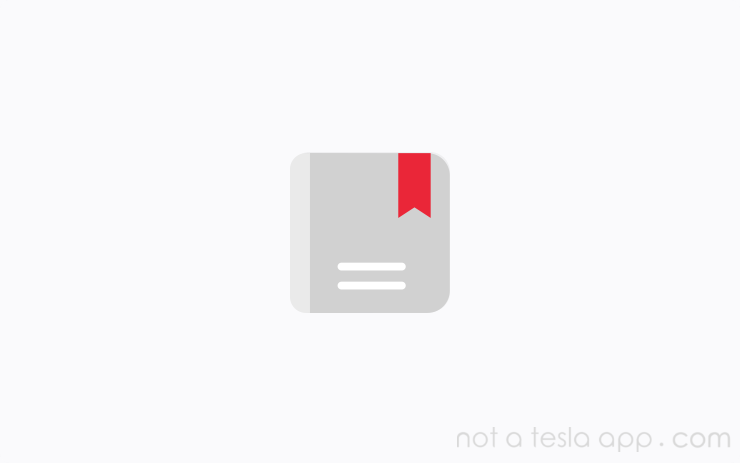 Available Worldwide
Undocumented Change
Tesla has added a new app called 'Manual.' The app is included alongside the other apps in the vehicle and provides a quick way to get to the owner's manual and introduces a 'Get to Know Your Tesla' section.
The new interactive section aims to answer commonly asked questions. Some tips also contain an action. For example, in the how to open the glove box section there's a button that lets you open the glove box directly.
Reverse Camera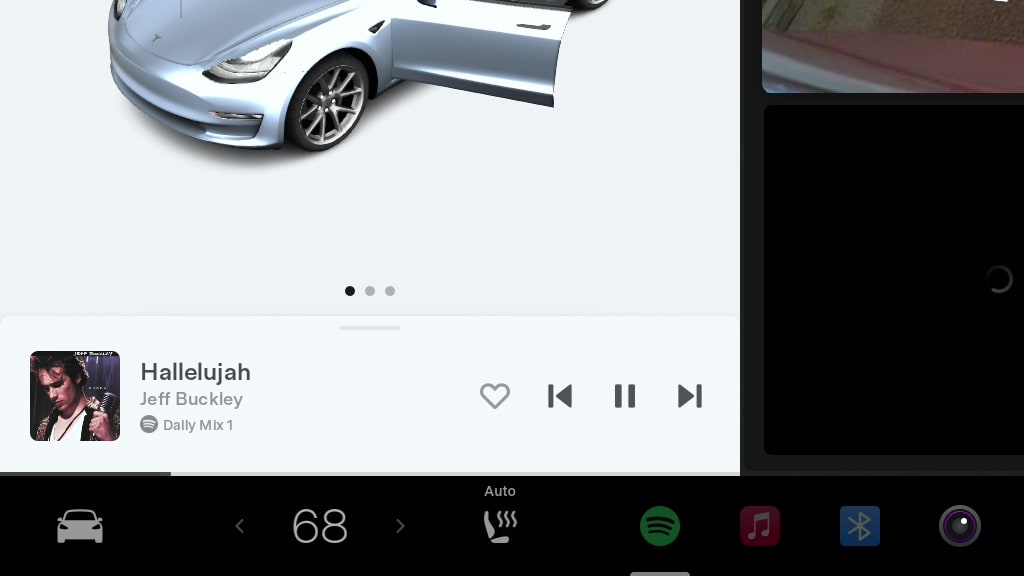 Available Worldwide
Undocumented Change
While the vehicle is in reverse, the reverse camera will now remain on the screen at all times.
Most apps will now be grayed out and temporarily unavailable while the vehicle is in reverse.
Climate System Warming Up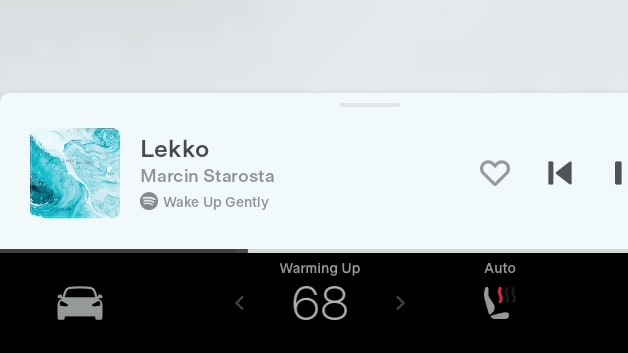 Available Worldwide
Undocumented Change
In situations where your vehicle is waiting for the air in the HVAC system to warm up before turning on the fan, your vehicle will now display 'Warming Up' above the cabin temperature.
Improvements to Service Mode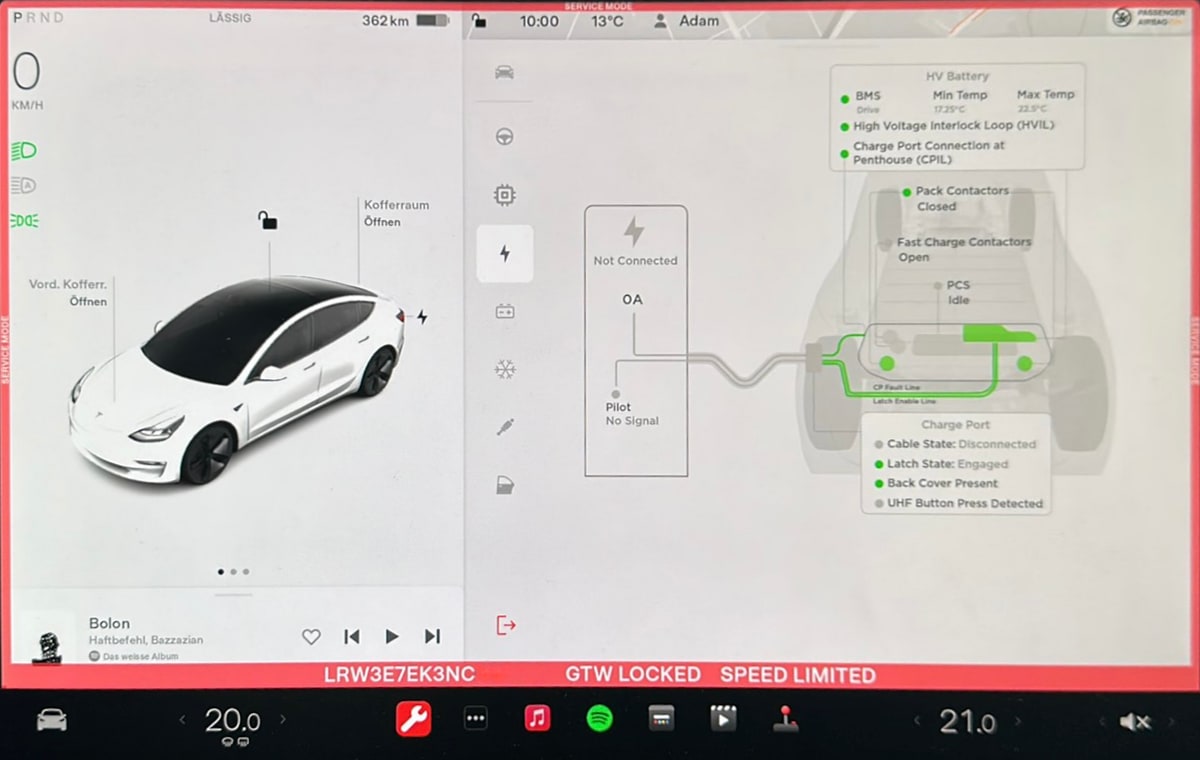 Available Worldwide
Undocumented Change
Tesla has added a new option to its Service Mode. Under the 'High Voltage' menu, there is now a Charging menu in addition to the HV System option. You'll now be able to see information regarding your vehicle's charging system.
The charge port section will display whether there's a cable connected, whether it's latched, or if the button on the cable is being pressed.
The battery section will display the state of the vehicle's battery management system as well as the minimum and maximum coolant temperatures detected.
Note: Tesla's Service Mode is meant to only be accessible by certified service technicians.
Browser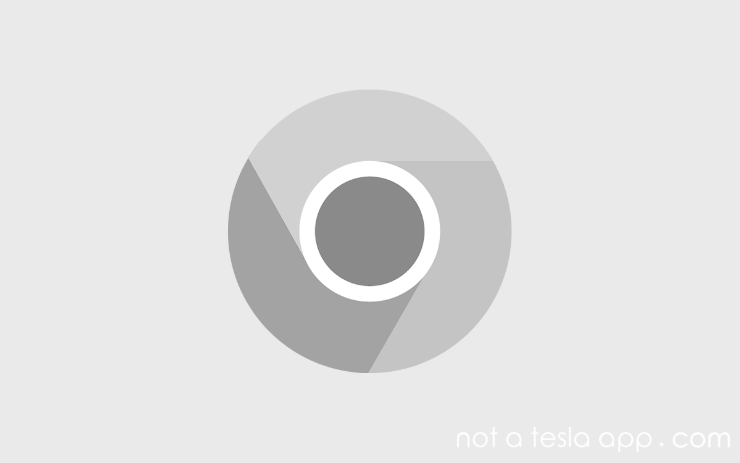 Available Worldwide
Undocumented Change
The vehicle's browser has been updated. Tesla's browser was previously based on Chrome version 102, which was released in the summer of 2022.
It is now based on a more recent release, version 109, which contains various bug fixes and support for newer web standards.
Tire Pressure Card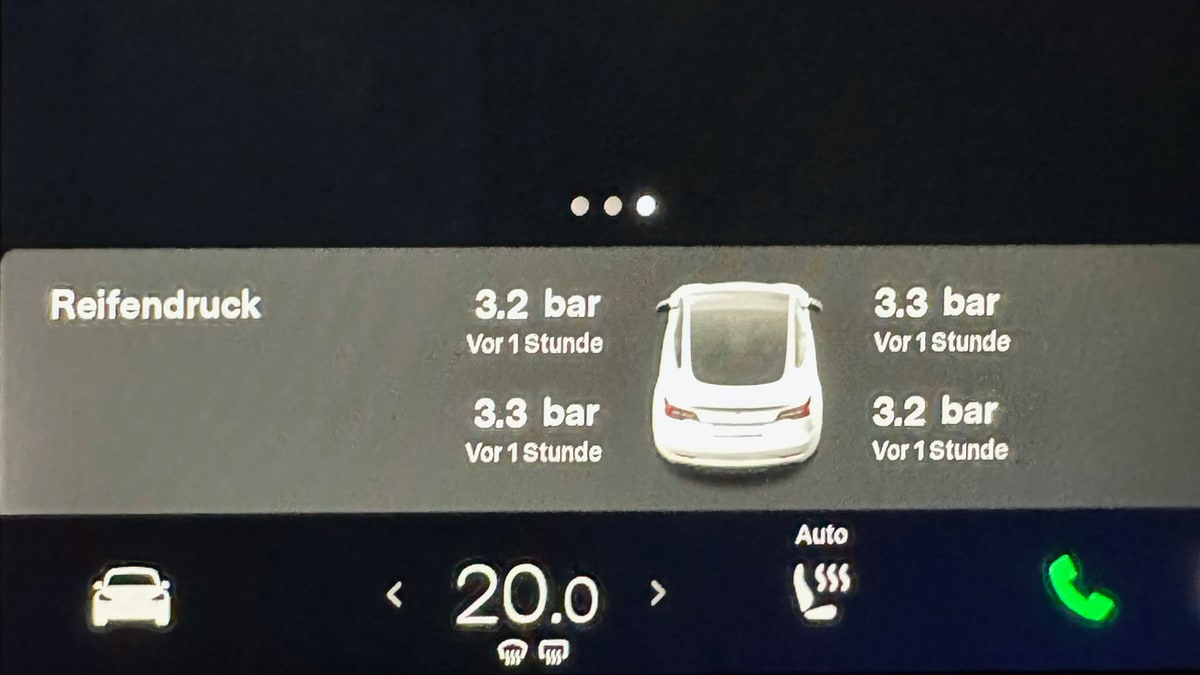 Available Worldwide
Undocumented Change
The car image on the tire pressure swipeable card in the Model 3 and Model Y has been updated.
Instead of featuring the vehicle from a top-down perspective with the front and rear cut off, the visualization now displays the vehicle from a 3/4 view from behind.
Improvements to Apple Music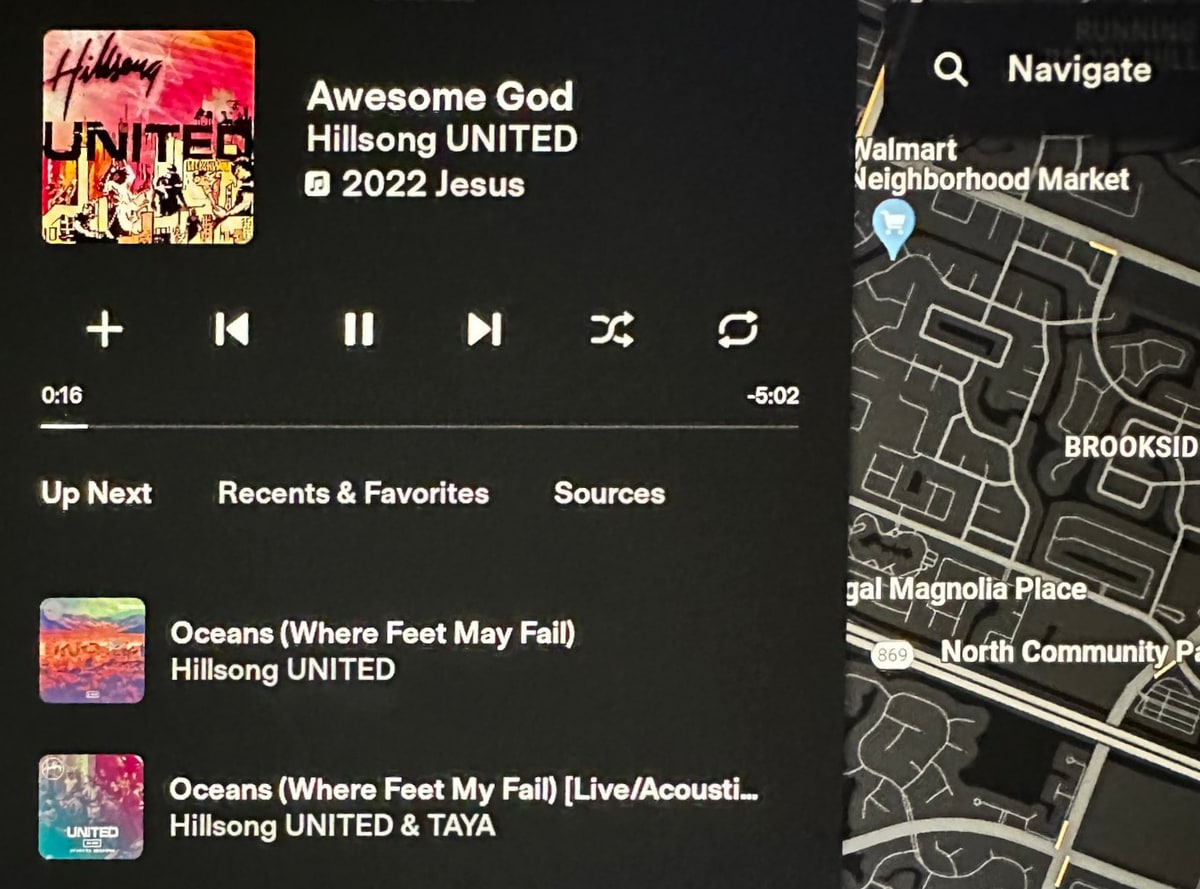 Available Worldwide
Undocumented Change
With this update, Tesla has made improvements to Apple Music. When playing a playlist or album, Apple Music will now display upcoming songs in the 'Up Next' section like other music services.
Tesla appears to also have made various improvements to improve the playback and speed when streaming Apple Music. Users are reporting a smoother and faster experience when streaming music.
Photos: Luiz Carvalho
Supercharger Prices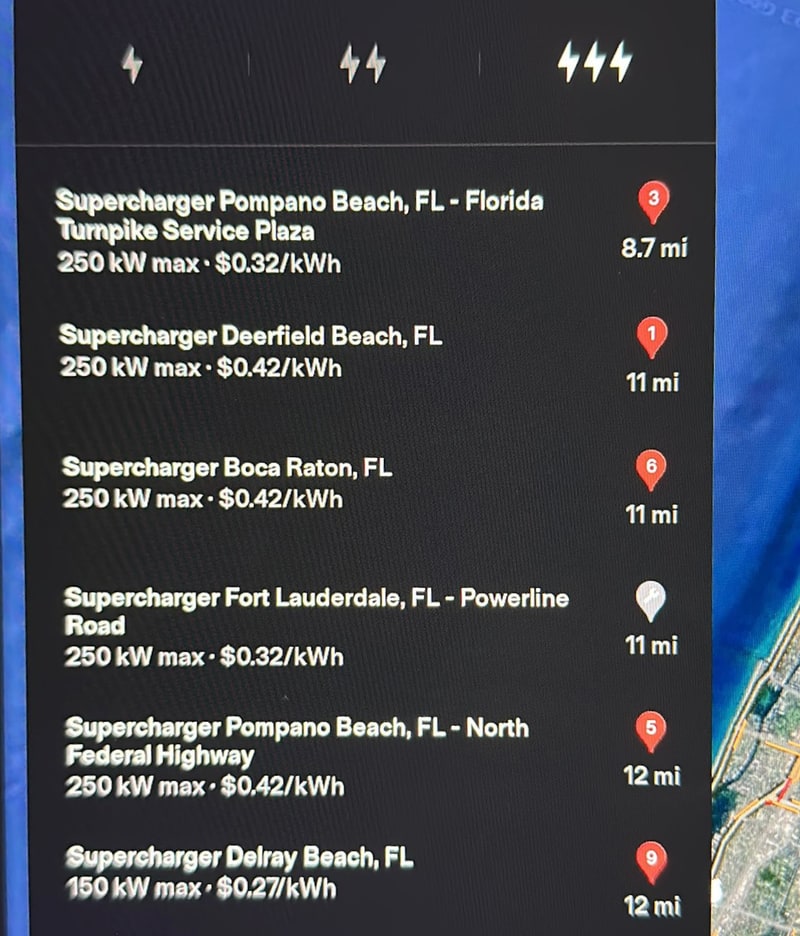 Available Worldwide
Undocumented Change
When viewing Superchargers nearby, the vehicle will now display the cost per kWh in addition the location, distance, speed and number of stalls available at the Supercharger.
The cost per kWh displayed may be time-based and could change depending on when you arrive. To preview your cabin camera feed go to Controls > Service and tap on Preview Camera.
Photo by Luiz Carvalho
Welcome Screen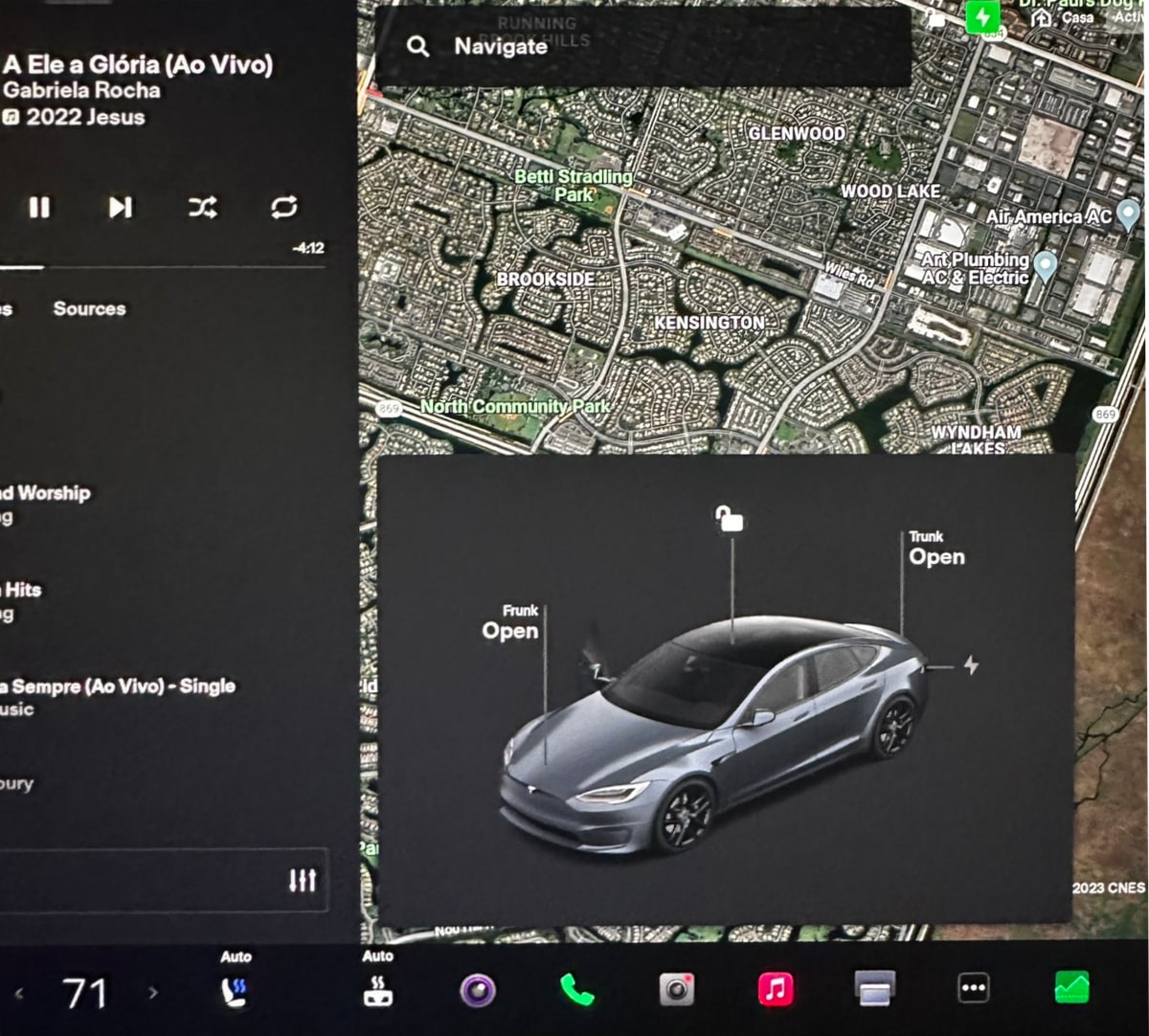 Available Worldwide
Undocumented Change
The new Model S and Model X will now display a visualization of the vehicle on the center screen. Similarly to the Model 3 and Model Y, this gives owners easy access to open the frunk and trunk, as well as lock or unlock the vehicle.
This prevents owners from having to go to Controls every time they need to open the frunk/trunk from inside the vehicle.
The visualization goes away once you tap any other area of the screen.
Photos: Luiz Carvalho
Seat Heater Icons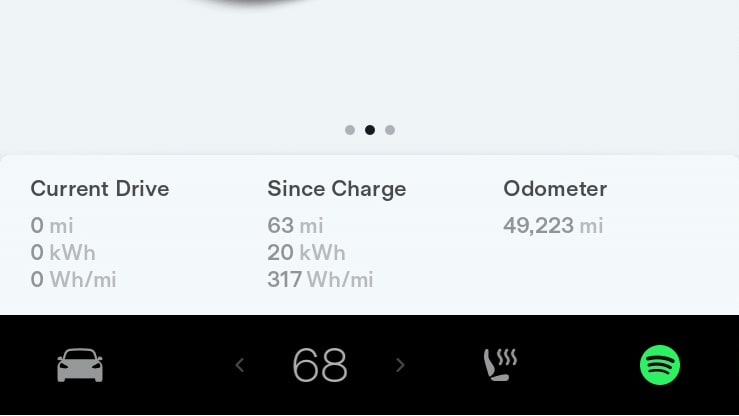 Available Worldwide
Undocumented Change
If you set your seat heaters to be in the vehicle's launcher, they will now display gray heat 'waves,' even when they're turned off.
Updated Autopilot Menu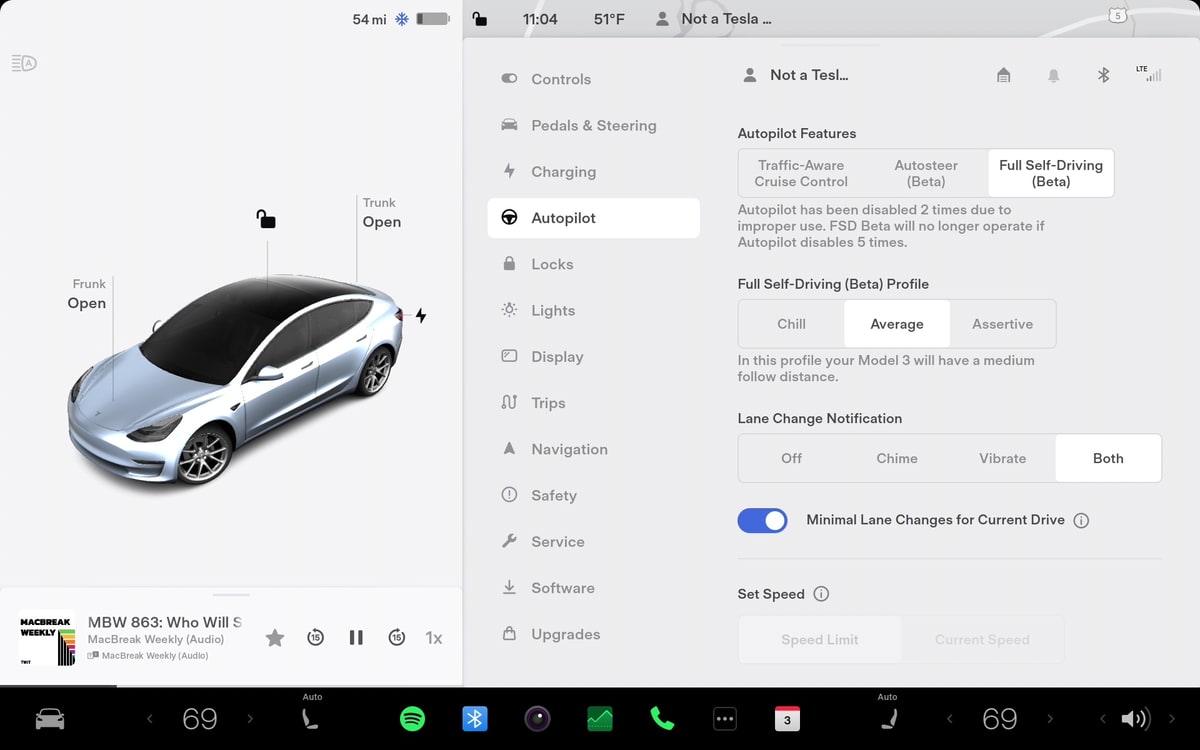 Available Worldwide
Undocumented Change
Tesla's Autopilot menu has been reorganized. Tesla now clearly lays out the options for its Driver Assistance System. You now pick from one of the three options: Traffic-Aware Cruise Control, Autosteer (Beta) and Full Self-Driving (Beta).
Certain options such as Navigate on Autopilot preferences, 'Traffic Light and Stop Sign Control' and 'Full Self-Driving Visualization Preview' will no longer appear if you select FSD Beta.
Suspension Menu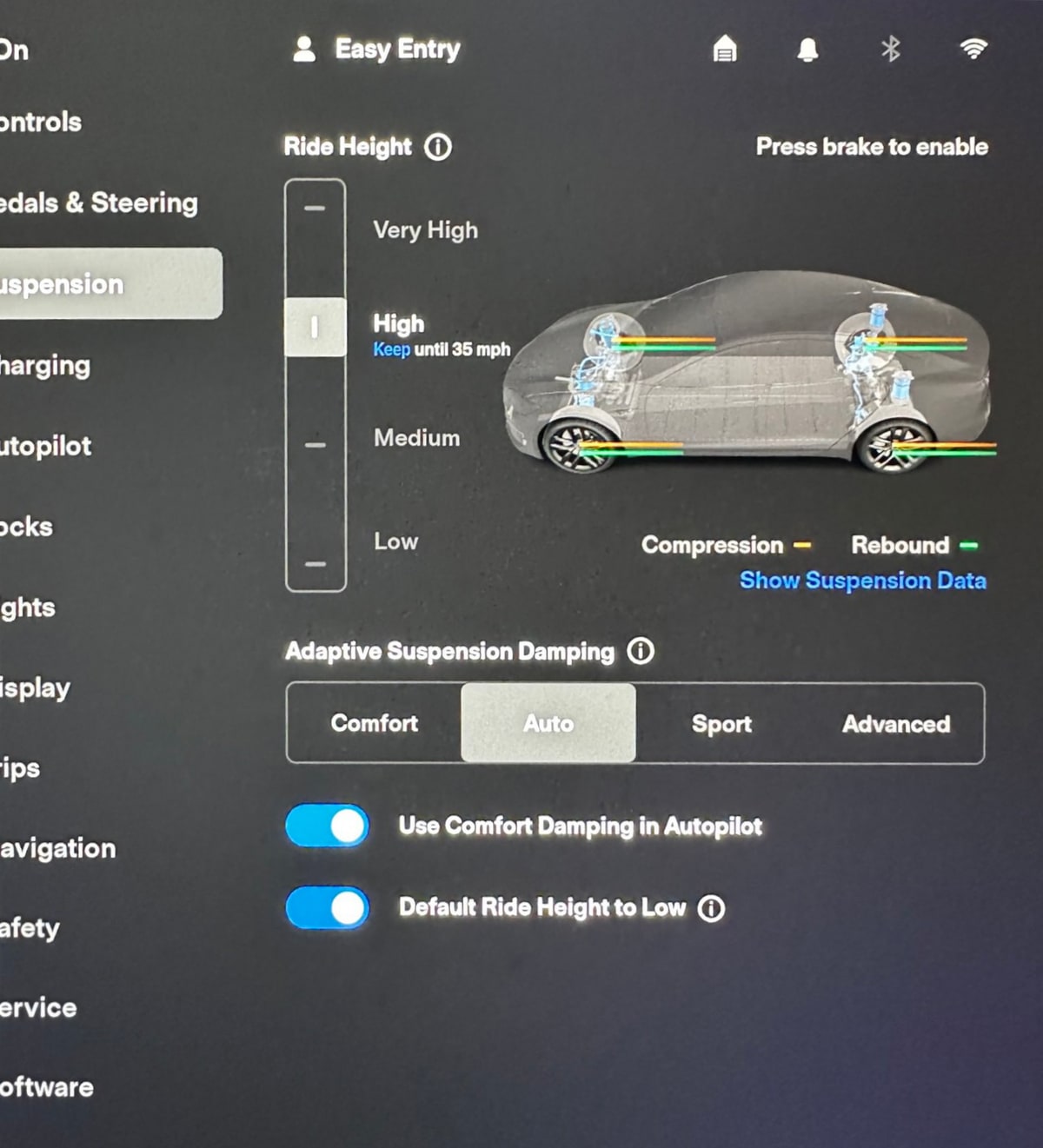 Available Worldwide
Undocumented Change
The 'Suspension' menu for vehicles equipped with an air suspension has been redesigned. The adjustment for ride height is now at the top of the menu, next to the vehicle's image.
Photo by Luiz Carvalho.