Details
Release Date
December 24, 2021
This is FSD Beta 10.8. It includes Tesla's 2021 holiday update.
Full Self-Driving (Beta) Suspension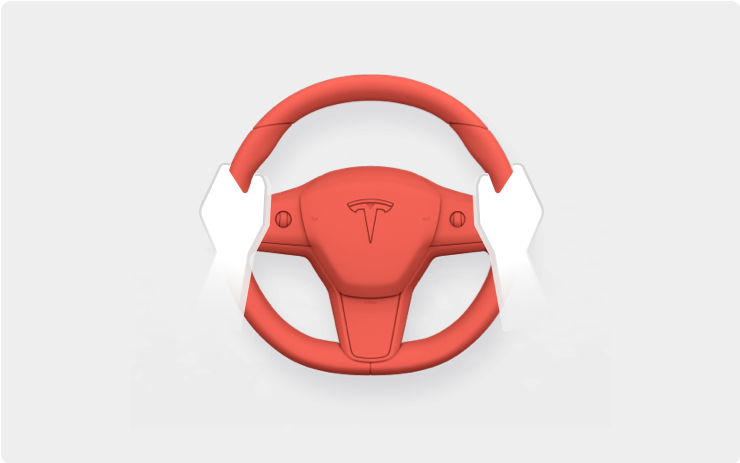 For maximum safety and accountability, use of Full Self-Driving (Beta) will be suspended if improper usage is detected. Improper usage is when you, or another driver of your vehicle, receive three 'Forced Autopilot Disengagements'. A disengagement is when the Autopilot system disengages for the remainder of a trip after the driver receives several audio and visual warnings for inattentiveness. Driver-initiated disengagements do not count as improper usage and are expected from the driver. Keep your hands on the wheel and remain attentive at all times. Use of any hand-held devices while using Autopilot is not allowed.
FSD v10.8 Release Notes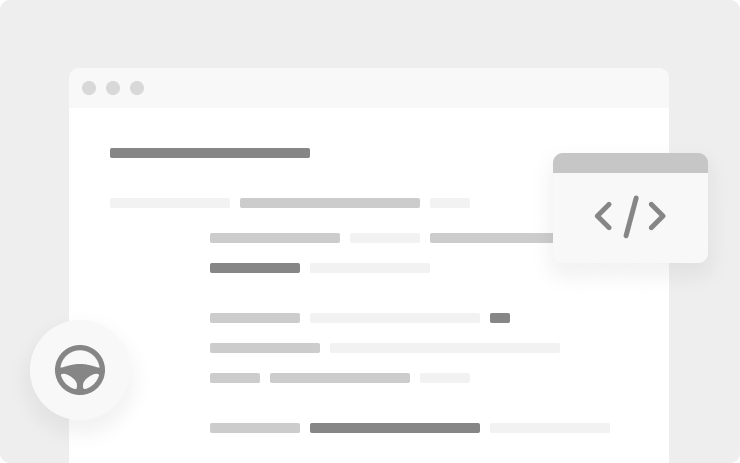 - Improved object attributes network to reduce false cut-in slowdowns by 50% and lane assignment error by 19%.
- Improved photon-to-control vehicle response latency by 20% on average.
- Expanded use of regenerative braking in Autopilot down to 0mph for smoother stops and improved energy efficiency.
- Improved VRU (pedestrians, bicyclists, motorcycles, animals) lateral velocity error by 4.9% by adding more auto-labeled and simulated training examples to the dataset.
- Reduced false slowdowns for crossing objects by improved velocity estimates for objects at the end of visibility.
- Reduced false slowdowns by adding geometric checks to cross-validate lane assignment of objects.
- Improved speed profile for unprotected left turns when visibility is low.
- Added more natural behavior to bias over bike lanes during right turns.
- Improved comfort when yielding to jaywalkers by better modelling of stopping region with soft and hard deadlines.
- Improved smoothness for merge control with better modelling of merge point and ghost objects positioned at the edge of visibility
- Improved overall comfort by enforcing stricter lateral jerk bounds in trajectory optimizer.
- Improved short deadline lane changes through richer trajectory modeling.
- Improved integration between lead vehicle overtake and lane change gap selection.
- Updated trajectory line visualization.
Press the "Video Record" button on the top bar UI to share your feedback. When pressed, your vehicle's external cameras will share a short VIN-associated Autopilot Snapshot with the Tesla engineering team to help make improvements to FSD. You will not be able to view the clip.
Full Self-Driving (Beta)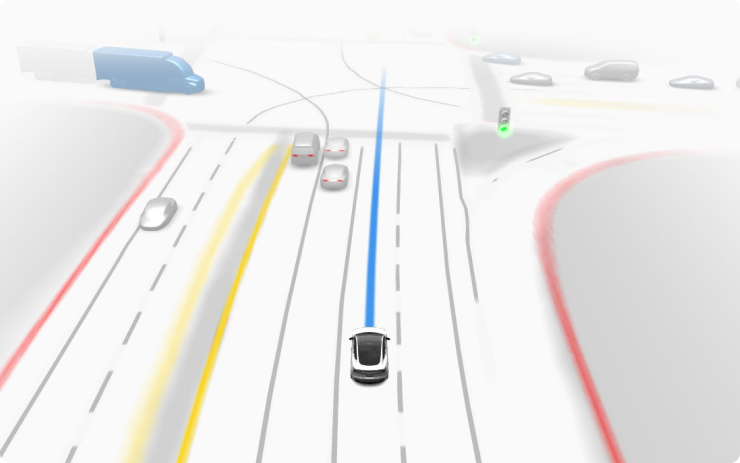 Full Self-Driving is in early limited access Beta and must be used with additional caution. It may do the wrong thing at the worst time, so you must always keep your hands on the wheel and pay extra attention to the road. Do not become complacent. When Full Self-Driving is enabled, your vehicle will make lane changes off highway, select forks to follow your navigation route, navigate around other vehicles and objects, and make left and right turns. Use Full Self-Driving in limited Beta only if you pay constant attention to the road, and be prepared to act immediately, especially around blind corners, crossing intersections, and in narrow driving situations.
Your vehicle is running on Tesla Vision! Note that Tesla Vision also includes some temporary limitations, follow distance is limited to 2-7 and Autopilot top speed is 80mph.
Driving Visualization Improvements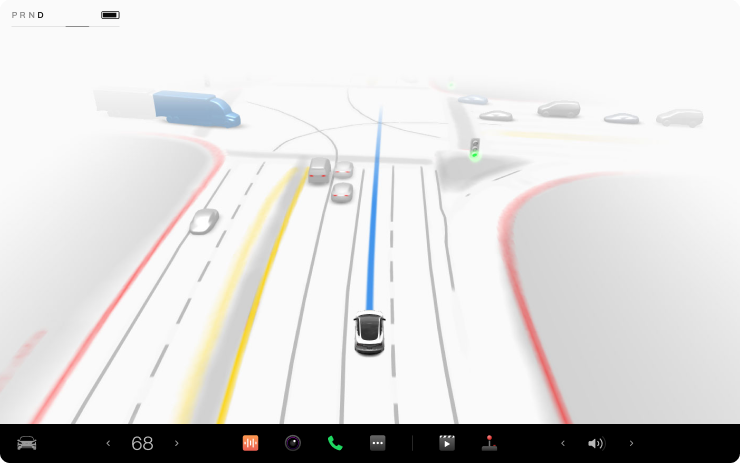 To view an expanded driving visualization when in drive with Full Self-Driving enabled, drag the light gray visualization bar to the right.
Cabin Camera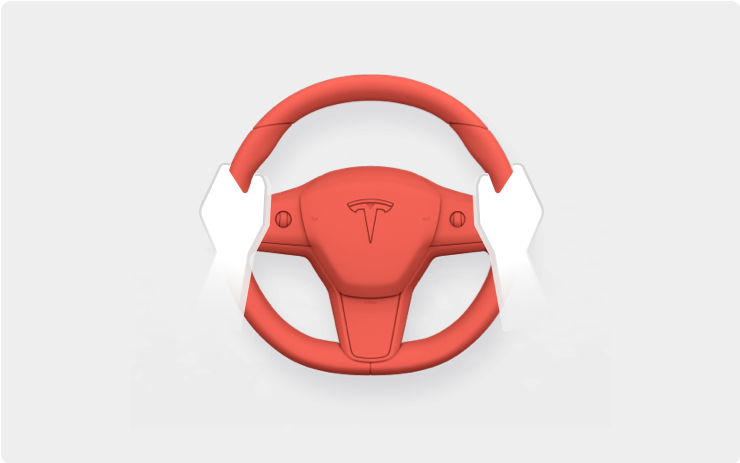 Available in specific regions
Cabin Camera
The cabin camera above your rearview mirror can now determine driver inattentiveness and provide you with audible alerts, to remind you to keep your eyes on the road when Autopilot is engaged. Camera images do not leave the vehicle itself, which means the system cannot save or transmit information unless you enable data sharing. To change your data settings, tap Controls > Safety & Security > Data Sharing on your car's touchscreen.
Light Show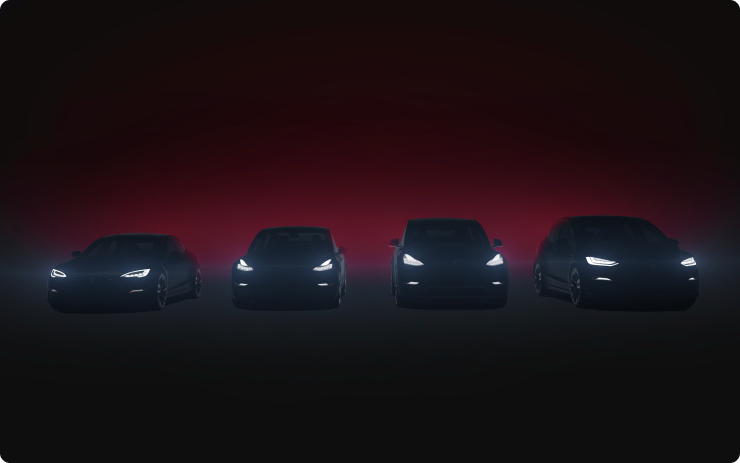 Watch your Tesla dance to a choreographed light show any time of year. Open Toybox, tap Light Show and follow the instructions.
Customizable App Launcher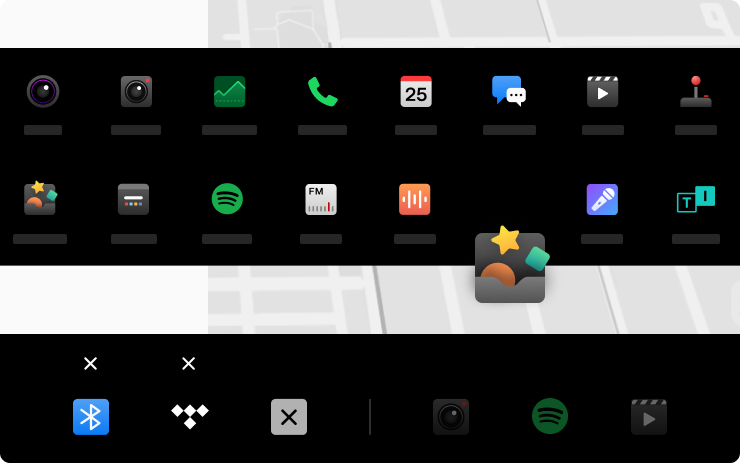 Drag and drop your favorite apps to any position along the bottom menu bar for easy access. To customize your menu bar, hold any icon and then drag to reorder. To adjust climate controls such as heated seats and defrost, tap on the temperature or swipe up from the bottom of the screen.
Simplified Controls The display has been simplified to focus on navigation, media and the most common primary controls.
- For windshield wipers and status bar information, tap Controls
- For charging controls tap Controls > Charging
- For trip and odometer information tap Controls > Trips
- For tire pressure information tap Controls > Service
Note: Activating the windshield wipers via the stalk will continue to display the wiper card.
Blind Spot Camera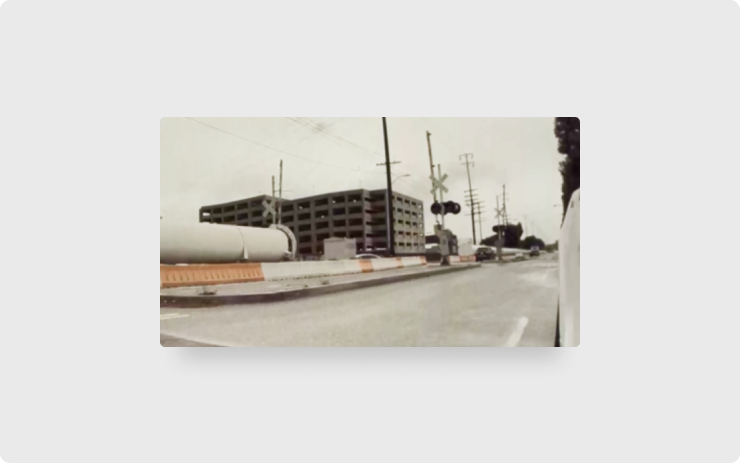 You can now automatically see a live camera view of your blind spot whenever you activate the turn signal. To enable, tap Controls > Autopilot > Automatic Blind Spot Camera.
Edit Waypoints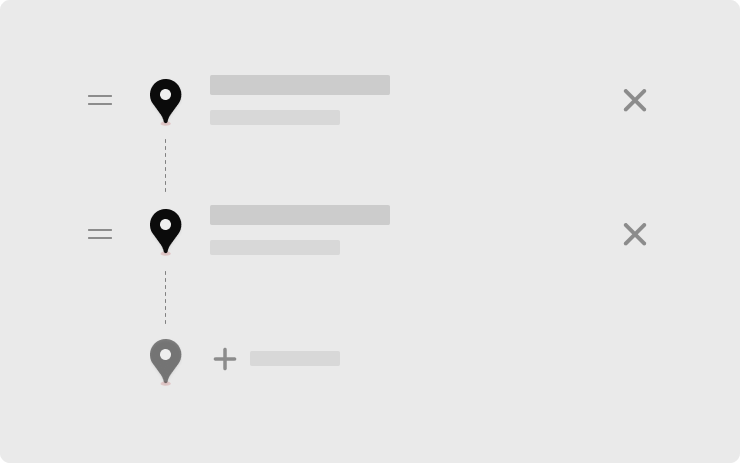 Available Worldwide
MCU 2
Easily reorder or add multiple destinations to your route with updated arrival times. To add a stop, or edit a trip, initiate a navigation route, and tap the more options button on the turn list.
Boombox Megaphone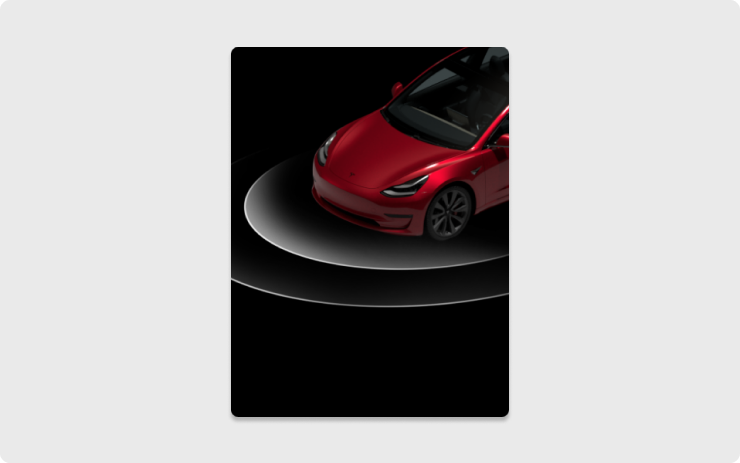 Project your voice with additional authority using the new Megaphone function. Tap Toybox > Boombox > Megaphone.
Note: Your car must be in park to use Megaphone.
TikTok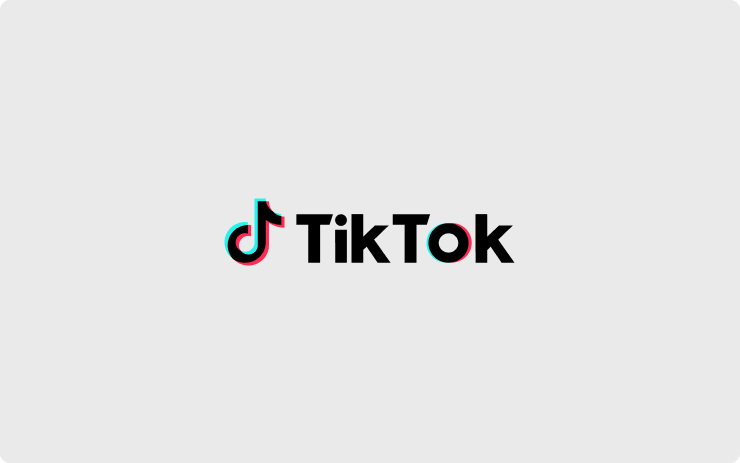 Available in specific regions
MCU 2
You can now watch TikTok from your touchscreon. To launch, tap the Theater icon from the bottom bar and select TikTok while your car is in park.
Sonic the Hedgehog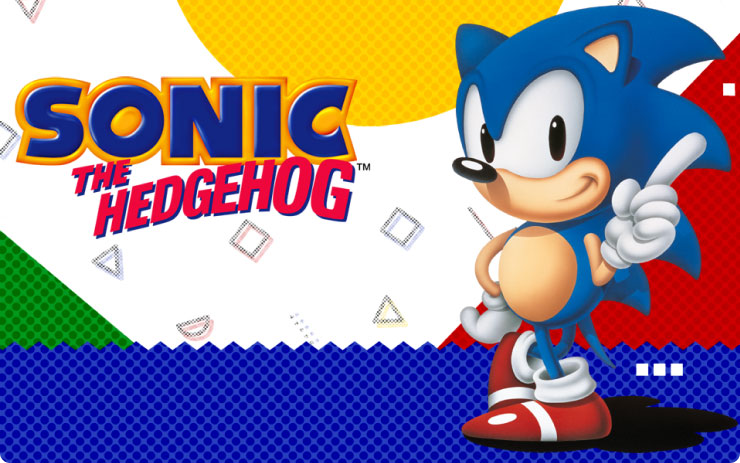 Jump into the original Sonic the Hedgehog! Speed by in a blur using the supersonic spin attack at high speed, defy gravity around loop- the-loops and defeat Dr. Eggman as the fastest hedgehog of all-time. Gotta Go Fast!
The Battle of Polytopia - Multiplayer Support
Available Worldwide
MCU 2
You can now play The Battle of Polytopia with friends using the multiplayer mode.
Sudoku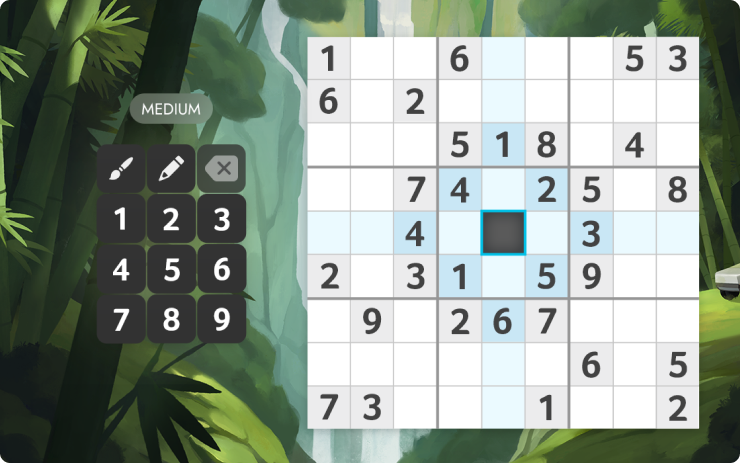 Available Worldwide
MCU 2
Fill every square and enjoy this classic logic puzzle game, featuring five difficulty levels and a smart hint system for beginners.
Subwoofer Available Worldwide
Premium Audio
MCU 2
You can now adjust your subwoofer by bringing up your Media Player, and tapping the settings icon > Tone.
Use Comfort Damping Suspension in Autopilot Available Worldwide
Adaptive Suspension
Your vehicle will now automatically transition to Comfort Suspension Damping when Autopilot is engaged. This setting is enabled by default. To disable, tap Controls > Suspension > Use Comfort Damping in Autopilot.
Cold Weather Improvements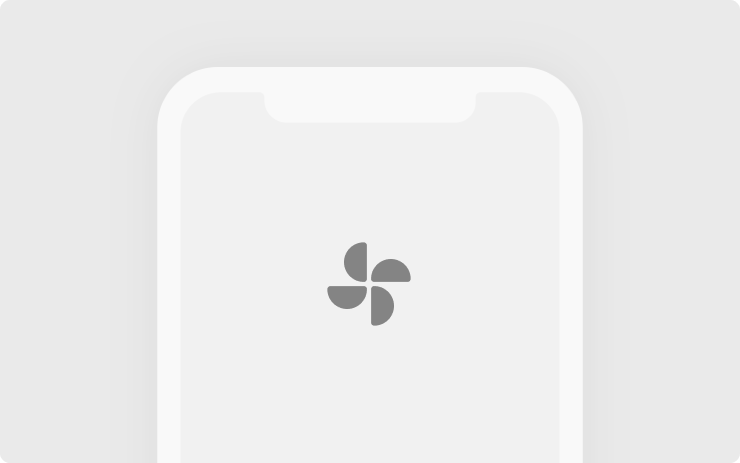 You can now precondition the cabin from the Tesla app when your battery is at a lower state of charge. Simply turn on the climate from your Tesla app and override the previous setting by tapping "Yes" on the confirmation pop-up window.
Note: To protect your car's battery, climate will remain unavailable under extreme low charge scenarios. This feature requires the Tesla mobile app version 4.4.0 or later.
Automated Seat Heaters
First row seat heaters can now automatically regulate seat temperature based on the cabin environment and the climate control set temperature. To access seat heating controls, tap the temperature settings to bring up the HVAC panel.
Note: HVAC system must be in Auto to use automatic seat heating.
Manage Dashcam Clips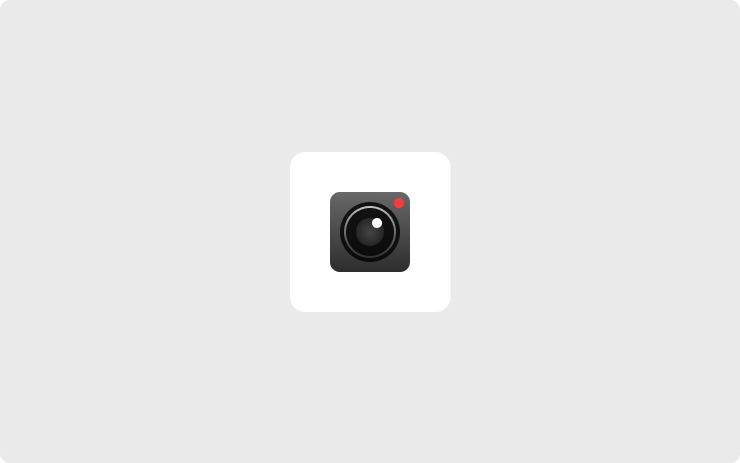 Available Worldwide
Dashcam
MCU 2
Easily delete all dashcam video clips directly from the touchscreen by tapping Controls > Safety > Dashcam > Delete Dashcam Clips
Dark Mode
You can now change to a dark themed display. Tap Controls > Display > Appearance and select Dark.
Hide Map Details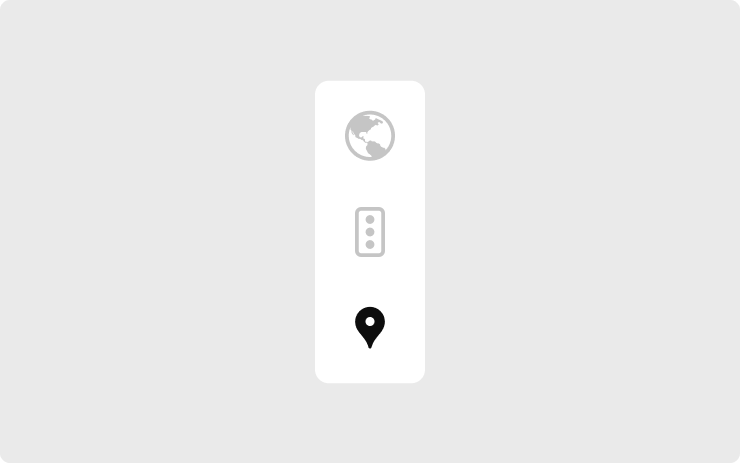 Simplify your navigation app and hide map details by tapping the pin button on the map.
Car Wash Mode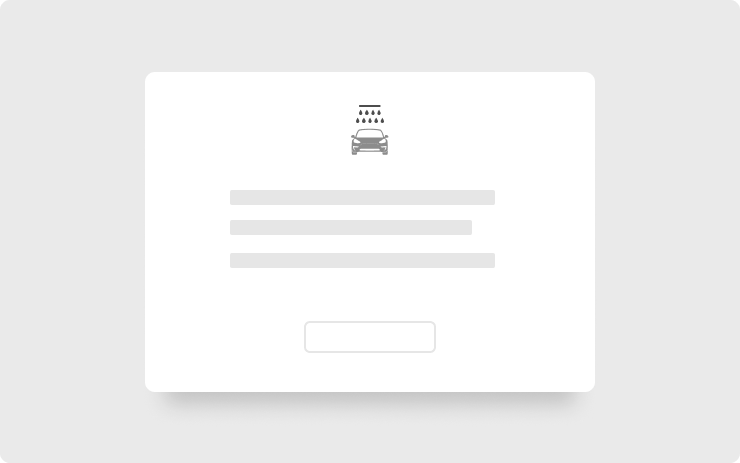 Car Wash Mode closes all windows, locks the charge port and disables windshield wipers, Sentry Mode, Walk-Away Door Locks and parking sensor chimes. For automatic car washes with conveyor belts, the Free Roll option shifts to Neutral and prevents the parking brake from automatically applying if you leave. To access, tap Controls > Service > Car Wash Mode.
Sentry Mode Live Camera Access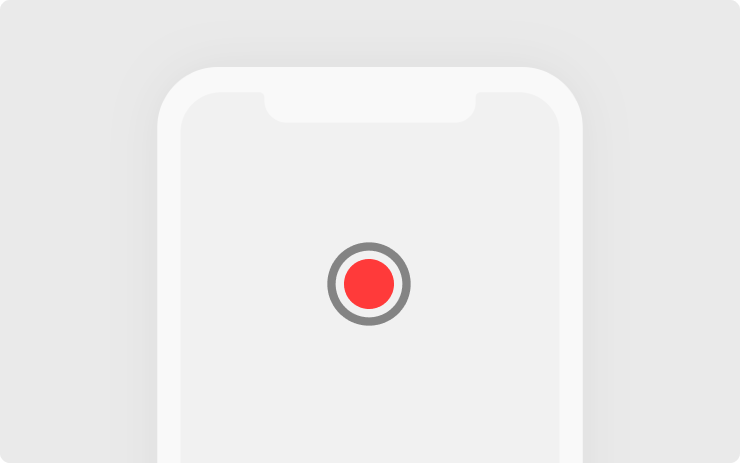 Now available in more regions
MCU 2
You can now view your car's surroundings from the Tesla app when parked to confirm the safety of your environment before returning to your car. Live Camera is end-to-end encrypted and cannot be accessed by Tesla. To enable or disable, tap Controls > Safety > 'View Live Camera via Mobile App' from the vehicle touchscreen display.
Note: This feature requires mobile app version 4.2.1 or higher, and Premium Connectivity.
New V11 UI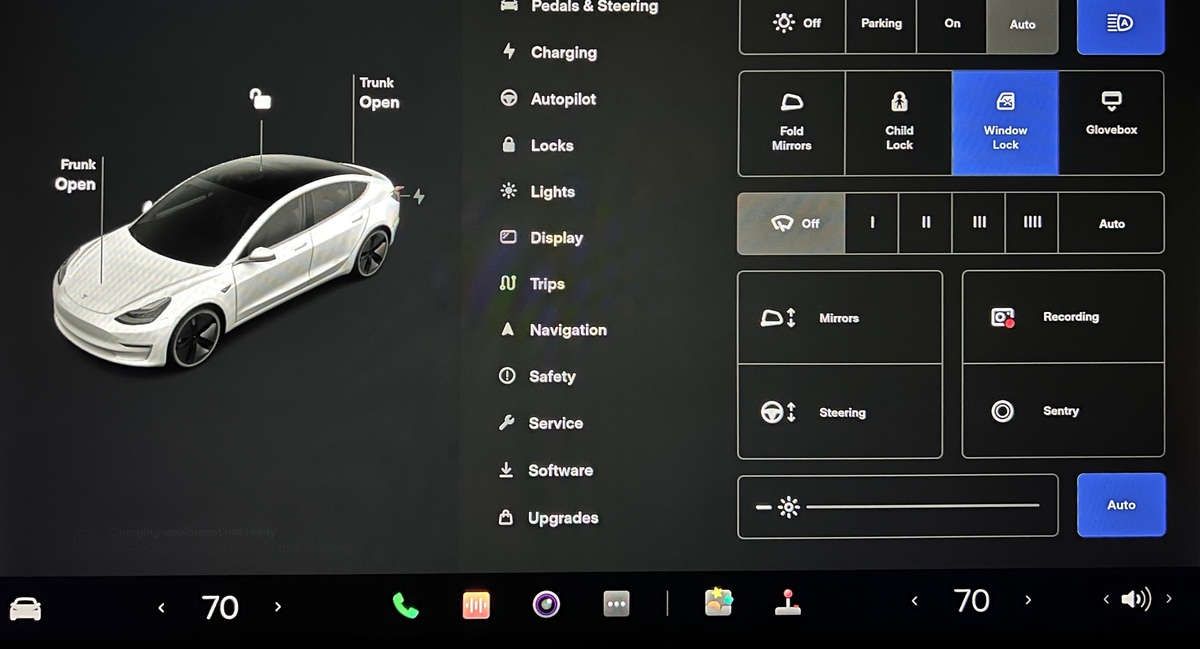 Available Worldwide
Undocumented Change
This is an undocumented change in this release.
The car now features an updated UI that is consistent with the redesigned Model S. With it comes new and reorganized menus and options.
This is an early look at this update's release notes and additional features may be available for specific vehicles or regions.
Multiplayer Vampire Survivors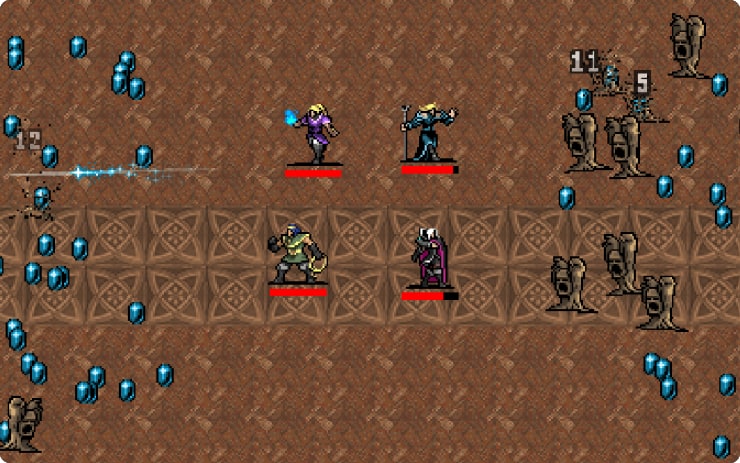 Team up to mow down swarms of the undead, with co-op gameplay for up to four passengers.
To play, shift to Park (P) and go to the App Launcher > Arcade > Vampire Survivors. Requires one controller per player.
Location Sharing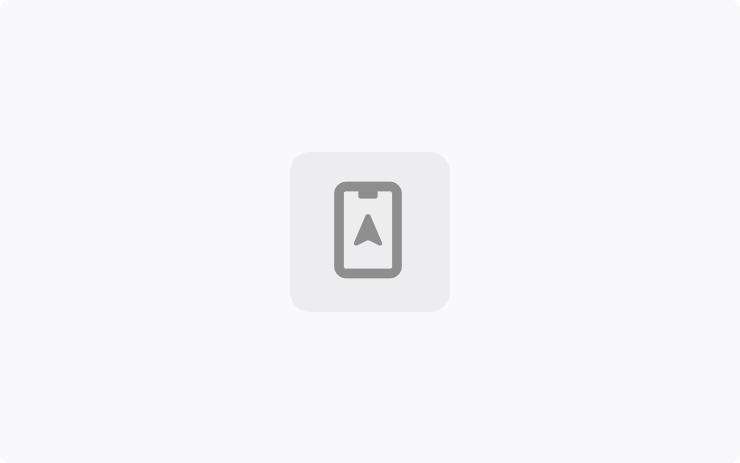 An icon appears at the top of your touchscreen when an app requests your vehicle's live location data.
You can turn off sharing at Controls > Safety > Allow Mobile Access. This also turns off Tesla app access.
When this setting is on, your vehicle communicates directly with the Tesla app and other apps, but Tesla doesn't track your location (see tesla.com/privacy).
Windows During Update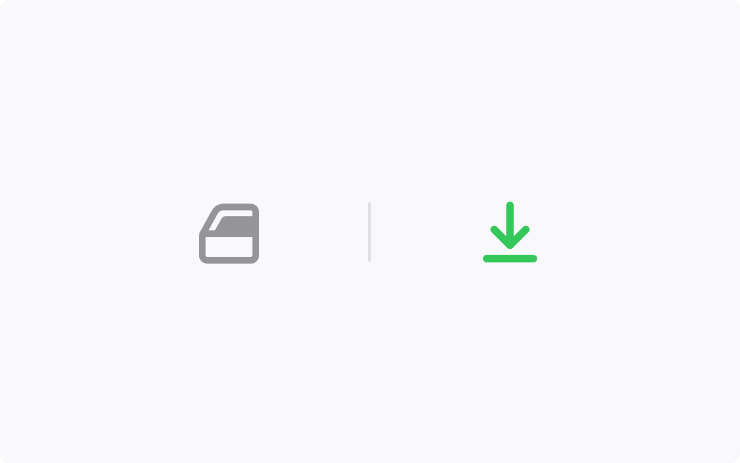 During a vehicle software update, the windows may adjust minimally, so doors can open and close more easily. Windows will return to position after the update.
Please check back shortly. If you have received 2021.44.25.6, you can share release notes with us below.
Hebrew Language Added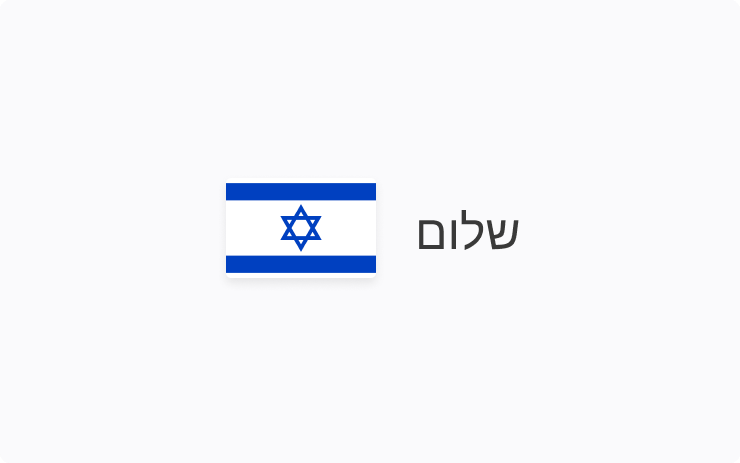 You can now choose Hebrew as your touchscreen language.
To change the language, shift into Park, and go to Controls > Display > Touchscreen Language.
Improved Autopilot Visualizations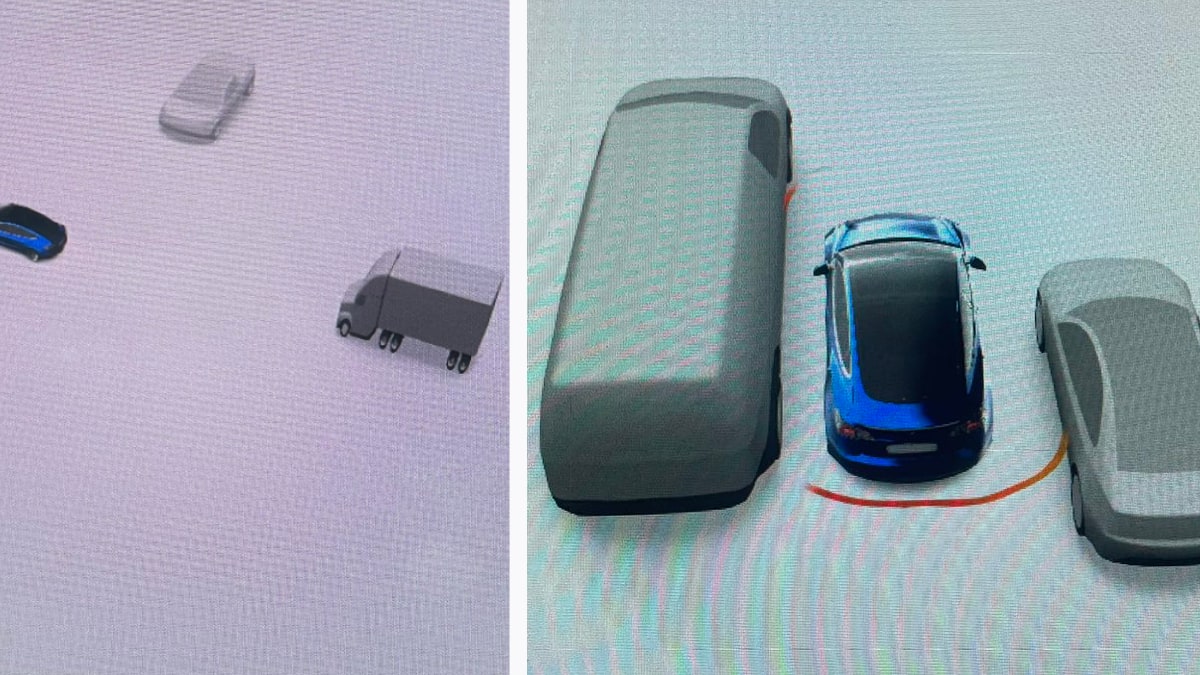 Available Worldwide
Undocumented Change
Autopilot visualizations (non-FSD) now include some features that were previously only available on FSD Beta.
Improvements include dynamic vehicle sizing and open door visualizations. The vehicle will now determine the width, height and length of each vehicle in its surroundings and size the 3D model appropriately in the visualization. Open doors will also be displayed in gray or orange, depending on whether they're in the vehicle's path.
Improved Reverse Camera View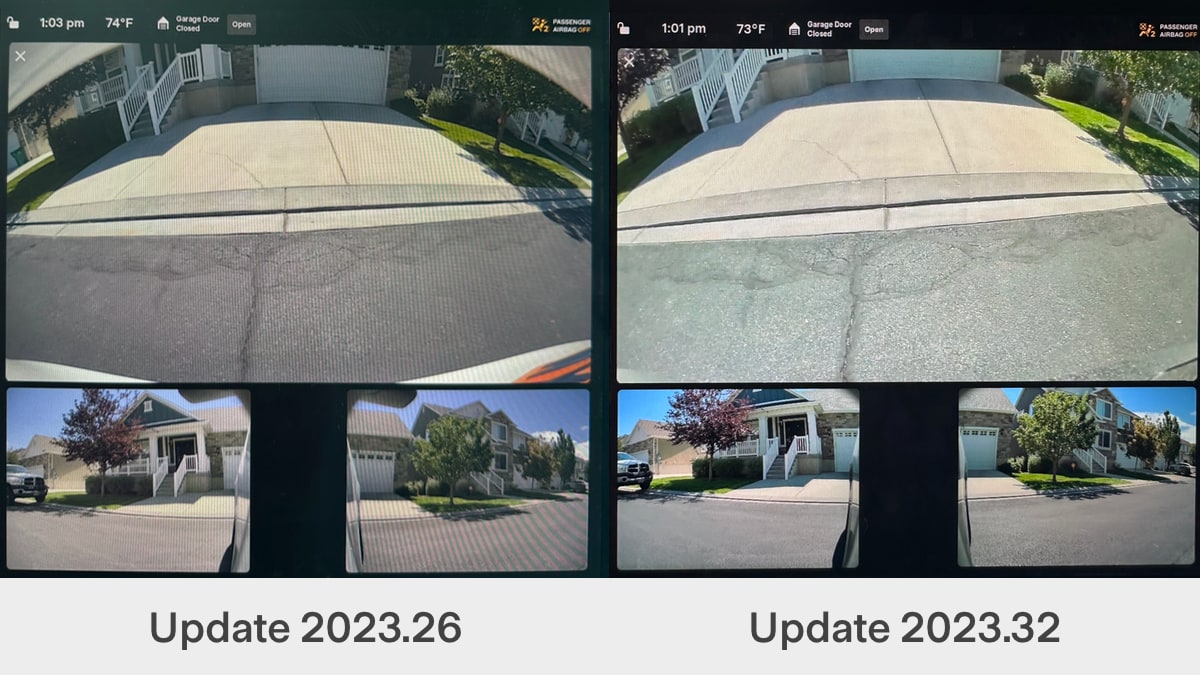 Available Worldwide
Undocumented Change
HW 4
The reverse camera view has been improved by cropping parts of the video to minimize distractions. The top portion of the video feed no longer shows the vehicle trunk and the bumper is now hardly visible along the bottom of the reverse camera.
Service Mode Release Notes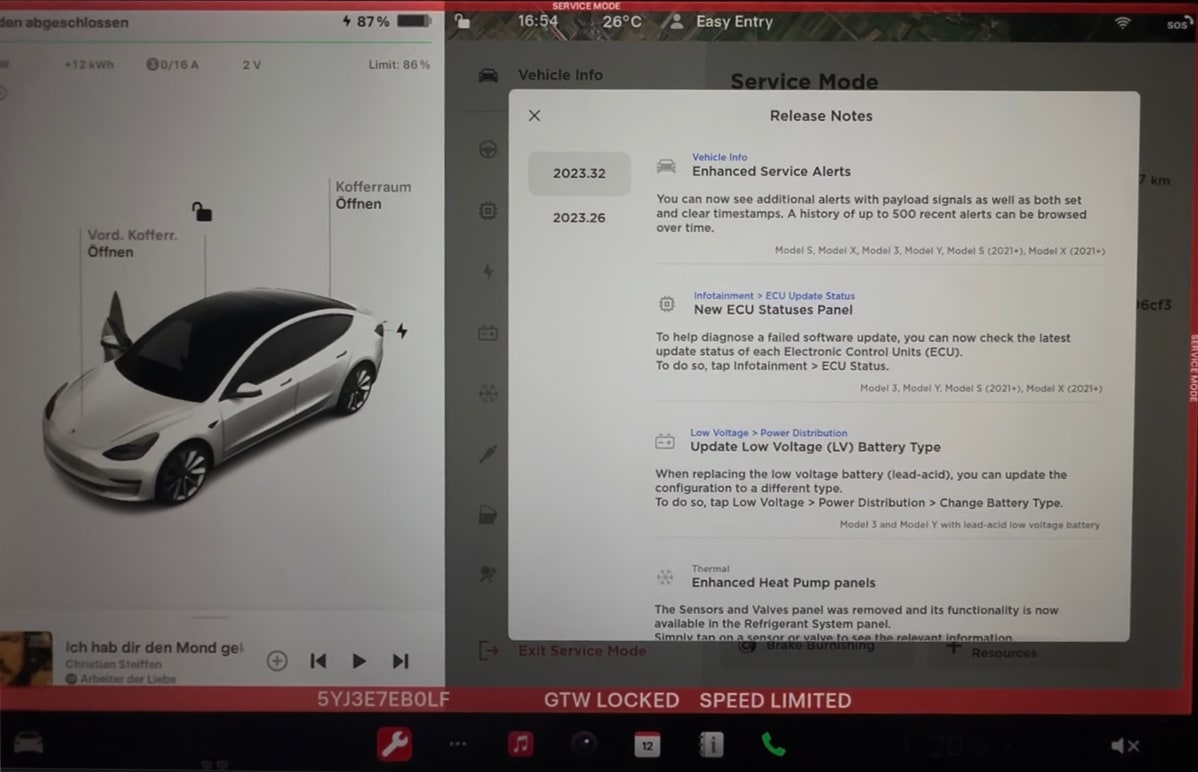 Available Worldwide
Undocumented Change
Service Mode specific release notes have been added with this update. When entering Service Mode, you can now tap on 'Release Notes' near the top of the screen to view any improvements to Service Mode in this vehicle update.
Each new feature is listed with a description and which vehicles it applies to. You can also tap the Service Mode section name in blue to jump directly to that area in Service Mode.
Improved Camera Clarity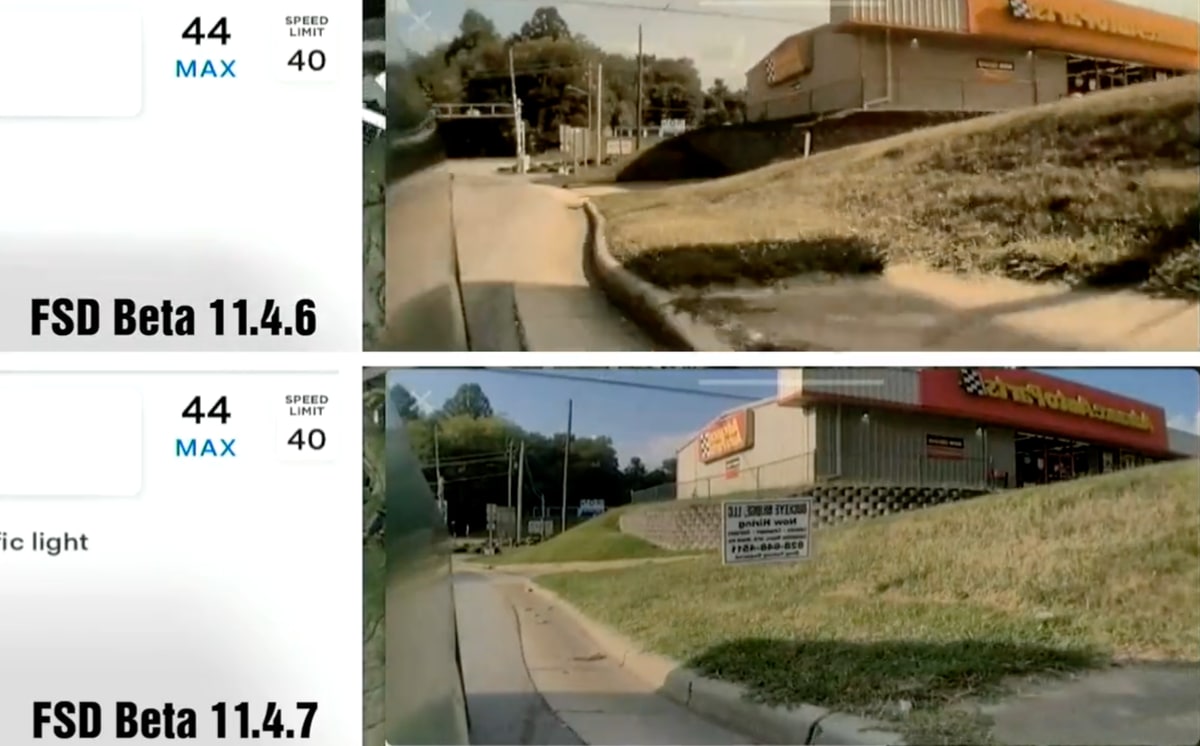 Available Worldwide
Undocumented Change
Video post-processing has been improved by providing white and color balance to the vehicle's camera feeds.
This results in more natural-looking videos when using the vehicle's cameras on screen and when utilizing Sentry Mode or the Dashcam.
The clarity of the videos is also notably improved in this update, resulting in clearer video when using the vehicle's reverse or repeater cameras.
Service Mode ECU Status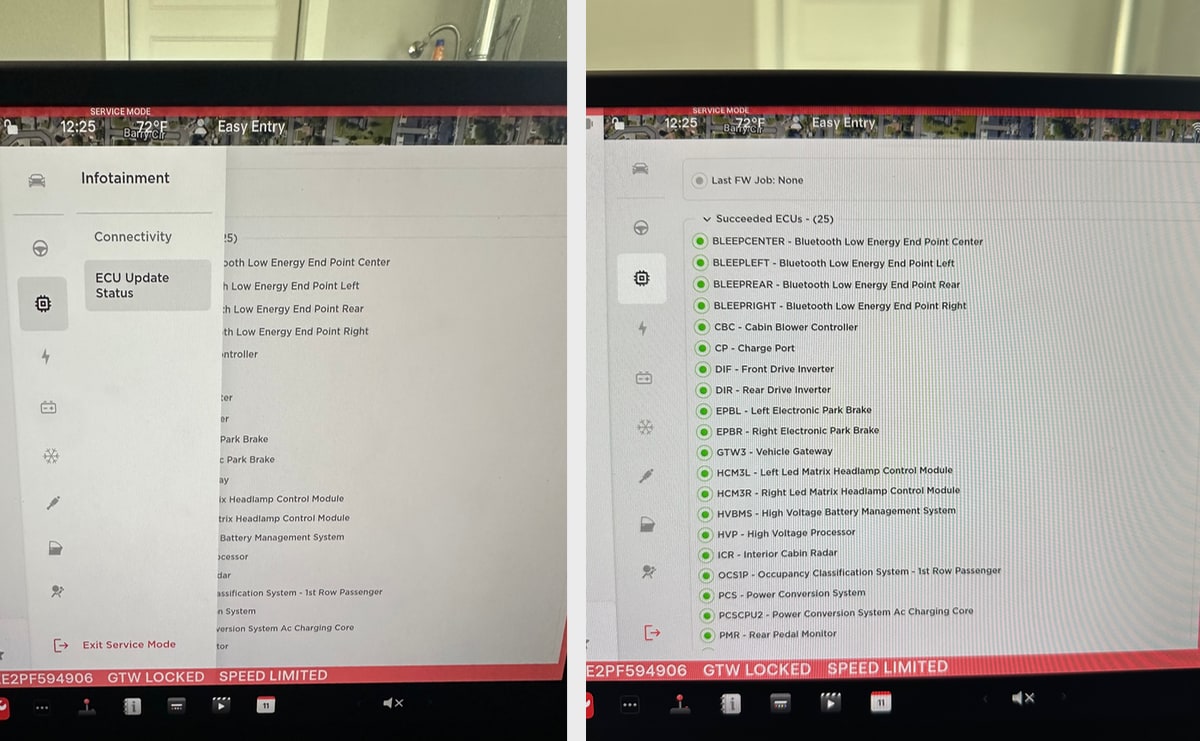 Available Worldwide
Undocumented Change
Tesla's Service Mode now lets you view the status of the vehicle's Electronic Control Unit (ECU). Under Infotainment > ECU Update Status, you can now view the status of a variety of sensors and vehicle sub-systems.
Service Mode is a special vehicle mode that's typically reserved for service technicians, although it can be accessed by anyone. It is used to view information and test various aspects of a vehicle.
Volume Indicator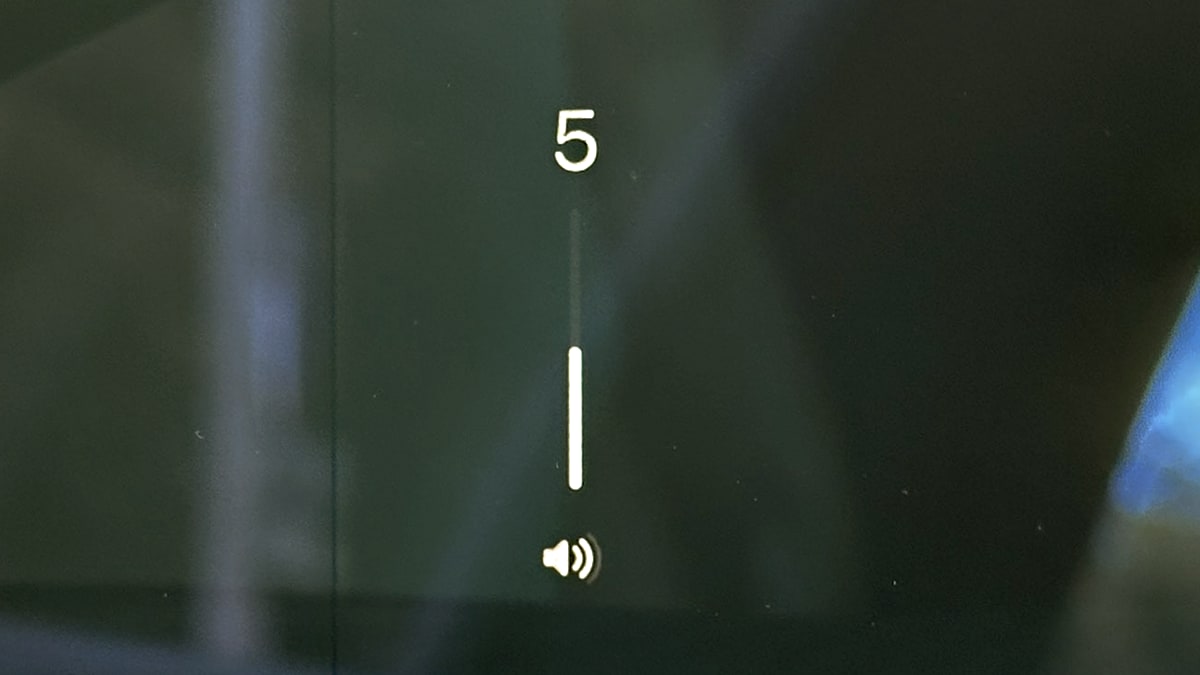 Available Worldwide
Undocumented Change
Tesla has updated the volume indicator on the instrument cluster to be vertical instead of horizontal.
Sponsors
Although we share official Tesla release notes, we are not affiliated with Tesla Motors. We are Tesla fans and supporters.