Minor Fixes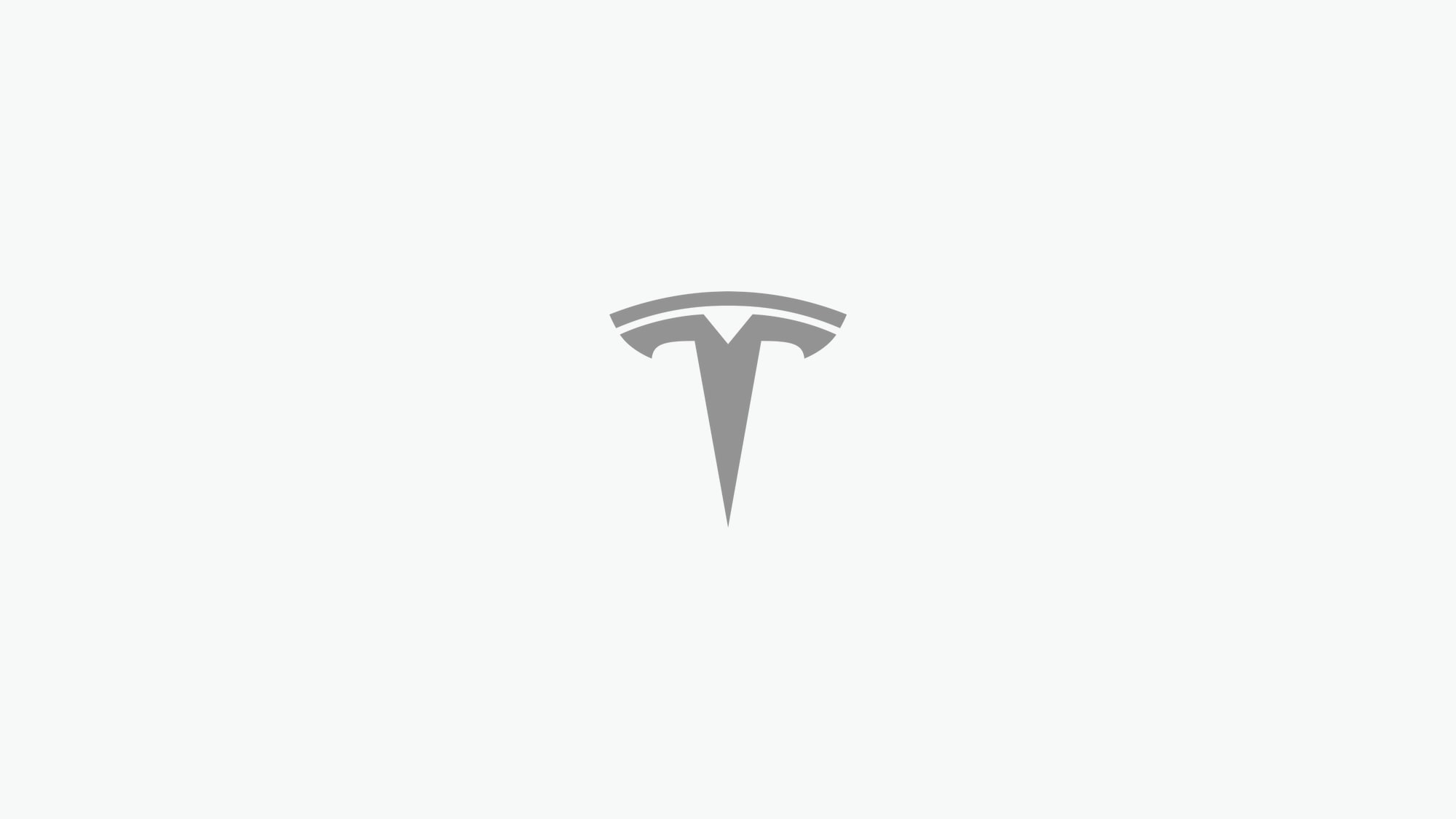 Minor fixes and improvements.
Rename Vehicle in App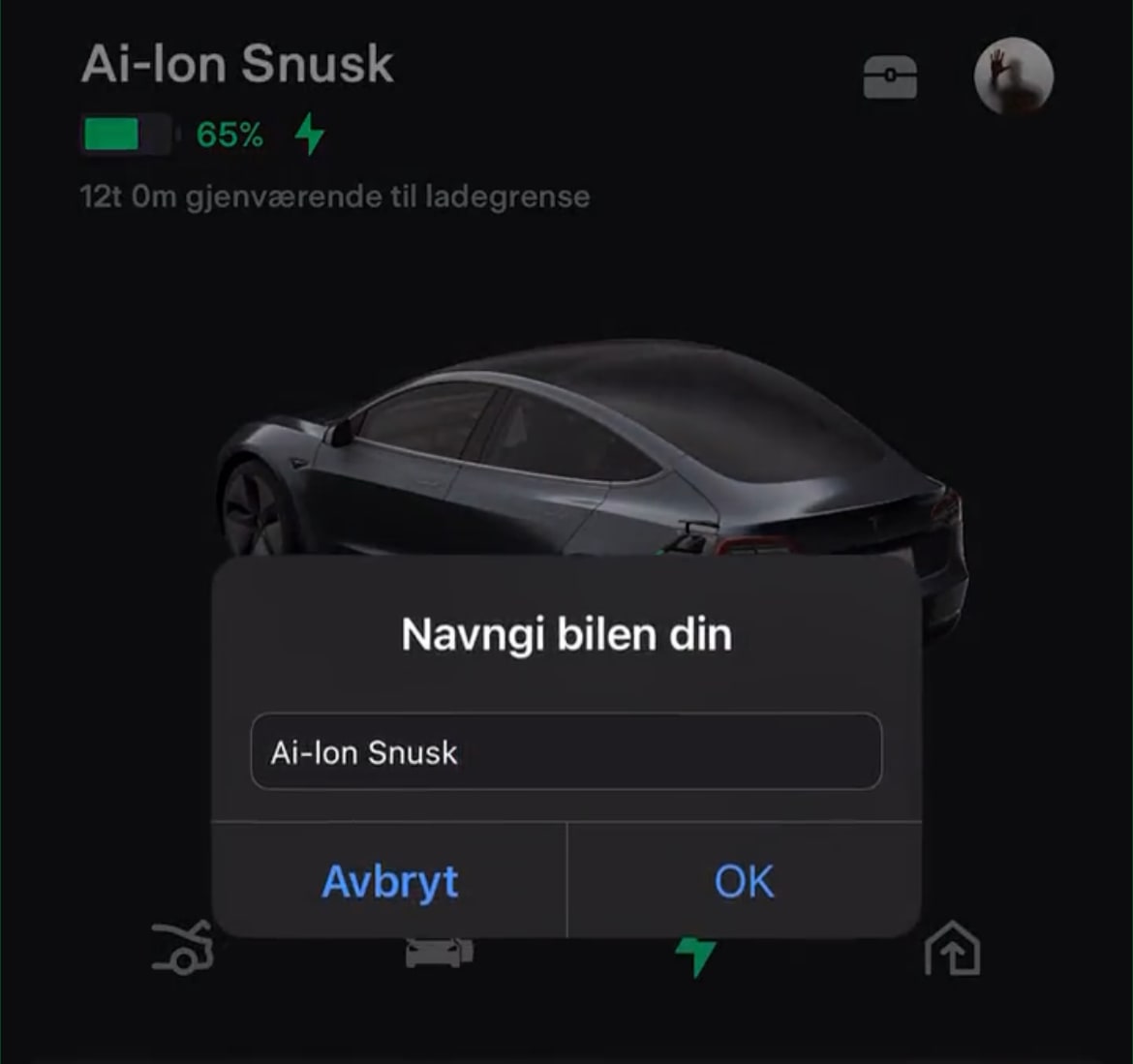 Available Worldwide
Undocumented Change
You can now set your vehicle's name through the Tesla app. To set your vehicle's name, simply tap the current name of your Tesla at the top of the app. You can then rename your vehicle and press 'OK.'
This feature requires vehicle update 2023.12 or higher.
Photo by Twitter/Walgermo
Phone Key Improvements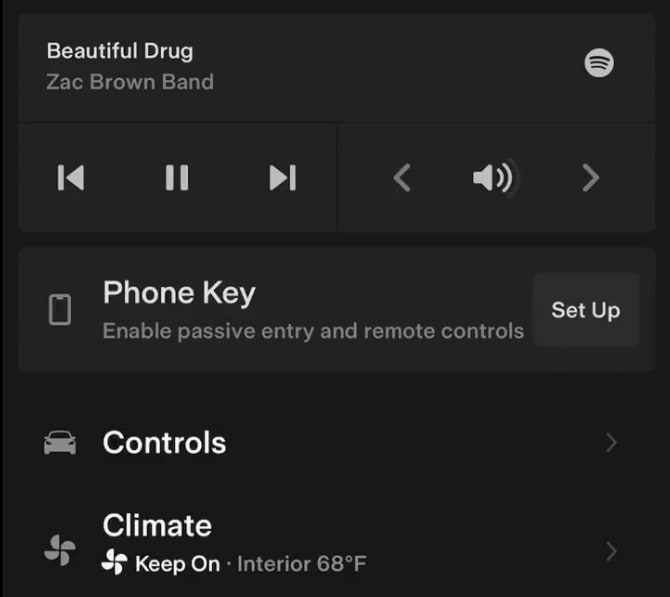 Phone Key pairing no longer requires your Key Card to complete.
Photo: @EZebroni
Tesla Insurance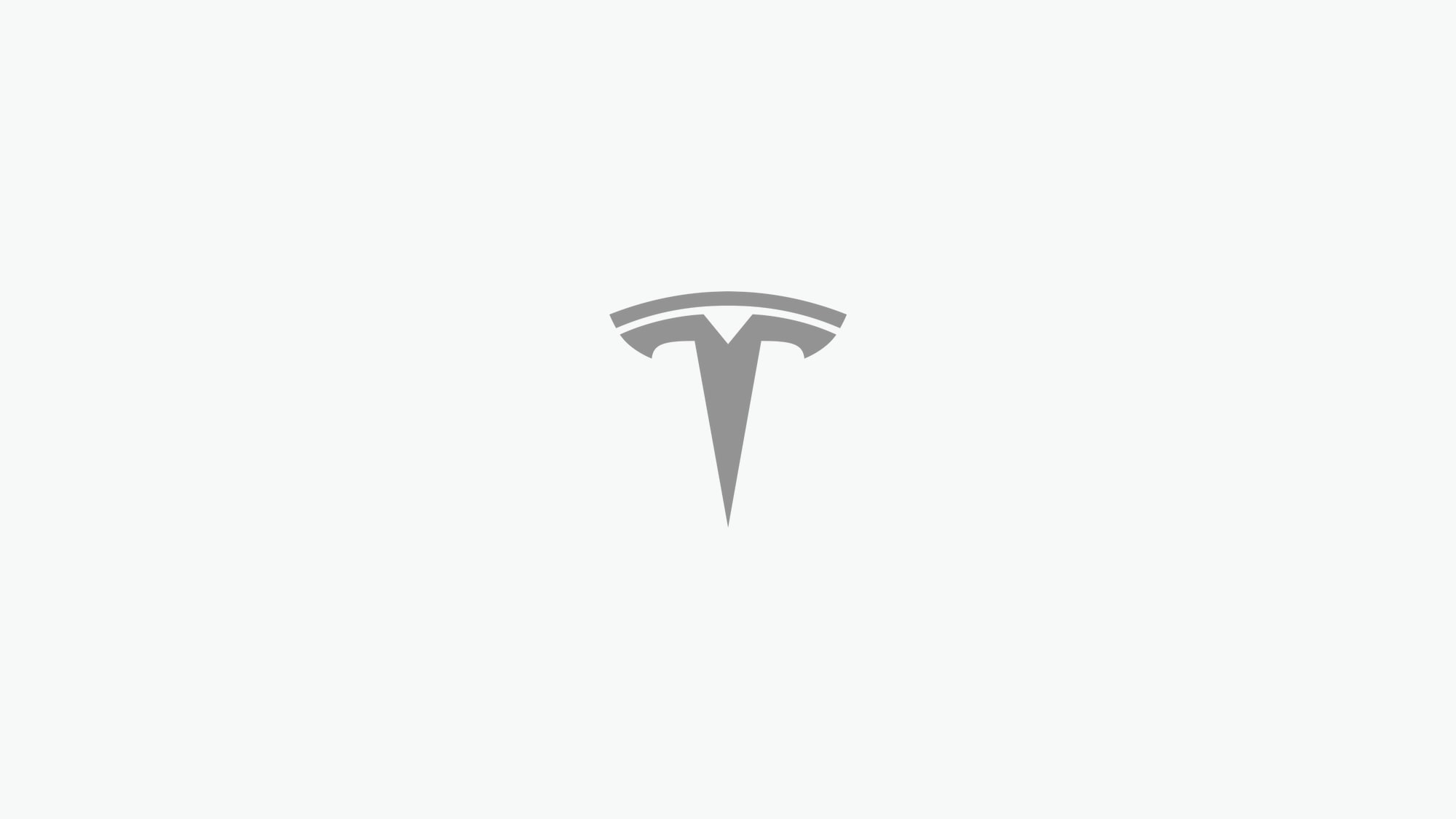 Schedule service for Tesla Insurance claims for US customers.
Trip Planner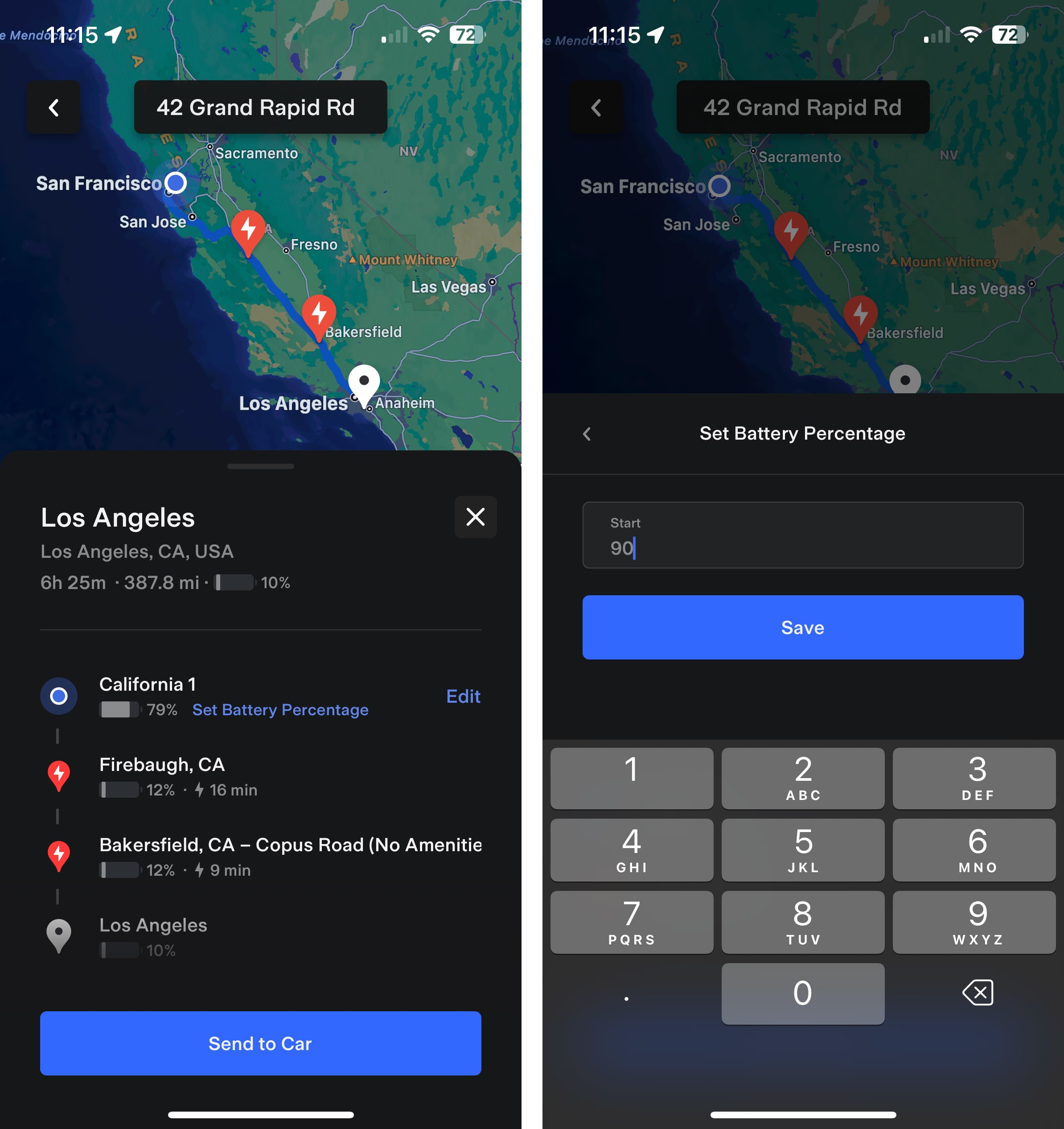 Tesla has officially added Trip Planning to the Tesla app. You'll be able to plan a trip directly from your phone and then send it directly to your car.
Trip Planning appears to only support a single destination currently, but Tesla will likely expand it to support multiple destination in a similar way to the vehicle's navigation. Trip Planner lets you choose a destination and it'll automatically find recommended charging spots along the route, however, it does not currently support adding your own charging locations.
The feature does have some additional functionality though. It defaults the trip to begin with your vehicle's current charge level and location, however you can edit these values if you plan to start your trip at a different location or with a lower or higher state of charger.
To use Trip Planner, go to the Location section of the Tesla app and tap 'Navigate' at the bottom of the screen.
Tripper Planner appears to be available in most regions.
Chargers Available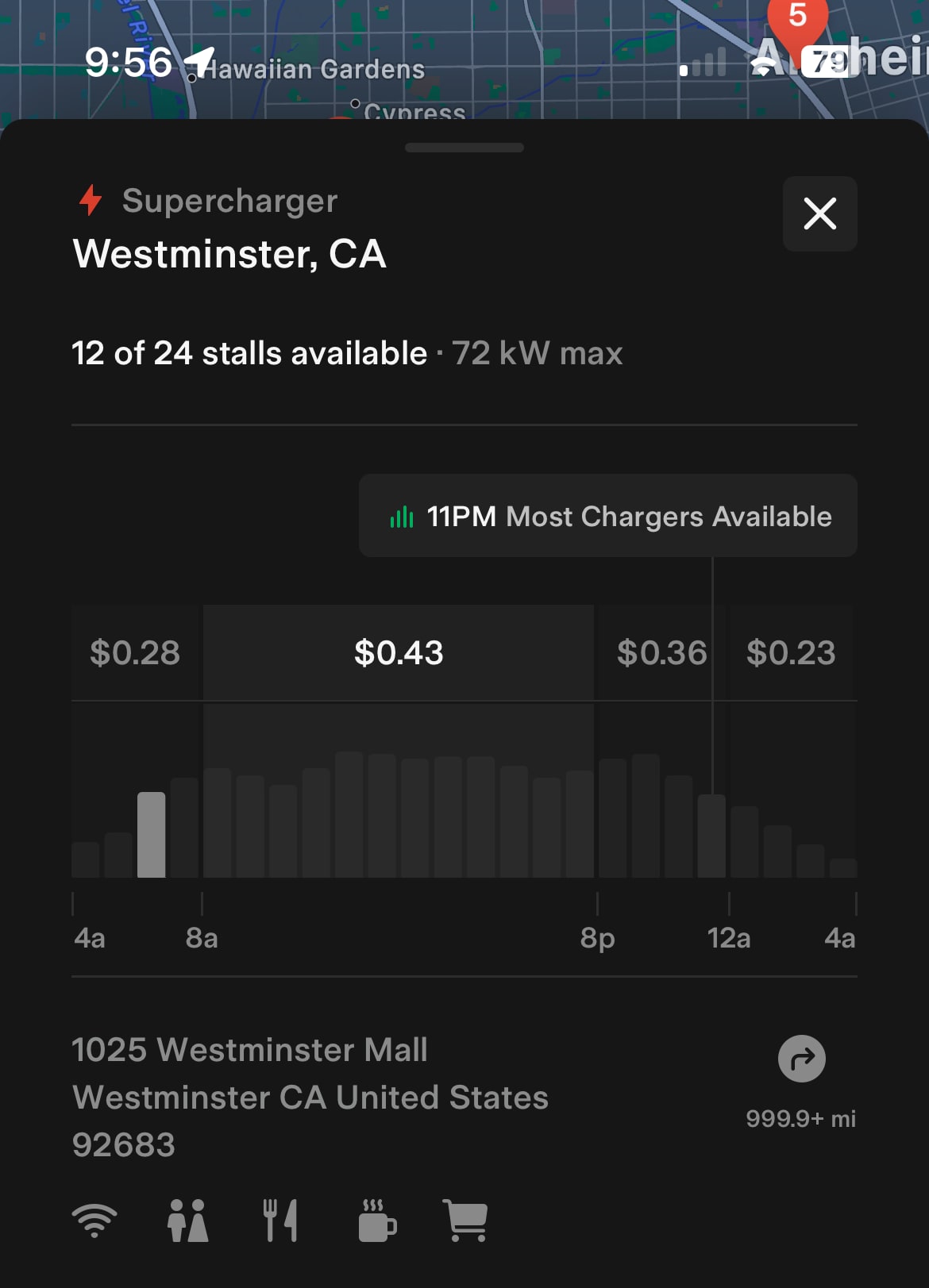 You can now tap and hold on a Supercharger's price and availability chart to see estimated chargers available at the given time.
The app will show 'Most Chargers Available,' 'Some Chargers Available,' or 'Most Chargers in Use.'
Additional Residents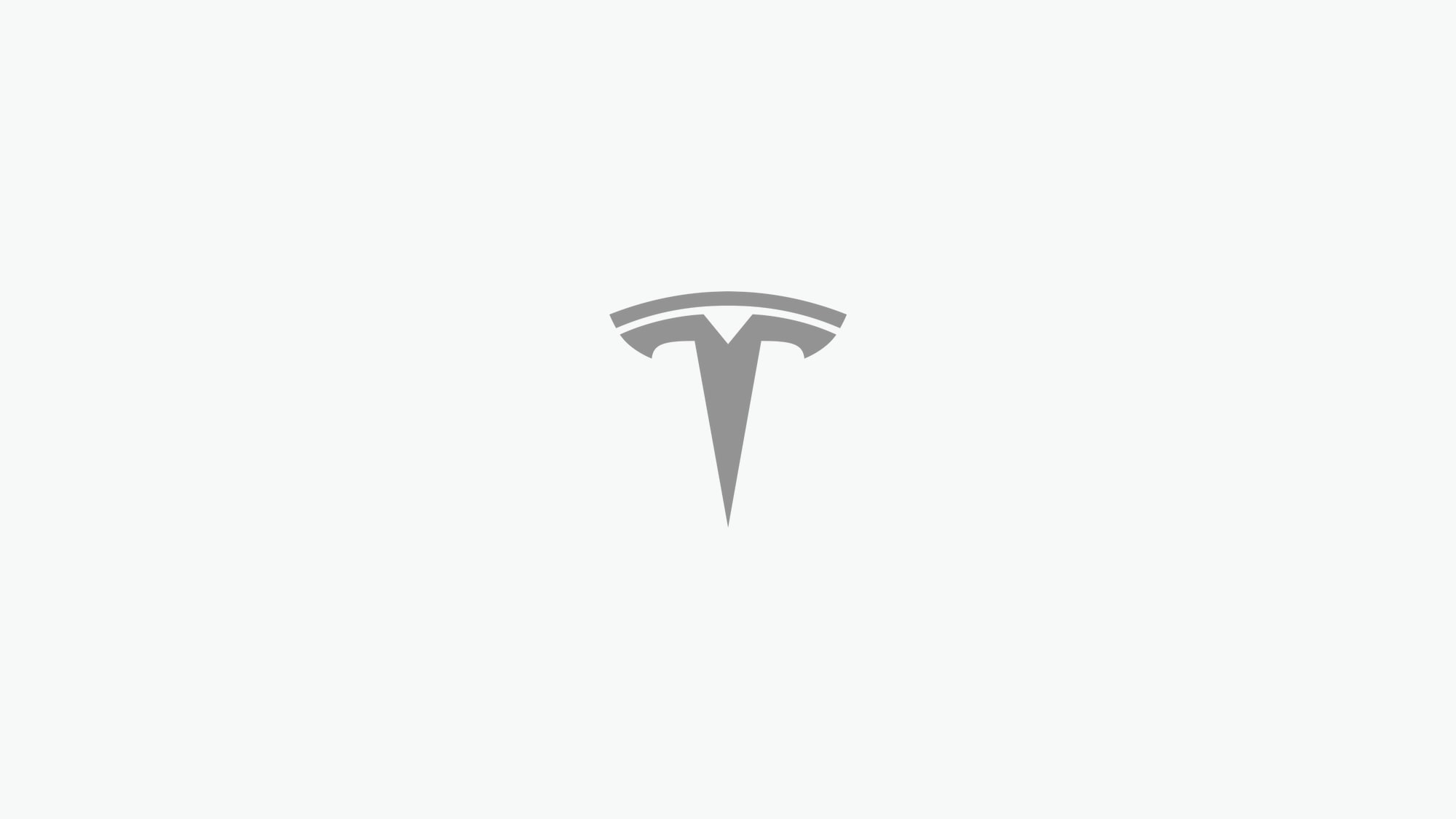 Add additional residents for Tesla Powerwall and Solar.
App Displays the Vehicle's Route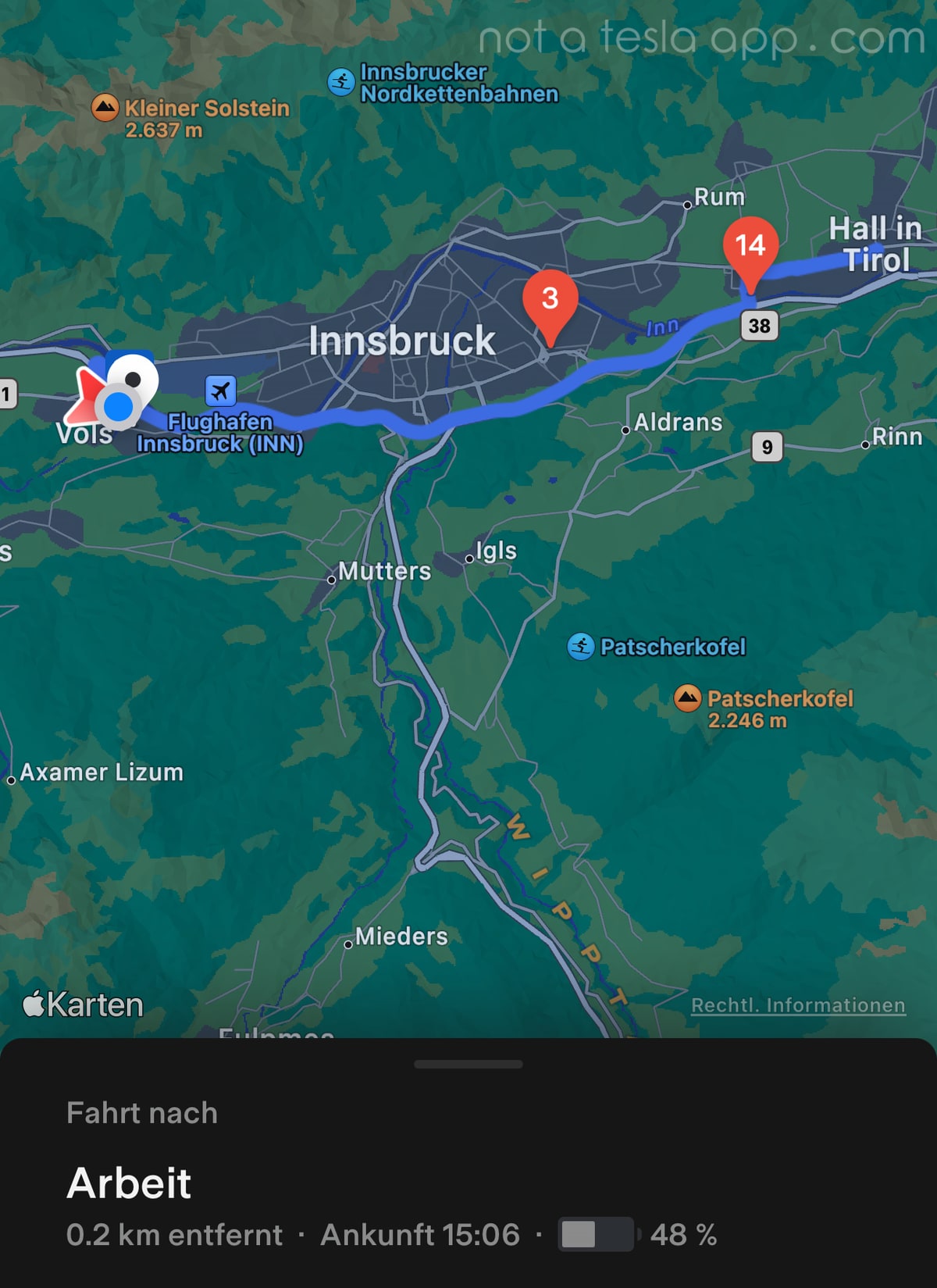 Available Worldwide
Undocumented Change
When a destination is entered in the vehicle's navigation system, the Tesla app will now display the same route path that is displayed in the vehicle's navigation system.
Before this update, the app would display the driver's destination, the estimated battery at arrival, and the estimated time of arrival (ETA), but the map would only display the vehicle's current location and destination.
Supercharger Wait Times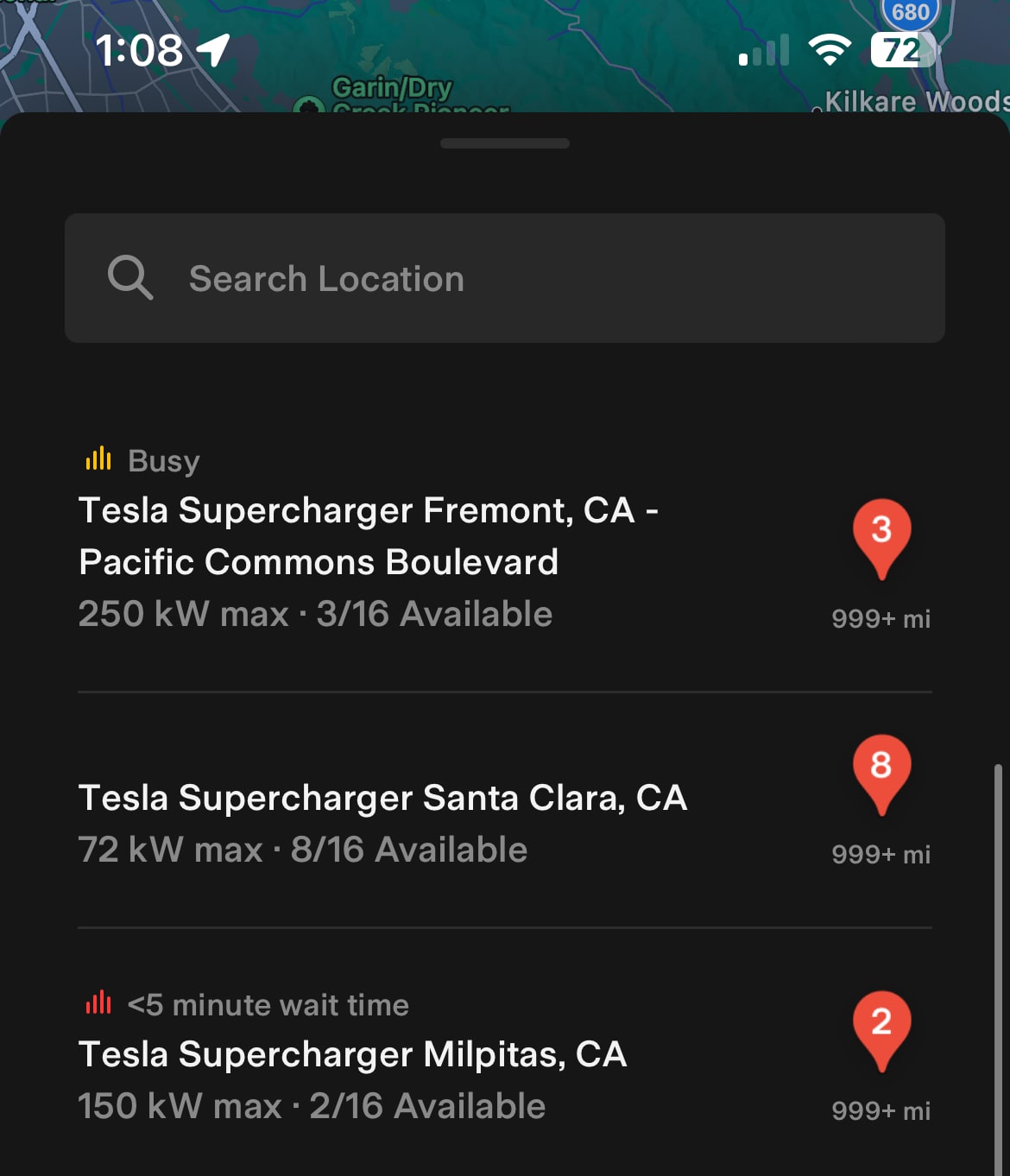 Available Worldwide
Undocumented Change
When searching for Superchargers, the app will now display approximate wait times if the Supercharger is busy. You may see a message that displays the approximate wait time, or the Supercharger will simply say it's busy.
Improvements to Charging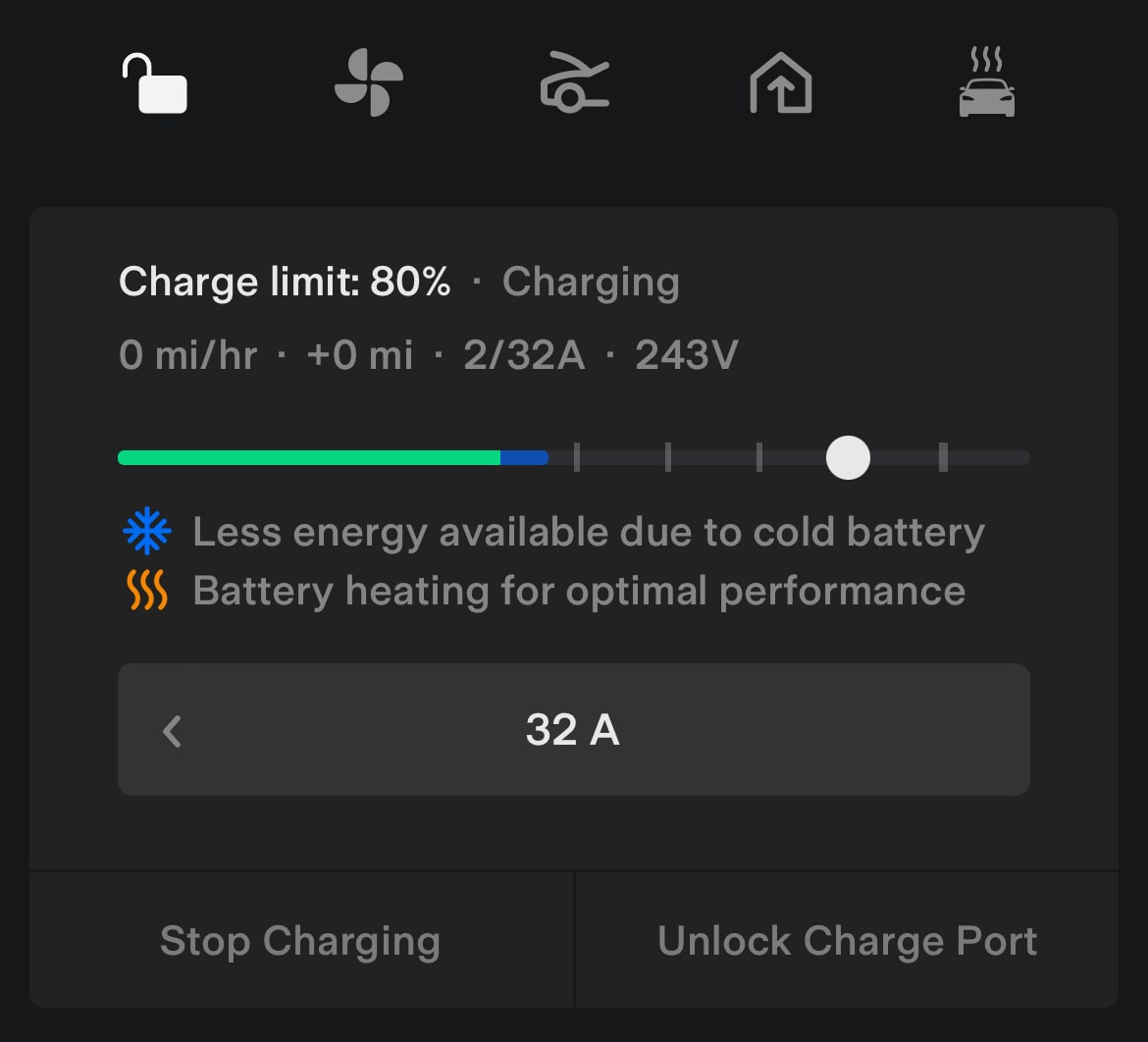 Available Worldwide
Undocumented Change
The charging area of the app now shows more details.
- Tesla will display the portion of the battery that is unavailable due to the battery pack's cold temperature directly in the charging slider.
- The tick marks that are displayed at 10% intervals are now always visible. Previously they were only displayed when the slider was being moved.
Drive on Sunshine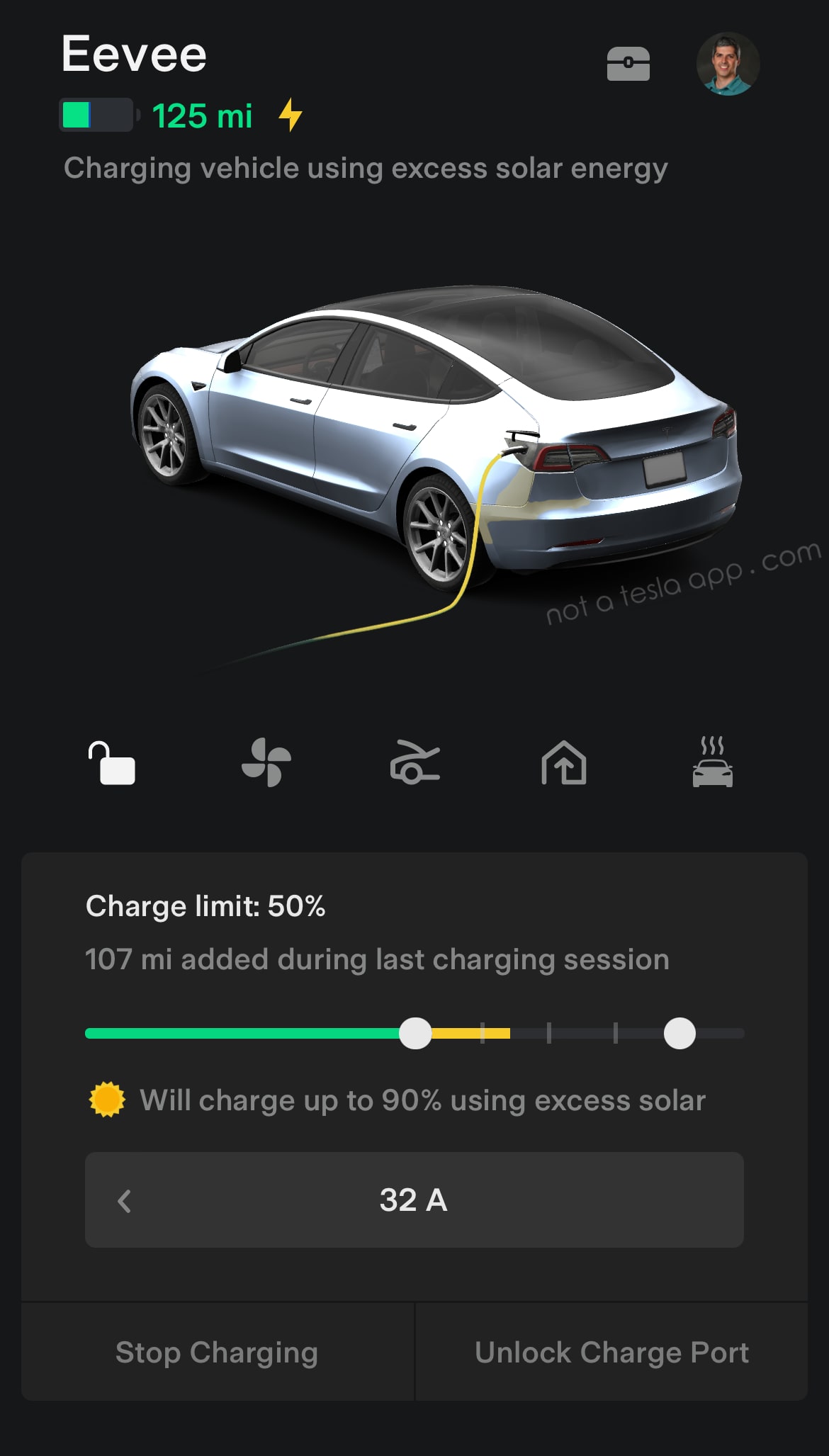 Available Worldwide
Future Feature
Tesla is expected to add support for a new feature called 'Drive on Sunshine.'
Drive on Sunshine will allow Tesla solar owners to automatically start charging their vehicles when excess solar energy is being used.
This feature is expected to reduce costs for owners by letting their solar system charge their vehicles when excess energy is being generated. In addition to charging with clean energy, owners will also reduce electricity tranmission loss, resulting in more efficient use of power.
Photo is a rendering of what 'Drive on Sunshine' may look like.
Charging Membership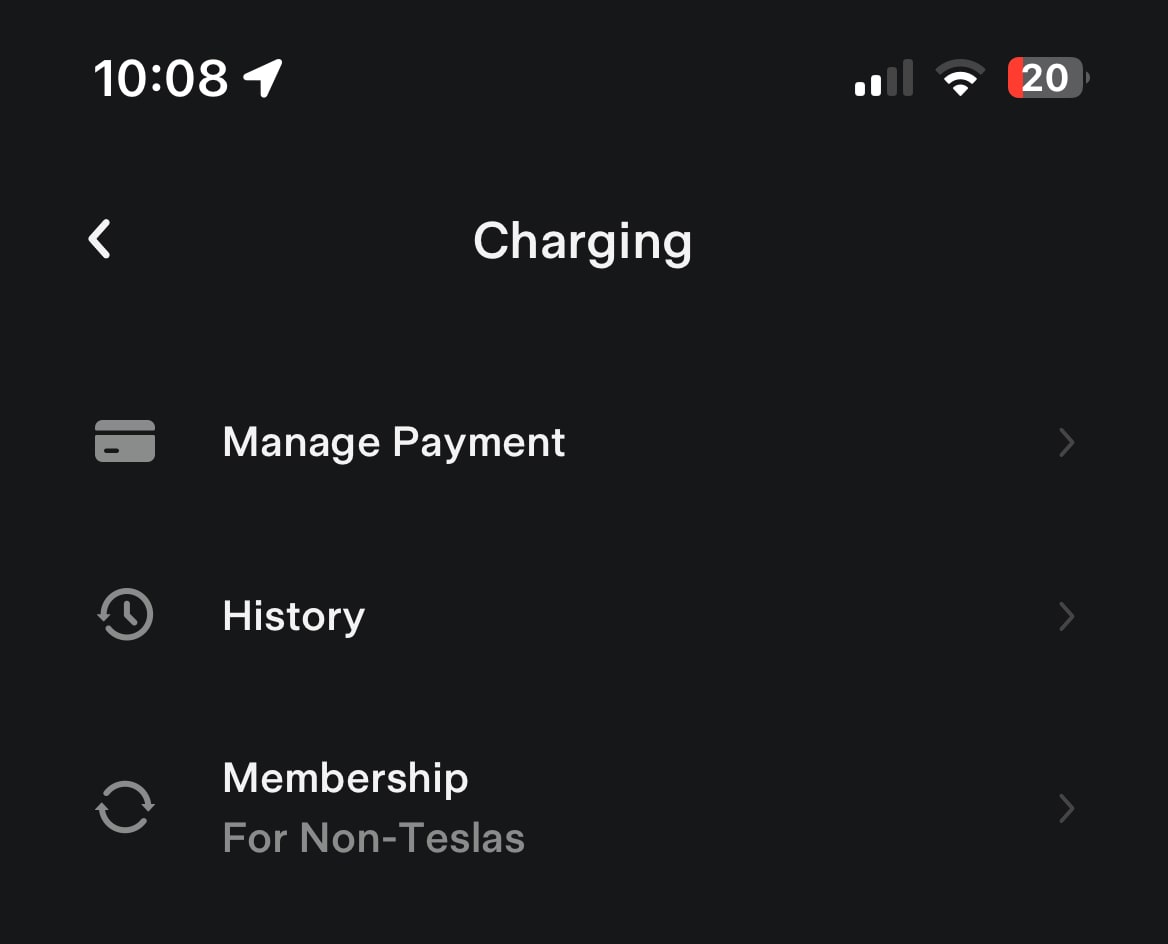 Available Worldwide
Undocumented Change
Since the last app update, Tesla has also rolled out a new option under the Profile > Account > Charging menu.
In addition to Manage Payment and History, there is now a new 'Membership' option to manage your membership for charging non-Teslas. In this menu, you'll be able to sign up, cancel or renew your charging membership.
The charging membership lowers the price per kW at Superchargers for non-Teslas, although there is a five session limit per day.
Minor Fixes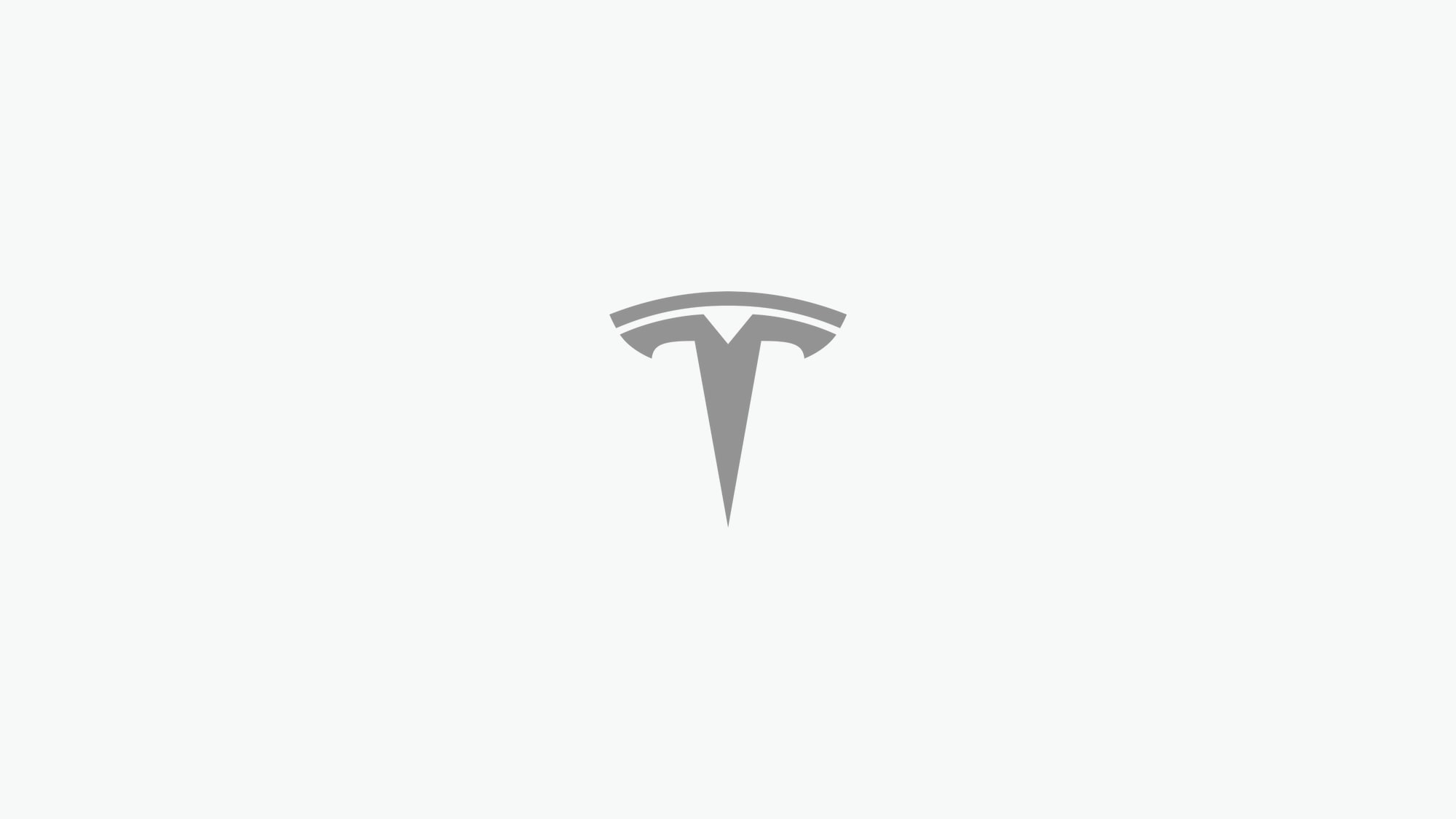 Minor fixes and improvements.
Sponsors
Although we share official Tesla release notes, we are not affiliated with Tesla Motors. We are Tesla fans and supporters.