PROBLEM: Tesla's Distance menu settings forces you to choose miles or km for ALL unit displays in vehicle.


RECOMMENDATION: Enable miles or km options for navigation, range, speed limit signs, speedometer and odometer

Rationale:

NAVIGATION: Kilometer unit navigation measures distance form 1000 down to 0 meters for upcoming turns instead of miles, fractional miles, then feet.


ODOMETER: Miles required for maintenance intervals. KMs setting creates records mistatakes

BATTERY: Battery range preferred in miles vs km to avoid battery range showing 300 km range but highway sign says 200 miles to Denver


SPEEDOMETER: Choosing km option shows speedometer and USA speed limit images in kilometers forcing you to wonder if the car detected the posted speed limit sign you just passed especially in construction zones.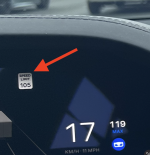 Last edited: