Hi, me and some friends discovered an undocumented change in 2022.24 version of the software.
Now, when a US car is outside North America m, it will no longer let you enable the "FSD Visualizarion Preview" or the "Traffic Light and Stop Sign control" features. It will show you are "not in a supported region"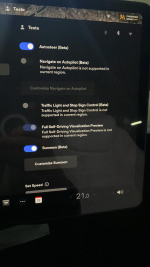 I (and a lot of other people) can confirm that this used to work before 2022.24 and only on this version this has changed.